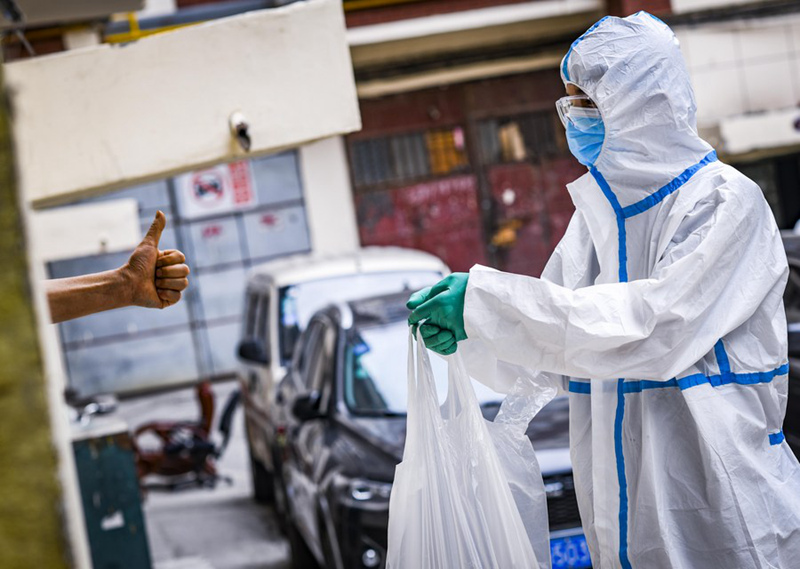 A resident gives a thumbs-up to volunteer, Ekebar Emet, in Tianshan District of Urumqi in Xinjiang Uygur Autonomous Region, northwest China, on August 3, 2020 (XINHUA)
When a localized outbreak of COVID-19 occurred in the middle of July last year, Urumqi, capital of Xinjiang Uygur Autonomous Region, northwest China, quickly entered "wartime mode" in its fight to contain the spread of the disease.
The city gave free nucleic acid tests to all 3.5 million Urumqi residents, and also requested they avoid unnecessary outdoor activities to reduce possible cross-infections.
To meet city residents' demand for essential services and commodities, local authorities in Urumqi organized their own staff, community workers and volunteers to participate in community service programs to ensure the stable supply of daily necessities. More than 210,000 volunteers from across the city joined the fight against the outbreak, making daily deliveries of fresh fruit and vegetables from 491 grocery stores to community resident across the city.
Encouraged by her mother who is also a volunteer, Mukadas Ali, who was born after the year 2000, delivered groceries, dumped trash and took care of solitary seniors in Lengku community in Urumqi.
"In normal times, people can get what they need anywhere and at any time, but this has become a tough task under the closed-off management of residential communities," said Sheng Xiaoyu, a community Party Secretary in Urumqi's high-risk Tianshan District.
Sheng had to ensure that some 5,000 people in the community had access to daily necessities.
Urumqi began showing signs of recovery from the outbreak after only half a month. In early August, all farmers' markets reopened in Urumqi, albeit with intensified COVID-19 prevention and control measures.
Equipped with the country's tried and true emergency response tips, Xinjiang responded to the epidemic with speed and sophistication.
On October 24, 2020, a 17-year-old female villager from Shufu County in Xinjiang's Kashgar Prefecture tested positive for the virus during the county's routine nucleic acid testing, a measure introduced in August 2020 in Xinjiang to improve COVID-19 alert timeliness.
As soon as the alarm was sounded, the Kashgar Government and Xinjiang at large launched immediate emergency responses, with medical and work teams sent to the prefecture to provide support.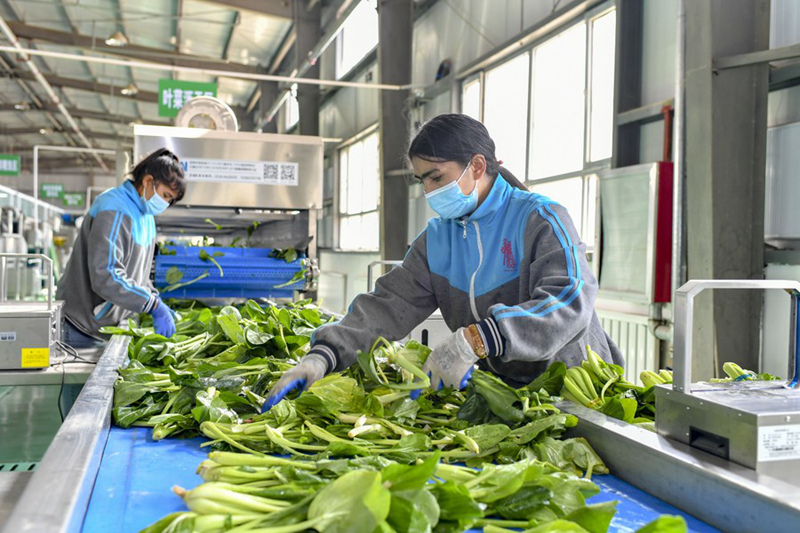 Workers at a workshop in Shufu County of Kashgar Prefecture in Xinjiang Uygur Auntonomous Region, northwest China, clean and sort vegetables to be delivered to local residents, on October 26, 2020 (XINHUA)
Authorities quarantined all close contacts for medical observation, conducted nucleic acid testing on a massive scale, and launched an epidemiological investigation into the case.
"We have been racing against time," said Kasmu Ehet, a medical worker in Shufu who stayed up late to conduct nucleic acid tests. "Every second counts in stemming the spread of the virus."
By 5 p.m. on October 27, 2020, about four days after the first case, Kashgar had completed nucleic acid testing for all 4.74 million of the prefecture's residents.
The sudden virus outbreak left many living in Shufu isolated in home quarantine. However deliveries of daily supplies and targeted support to households remained in place. One of Shufu's four high-risk areas was Tuanjielu Community, a part of Tokzak Township in Shufu. Community workers there worked around the clock to serve some 4,500 residents living in the community, delivering food and offering medical care in addition to other services.
Meanwhile, for residents in other parts of Xinjiang, life and work generally went on as usual, with necessary epidemic control measures in place. Residents in Hotan, a prefecture neighboring Kashgar Prefecture, also took tests to screen for the virus, but people there could be seen wearing masks while strolling in parks and restaurants were busy catering to diners. Similarly, farmers in Ruoqiang and Qiemo counties of southeast Xinjiang, where Chinese dates are an important source of income, conducted the annual harvest as ususal.
Major infrastructure projects, such as the city's Olympic center were also underway in Urumqi, with workers going through disinfection procedures before beginning work.
The outbreak in Kashgar came during one of Xinjiang's peak tourist seasons. Air and railway services remained open in Kashgar and throughout Xinjiang, and a specific team was set up to arrange nucleic acid tests for exiting passengers based on their schedules.
In the weeks following the outbreak,content about the large size of Xinjiang went viral on China's Twitter-like social media platform, Weibo. The content reassured visitors to Xinjiang of the limited contagion risk outside Kashgar, with many microbloggers sharing their travel experiences in the region, or their willingness to visit after the outbreak ended.
"Xinjiang is so large that you can just take necessary prevention measures, relax and have fun. Come on, Kashgar!" said one microblogger named Jianyuan.
(Xinhua News Agency)