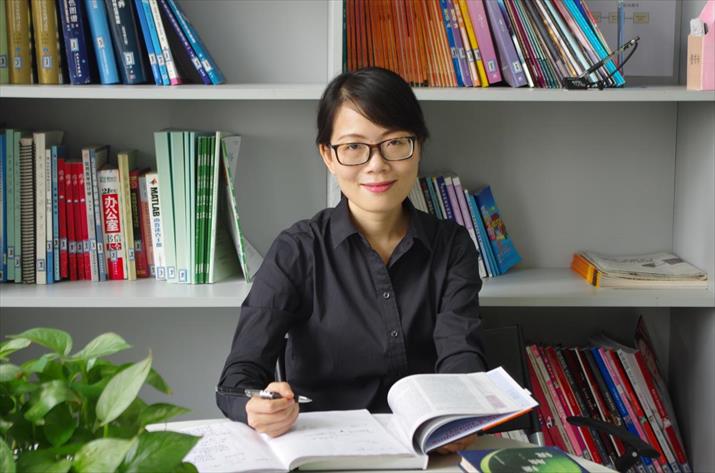 Wang Zhao at work (COURTESY OF WANG ZHAO)
Wang Zhao works in Beijing but her work helps people in faraway places. She develops intraocular lenses, to be implanted in the eyes of patients undergoing surgery for cataract or myopia, at Eyebright Medical Technology (Beijing) Co. Eyebright specializes in making ophthalmic products.
One of her favorite stories goes back to November 2016, when a team of seven Chinese medical workers went to Sri Lanka to restore cataract patients' vision. During the one-month trip, they did more than 500 cataract surgeries and three vitrectomies, a procedure to remove vitreous gel from the eye, caused by retinal detachment. After the surgeries, most of the patients, who could barely see before, had clear vision.
"When I heard the news, I was overwhelmed," Wang told Beijing Review. "I couldn't believe that what I do can make such a difference."
Cooperation along the way
This is one example of Chinese medical companies reaching out to those in need in other countries with their healing touch. Since Chinese President Xi Jinping proposed the Silk Road Economic Belt and the 21st-Century Maritime Silk Road Initiative, also known as the Belt and Road Initiative, in 2013, a number of measures have been taken to bring high-end medical technology to countries along the route of the initiative.
In October 2015, the National Health and Family Planning Commission implemented a plan to promote health and medical exchanges and cooperation between China and some of these countries.
Based on the plan, the government is promoting high-level exchanges and cooperation agreements. High-caliber medical professionals are being trained to go out and treat people in Belt and Road countries, while pharmaceutical companies are encouraged to benefit patients beyond China.
"Under the framework of the Belt and Road Initiative, Chinese companies like ours can share what we have already achieved in science and technology and healthcare with other parts of the world. It's for a good cause," Wang said.
The 36-year-old has become the owner of nearly 20 patent technologies since she started working at Eyebright six years ago. As a graduate of Harbin Institute of Technology, one of the most prestigious science and engineering universities in China, she had many employment choices. While most of her classmates chose stable government jobs or well-paid positions at foreign companies, Wang decided to opt for a small, private company with only six staff, including the cleaning lady.
The reason for her bold decision was what the chairman, Xie Jiangbing, told her during the job interview, "The product you make here will be implanted into tens of thousands of patients' eyes in the future and bring them sight. This is where your value can be realized."
His words made a dream come alive in her heart and changed her life.
Today, the small start-up has grown into an innovative pioneer with more than 160 employees, including over 50 scientific research experts. Xie's words have been fulfilled. When Eyebright was established in 2010, the main business focus was on the domestic market. But with maturity, especially since the Belt and Road Initiative was put forward, it is reaching out to other countries.
Now an increasing number of products Wang and her research and development team make are competing with similar products from the United States and European countries.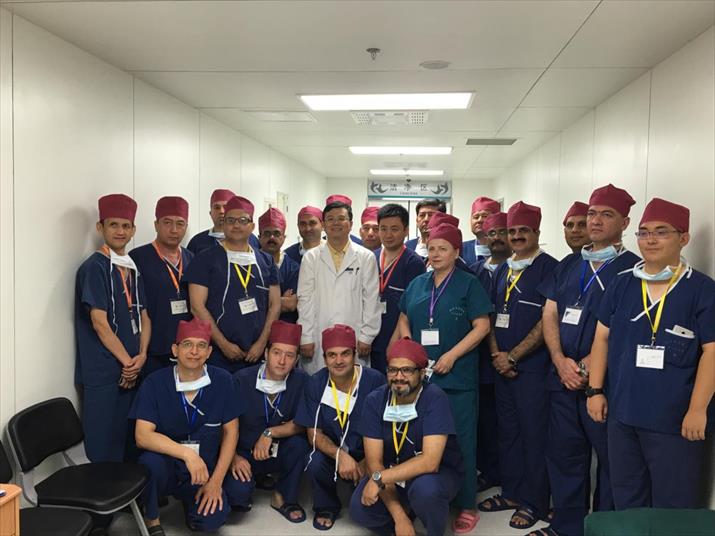 Doctors from Pakistan, Viet Nam, Bangladesh, Uzbekistan, Serbia, Argentina, Mexico and Mongolia receive training at the Beijing Friendship Hospital in July 2016 (COURTESY OF ACCU-TECH)
Raising China's medical profile
"Many Chinese medical products, like the ones we make, have the same quality as Western products but the prices are lower," said Guo Xuan, Eyebright's Corporate Development Director. The Belt and Road Initiative, Guo added, offers an opportunity to give full play to the technological and price advantages of Chinese medical products. More importantly, those who couldn't afford them or didn't have access to them in the past now do.
The charitable program in Sri Lanka was an impressive trial. Zhang Shunhua, an ophthalmologist at Peking Union Medical College Hospital who participated in it, remembered the first week when they had arrived on the island. The locals were reluctant to come to them for treatment, preferring to wait and watch. However, when the first surgeries were successful, the news traveled fast, attracting more patients. Once the patients had undergone treatment, they praised both the skilled doctors and the lenses.
All the intraocular lenses used in the surgeries were made in China. In the past, many surgeries conducted during the government's foreign assistance programs used products made in Europe and the United States.
Although she hasn't worked directly with foreign hospitals or seen patients receiving treatment, Wang feels excited to hear the success stories about surgeries conducted using Eyebright's products. "I hope the reputation of Chinese medical products spreads," she said. "For Chinese scientists like me, it is an honorable task."
Like Eyebright, Accu-Tech Co. is a hi-tech medical enterprise located in the Zhongguancun Science Park in Beijing, a technology hub. Founded in 2003, it supplies minimally invasive medical equipment to domestic and foreign hospitals. From 2010, the company began to expand its business to other countries. Its holmium laser, used to treat gallstones and kidney stones, is known in 35 countries, mainly in Asia and Europe.
In the past, to remove these stones, patients had to go under the knife and spend several days in hospital after surgery. But with the minimally invasive technology, doctors can operate through a natural body orifice and the patient can go home after surgery.
While the technology was invented long ago, Chinese companies like Accu-Tech are trying to make the equipment more affordable. China's relatively cheap labor and materials are the main reason for the price edge.
Besides making medical hardware, Accu-Tech also provides a platform for Chinese and foreign medical workers' academic communication. Especially under the Belt and Road Initiative, the company has organized many programs. Doctors from countries along the routes, such as Uzbekistan, Pakistan, Viet Nam and Romania, have been invited to China and given free medical training in advanced technologies in Chinese hospitals.
Some Chinese hospitals have established cooperative relations with Accu-Tech and sent doctors to Belt and Road countries, where they have either taught local doctors or treated patients.
The company also cooperates with leading companies in other countries to learn from them and introduce new and advanced materials. "Our key emphasis is to overcome technological challenges and upgrade our products," Huang Hao from Accu-Tech's overseas sales team added. "It is quality that matters most."
Dispelling stereotypes
However, Chinese companies have to grapple with a challenge. Hu Dehua, head of Accu-Tech's overseas sales, said some people still have a stereotyped notion of China as a country producing cheap and inferior products instead of being a reliable scientifically and technologically innovative country. "For example, public hospitals in Pakistan usually prefer medical facilities from the United States, though those developed by Chinese companies have the same quality and lower prices," Hu said. "Despite that, we still occupy a considerable market share in those countries."
But as the Belt and Road Initiative expands, the stereotype is gradually being dispelled and more countries are becoming aware of the quality of Chinese medical equipment, she said.
Talking about the implementation of the initiative in the health and medical care sector, Hu hoped that through government-to-government cooperation, more channels of exchange will open up at local or company levels. "It's an all-win situation for patients, companies and governments," she said.
Copyedited by Sudeshna Sarkar
Comments to luyan@bjreview.com