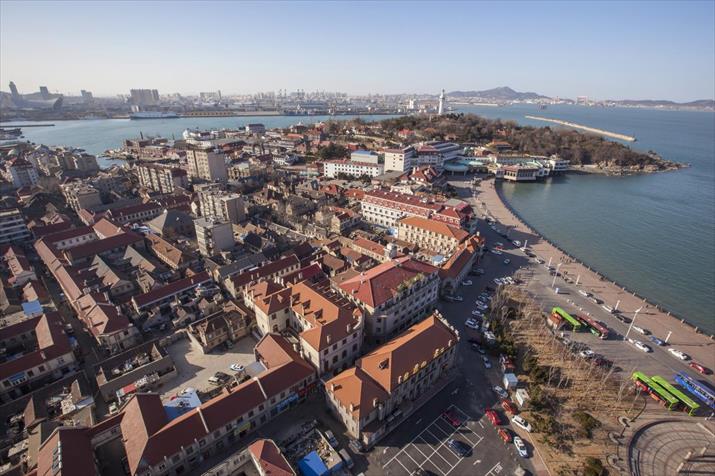 A bird's eye view of the Yantai Hill in March 2015 (VCG)
In 2013, Chinese President Xi Jinping proposed the Belt and Road Initiative, comprising the development plans of the Silk Road Economic Belt and the 21st-Century Maritime Silk Road. The initiative aims to improve infrastructure and economic cooperation along these routes. Yantai, a coastal city in east China's Shandong Province, had been one of the starting points on the northern Maritime Silk Road. The city is well-known for its gold reserves and its abundant production of apples, cherries and wine.
Rich history and resources
Back in the Ming Dynasty (1368-1644), Yantai was considered to be an important harbor before the Opium Wars in the mid-19th Century. However, the subjugation of the then Qing Government (1644-1911) by foreign powers and the signing of unequal treaties had a big effect on the city. It was chosen to replace Dengzhou (now Penglai) as a trading port in 1862. The signing of the Yantai Treaty in 1876 and the Treaty of Shimonoseki in 1895 confirmed China's position as a semi-colonial society. Many countries, including the UK, France, Sweden and the U.S., established consulates in Yantai during the 1860s and '70s, and in 1888, the British built a lighthouse which remains standing. According to the information displayed at the Yantai Hill, the people of the city struggled against imperial oppression until the Revolution of 1911 that overthrew the Qing Dynasty, China's last imperial dynasty.
One of Yantai's most well-known residents was famous Chinese writer Bing Xin, who moved to the city at the age of 3, when her father was appointed as principal of the Yantai Naval Academy in 1903. Bing Xin would often spend time visiting places such as the Yantai Hill and Changyu Vineyard, which inspired her future literary works. She wrote famous novels such as Jimo (Loneliness) and Nangui (Homeward South).
The Changyu Wine Co., the oldest winery in China, was established in 1892. Set up by Zhang Bishi, the firm hired three foreign enologists to help create high quality wine. To this day, the company remains active as the largest wine maker in China and has grown into one of the biggest wine makers in the world, producing over 100,000 tons of wine per year.
In 2013, the Changyu Industrial Park, covering 6,200 mu (413.33 hectares), was developed by Yantai Changyu Pioneer Wine Co. Ltd. with a total investment of 6 billion yuan ($882.44 million). The park adopted a new development philosophy that integrated several subprojects, including the company's planting area, production facilities and research base as well as tourism. One of its branches, the Koyac Brandy Chateau, covering 25 mu (1.67 hectares), will be China's first brandy chateau and also China's first wine chateau to make wine using natural power once construction is completed. Changyu Wine has been featured in foreign media such as Time magazine and The Guardian and is on sale in foreign supermarkets like Sainsbury's and Tesco in the UK.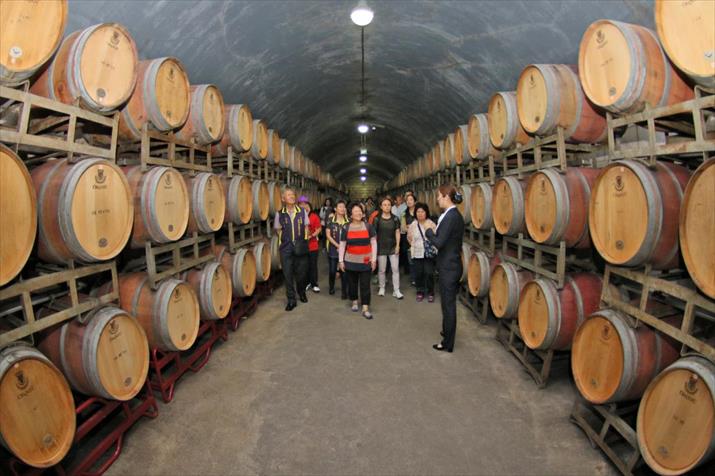 Tourists from Taiwan visit the Changyu Wine Culture Museum in Yantai, Shandong Province, on May 18 (XINHUA)
Modern Yantai
Due to both its position as a port city and its historical legacy, Yantai has grown into a prosperous urban center with many large companies situated around the city. It was one of the 14 coastal cities opened to overseas investment in 1984, further boosting its economic development.
One such company is CIMC Raffles Offshore, a subsidiary of China International Marine Containers (Group) Ltd., established in 1980. With nearly 10,000 employees, it comprises three operating companies, three construction bases, national maritime engineering activities and a research institute. Its core business includes design, construction, maintenance and refurbishment of resource extraction platforms. One of these, known as Bluewhale I, is a highly advanced ultra-deep water semi-submersible drilling rig with a dual derrick hoisting system. It was deployed earlier this year for use in the South China Sea.
CIMC Raffles also constructs luxury yachts, including the models ASEAN Lady and Illusion. The company has won several rig-of-the-month awards and done business with many multinational firms, including Royal Dutch Shell and ConocoPhillips.
Another Yantai company is Rongchang Pharmaceuticals Ltd., which was founded in 1993. The company has grown into a large producer and seller of modern Chinese medicine and biological drugs. It currently has eight national-level new drugs.
The Sino-Russian Cooperation Promotion Center was founded in 2009 in the Yantai Hi-Tech Development Zone. The center's objectives are promoting Sino-Russian cooperation in science, technology, economy and trade through the organization of activities such as cooperation forums, trade promotions and press releases sponsored by government departments.
In addition, the Yantai Jereh Oilfield Services Group, founded in 1999, produces oil and gas equipment for export to several countries and regions globally. During its founding period, the company engaged in sales and maintenance of oilfield accessories and equipment. From 2003 onwards, it began to expand, with equipment it independently developed employed in a South China Sea project and subsequently exported to the U.S. It developed its first compressor unit for use during natural gas extraction and transportation in 2006. In 2010, having grown further and reached more markets overseas, Jereh was listed on the Shenzhen Stock Exchange. The company has continued to grow through to the present day.
Li Huitao, Vice President of Jereh, told Beijing Review, "We have a new factory under construction which will be 10 times the size of this one." He said that "every employee at this company is encouraged to come up with his own ideas to benefit the company." Employees are rewarded for such contributions. A score is given for proposals, with higher scores (and rewards) given for better proposals. Li said, "We use this kind of method to encourage every employee to be involved in the growth of our company."
Yantai is also home to the Yantai Chijiu Clock-Watch Group Co. Ltd., which produces a huge range of clocks that are used in train stations, airports and buildings in China and across the globe. One of its biggest projects was jointly producing with British company Smith of Derby the 113-meter-tall Ganzhou Harmony Tower Clock, the largest mechanical tower clock in the world, which surpasses Big Ben in London. The company has also provided the massive timepiece for Beijing Capital International Airport's Terminal 3, which is 3,900 meters long and 790 meters wide. Many extra-large projects have been undertaken by the group, whose business philosophy consists of developing markets, achieving sustainable development and carrying forward an entrepreneurial spirit.
Another company with similar objectives in Yantai is Wanhua Chemical, which belongs to the Wanhua Group. As part of China's reform and opening up, it was established in 1978. In the same year, the Yantai Synthetic Leather Plant was approved, preluding China's first polyurethane industrial base. This marked the start of Wanhua's rapid development journey.
By 1993, the company had three industrial plants operating at full capacity. Over the next two decades, the company grew further, becoming an industry leader and expanding into overseas markets. In 2001, it was listed on the Shanghai Stock Exchange, and construction began on the Wanhua Yantai Industrial Park. That year also saw Wanhua purchase Hungarian chemical giant BorsodChem for $1.6 million. Today, Wanhua enjoys net profits in the region of $15 billion and is the world's largest producer by capacity of methylene diphenyl diisocyanate, which is mostly used to produce rigid polyurethane.
These companies, most of which were founded in the few decades since China's reform and opening up began in 1978—showcase the dynamism of Yantai's rapid economic expansion, helped by the city's rich resources and location. With the Belt and Road Initiative, Yantai and its multitude of large-scale companies look set for a rosy future.
Copyedited by Chris Surtees
Comments to zanjifang@bjreview.com