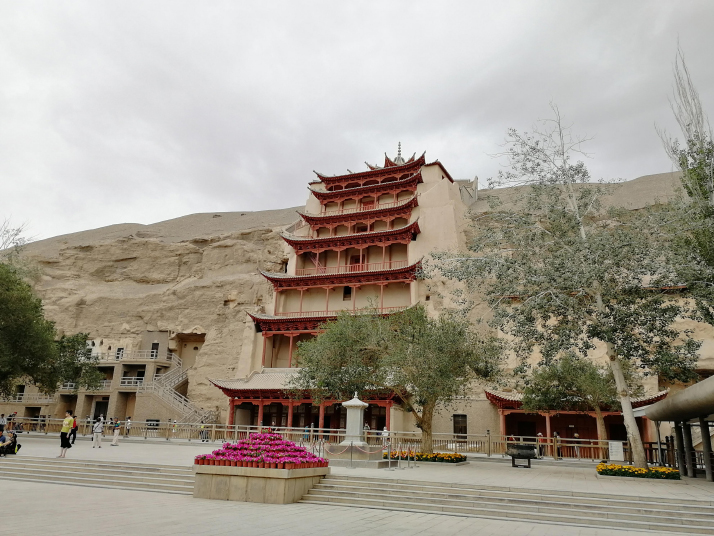 The Mogao Grottoes in Dunhuang of Gansu Province, on June 23. It is well known for vivid statues and colorful murals, especially the image of flying Apsaras (WANG HAIRONG)
Despite the glaring sun on the early afternoon of June 21, Mingsha Mountain was rife with activity. Located in Dunhuang City in northwest China's Gansu Province, the mountain was a perfect backdrop for tourists.
Teams of camels, strung together by reins, zigzagged along undulating sand dunes carrying visitors on their backs. Some guests, undaunted by the heat, scaled the dunes by foot aided by a rope ladder lay across the sand. Others sauntered around the Yueya Lake at the base of the sand dunes, while some chose instead to rest in the refreshing shade of a cluster of weather-beaten pavilions flanked by a few stout willow trees planted by a Qing Dynasty (1644-1911) general marching through the desolate region. More adventurous souls took to the sky either on gliders or in small helicopters.
The sand dunes and the crescent-shaped lake, which have coexisted peacefully in the desert for a long time, are famed scenic spots along the ancient Silk Road, a network of trade routes that once connected Asia with the Middle East, southern Europe and northern Africa.
"The Silk Road is not only a cultural and trade road, but also one of the most vibrant travel routes in the world with great untapped potential," said Du Jiang, an official with the Ministry of Culture and Tourism at the opening ceremony of the Eighth Dunhuang Tour—Silk Road International Tourism Festival in Jiayuguan City on June 19.
Currently, the international travel volume of countries along the Silk Road Economic Belt and the 21st-Century Maritime Silk Road accounts for more than 70 percent of the global tourism market.
The development of China's tourism industry will provide a rare historical opportunity as well as social and economic development in countries along the Belt and Road, Du said.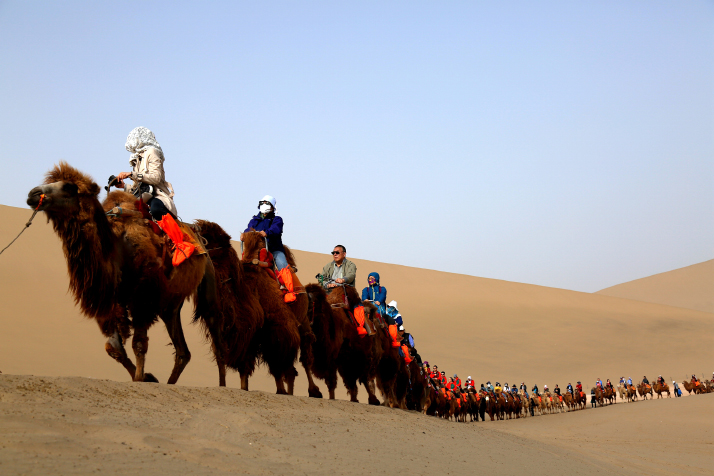 Travelers are touring the Mingsha Mountain and the Yueya Lake near Dunhuang City of Gansu Province on April 30 (XINHUA)
Booming potential
Du said that two-way visits between China and other countries along the Silk Road reached 2.5 million in 2015, a number he thinks will increase in the near future. During the 13th Five-Year Plan (2016-20) period, Chinese nationals are expected to make 150 million visits to countries and regions along the Belt and Road, spending $200 billion. In addition, China expects to receive 85 million visits from these same countries and regions, earning $110 billion in revenue, according to Du.
Tourism has become an important engine of global economic growth. After 40 years of continuous and rapid development since reform and opening up, China's tourism industry has become a strategic pillar of the national economy and an undertaking to meet people's needs for a better life, Du said at the Silk Road International Tourism Operators' Conference in Jiayuguan on June 20.
China's tourism industry has contributed more than 10 percent to the country's economy and employment, as well as to the total international travel volume and expenditure, he said. Currently China is the world's largest source of outbound tourists and the fourth largest host country for inbound tourism.
In 2017, Chinese tourists made more than 5 billion trips around the country, up 12.8 percent year on year. The country received 139 million inbound visits, a year-on-year increase of 0.8 percent, while its citizens made 131 million outbound visits, a year-on-year surge of 7 percent, Du said.
The Chinese Government is making great efforts to boost tourism exchanges and cooperation with countries along the Belt and Road. In recent years, China has held several Year of Tourism activities with countries and relevant organizations along the Belt and Road, which have yielded fruitful and visible results.
Meanwhile, tourism ministers from countries and regions along the Belt and Road have signed several documents to boost tourism cooperation. At the Tourism Ministerial Meeting of Countries along the Silk Road Economic Belt held in Xi'an, northwest China's Shaanxi Province, in June 2015, a Xi'an Initiative was adopted to give new impetus to tourism exchanges and cooperation along the Silk Road. Tourism ministers pledged to build an integrated market, including measures such as combining tourist destinations in different countries into one tour package and pushing for more convenient visa policies.
In September 2017, the 22nd General Assembly of the United Nations World Tourism Organization was held in Chengdu in southwest China's Sichuan Province. During the assembly, a Belt and Road Tourism Ministers' Forum was held which resulted in a Chengdu Initiative on Tourism Cooperation along the Belt and Road.
In addition, during the 18th Shanghai Cooperation Organization (SCO) Summit in Qingdao, east China's Shandong Province, in early June, an action plan for implementing the SCO tourism cooperation guideline for 2019-20 was signed. SCO member states promised to offer more abundant tourism products, improve services as well as the legal rights and safety of tourists, and introduce new technology into tourism.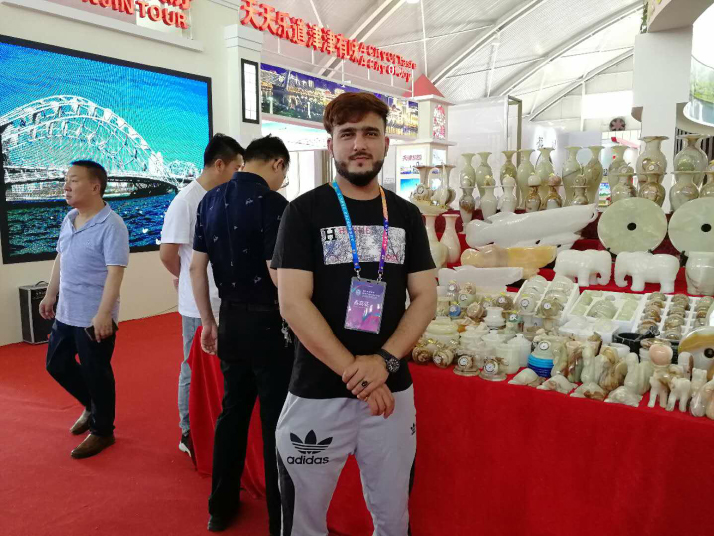 Syed Razzaq Shah from Pakistan brings jade to a tourism product exhibition in Jiayuguan, in Gansu Province on June 20 (WANG HAIRONG)
Seizing the moment
Concurrent with national efforts to boost Silk Road tourism, related Chinese provincial governments are doing their part. With one fifth of the Silk Road passing through it, Gansu Province in northwest China is being proactive in seizing the opportunity availed by the Belt and Road Initiative to develop its tourism.
"The Belt and Road Initiative puts Gansu at the forefront of opening up to countries and regions west of China, and provides an important opportunity for mutually beneficial cooperation between the province and other places along the Belt and Road," Tang Renjian, Governor of Gansu, said at the opening ceremony of the international tourism festival.
He added that the province is endowed with a rich history and vast landscape that enables one "to take just one step and traverse 1,000 years of history and with just one glance see 10,000 km." A journey through the province is not only one of culture and history, natural ecology and folk customs, but also one about harmonious coexistence between man and nature and one that can bring more meaning to life, he said.
The province has taken its annual international tourism festival as an opportunity to reach out to other countries and regions. At this year's month-long festival, many people who participated in the opening ceremony, the international business operators' conference and the tourism product exhibition were from Belt and Road countries.
Yuliana Petrovich, who works for a travel company named Galar-expo, attended the business operators' conference. She said that her company, based in the capital of Belarus, Minsk, has organized tourism expos around the world including in Dubai and London. She told Beijing Review she would like to introduce Gansu to overseas tour operators so that they will bring more tourists to the area.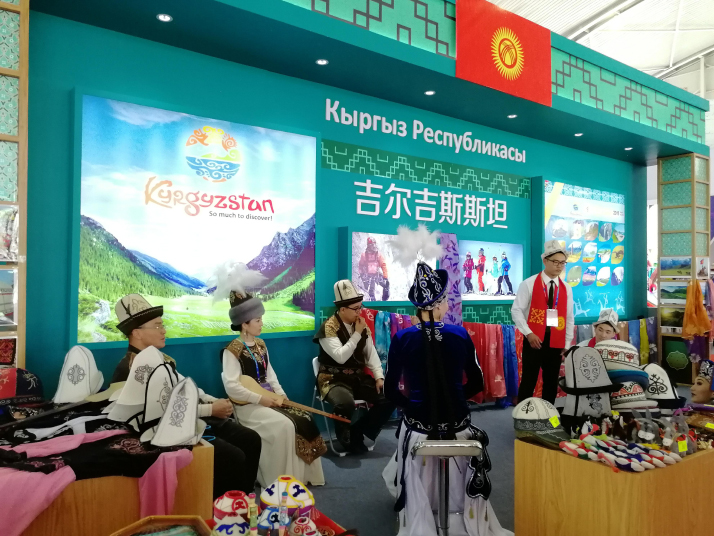 Exhibitors from Kyrgyzstan showcase their products and culture at a tourism product exhibition held in Jiayuguan, Gansu Province, on June 20 (WANG HAIRONG)
The tourism product exhibition was attended by business people from Belt and Road countries such as Kyrgyzstan, Malaysia, Pakistan, Iran, Turkey, South Korea and Thailand.
On the first morning of the exhibition, Ameema Isariyasuwan from Thailand was busy sorting products at her booth. "I brought herbal medicines and other health products, as well as latex pillows from Thailand," she told Beijing Review.
Holding a box of Thai medicine, she explained that it can prevent motion sickness, relieve nasal congestion, repel mosquitoes and prevent heat stroke, which make it a great product for travelers. She also explained that a back-pain patch from Thailand is very popular with Chinese consumers.
Isariyasuwan learned of the exhibition through the Thai Chamber of Commerce and said that she was impressed with the hospitality in Gansu. "At a banquet on June 19, the mayor of Jiayuguan came and offered us a toast," she said.
Syed Razzaq Shah from Pakistan brought jade products made by his father's company. He said that he had been to exhibitions in several places in China in the past four months and was glad to have the opportunity to visit Gansu.
Egislie, a Belarusian student wearing a traditional Russian costume, performed a folk dance from his country together with several other students during the exhibition, where he worked as a student volunteer. He is studying Chinese at the Lanzhou University of Technology in Gansu, and plans to enroll in a business administration program in fall. He said he was excited to see different cultures at the exhibition.
Meng Xiaowei, a marketing manager with the Shaanxi Travel Group based in Xi'an, the starting point of the ancient Silk Road, said, "The exhibition is not only a venue for product display, but also for cultural exchange, where people happily meet each other." Distributing his company's souvenirs to other exhibitors, he said that he was glad to meet other people in the travel industry.
During the international tourism festival, Gansu signed a tourism cooperation agreement with Grodno Province in Belarus and held exchange activities in Jiayuguan on June 20. The Belarusian ambassador to China spoke of measures his country has taken to attract Chinese tourists. Belarus has adapted its tourism infrastructure for Chinese tourists, such as translating road signs at the Minsk airport into Chinese, introducing UnionPay, Alipay and WeChat payment into its banking system, and designing special travel routes for Chinese travelers. On June 10, on the sidelines of the Qingdao SCO Summit, the two countries signed an agreement to grant mutual visa exemptions to holders of ordinary passports whose stay in the two countries amounts to fewer than 30 days.
He Wei, Deputy Governor of Gansu, said that Gansu and Grodno—two important places along the Belt and Road—have complementary tourism resources, and hence broad prospects for cooperation.
Gansu's efforts to attract overseas tourists have been rewarded with impressive market numbers. Chen Weizhong, Director of the Tourism Development Committee of Gansu Province, said that in the first five months of 2018, the growth of inbound overseas tourists to Gansu doubled year on year, becoming the fastest growing among Chinese provinces. He added that in particular, the number of tourists from countries along the Maritime Silk Road such as Singapore, Malaysia and Viet Nam had increased significantly.
Copyedited by Rebeca Toledo
Comments to wanghairong@bjreview.com