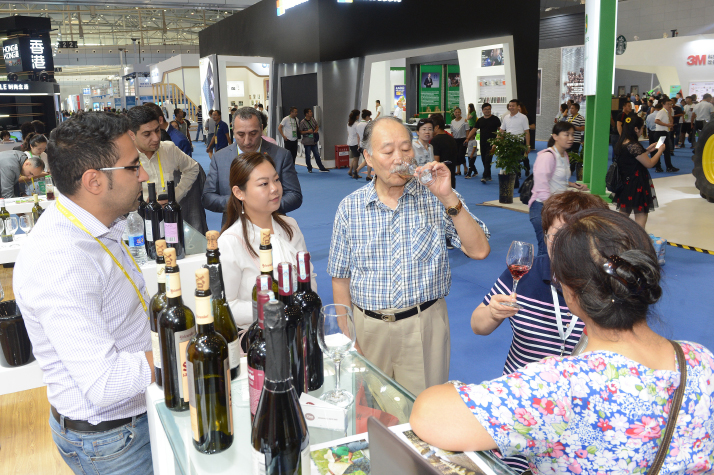 Visitors taste wine from Azerbaijan at the China-Eurasia Expo in Urumqi, northwest China's Xinjiang Uygur Autonomous Region, on August 30 (XINHUA)
An elegantly carved white booth decorated in vermillion immediately grabbed the attention of visitors stepping into an exhibition hall at the Sixth China-Eurasia Expo. Bottles of wine sparkled on well-illuminated counters in front of the booth. A variety of other products such as nuts, candy and fruits from Azerbaijan were on display, wooing passersby.
The expo, held in Urumqi, capital of northwest China's Xinjiang Uygur Autonomous Region, from August 30 to September 1, was themed The Belt and Road—Extensive Consultation, Joint Contribution and Shared Benefits. The expo offered a major platform for promoting the Belt and Road Initiative, which is celebrating its fifth anniversary after being proposed by Chinese President Xi Jinping in 2013.
Since the initiative was launched, China has deepened pragmatic cooperation with countries along the Belt and Road routes, yielding substantial achievements, said Vice Premier Hu Chunhua, addressing the opening ceremony of the expo on August 30.
Hu expressed China's hope to further expand cooperation with other countries, and encouraged enterprises in other Eurasian countries to work more closely with their Chinese counterparts.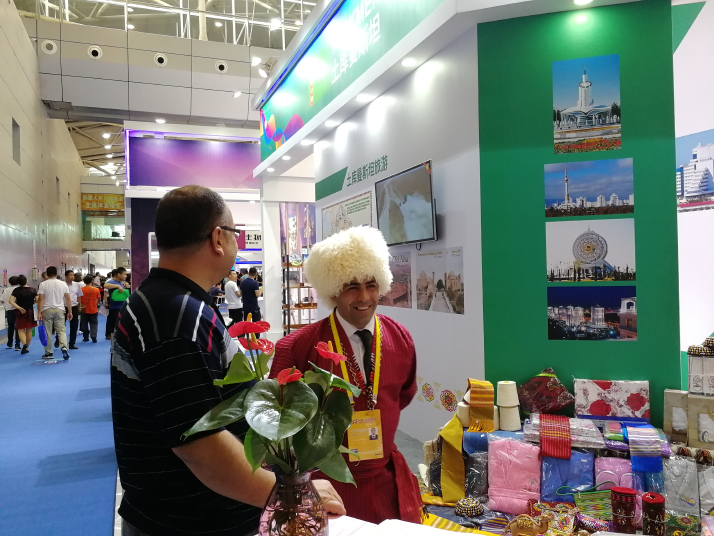 Gurban Gurbanov (right), Director of Ahalsiykhat State Travel Co. of Turkmenistan, talks to a visitor on August 31 (WANG HAIRONG)
Business matchmaking
The expo provided an opportunity for Chinese and foreign firms to showcase their products and form partnerships. It drew more than 704 companies and a variety of vendors and purchasers from 35 countries and regions along the Belt and Road.
Sedmostafa, an exhibitor representing Iranian company Ara Persian Luxurious Art, displayed exquisite Persian handicrafts, tapestries and paintings. Holding a thin copper plate with beautiful patterns in white and various shades of blue, he said that it was exclusively handmade, and painted by hand.
He was busy answering visitors' inquiries until shortly before the expo's conclusion. "The expo has been very successful for us," he said during a brief pause. "We have met good customers. The expo is a wonderful opportunity for us to promote Persian arts. Chinese people are interested in our products, art and history."
He told Beijing Review that he had set up appointments to discuss agreements with several Chinese businesspeople who were interested in becoming his company's distributors in China. He added that since last year, his company has been selling products in Chinese cities such as Shanghai and Guangzhou, which have been well-received.
Zhang Hanlei, a local from Urumqi, was attracted by the plate. He told Beijing Review that he likes Persian handicrafts, and was considering buying something for his friend, who was going to marry and move into a new home.
A middle-aged Uygur woman haggling over the price of a thick rug said that she liked the rug because it was woven with quality silk and had a nice design.
Balash Niftaliyer, an exhibitor with Azerbaijan Hazelnut Exporter Co., also came to the expo to find business opportunities. He said that his company has been selling to Russia and other European countries and would now like to tap into the Chinese market, especially the market in Xinjiang.
A bowl of hazelnuts was set out on the counter for customers to taste. One woman said its retail price was reasonable. She suggested Niftaliyer open a store on China's e-commerce platform Taobao.
An export manager from Azerbaijan-based Aznar CJSC, Natalia Pakhaeva, was one of the busiest people throughout the expo. She served pure pomegranate juice to eager visitors surrounding her counter. "The juice tastes very good," said a middle-aged customer. Pakhaeva said that the company has been selling the juice at a Shanghai market for two years, now they want to bring it to Xinjiang.
Some of these companies were successful in seeking Chinese partners. During the three-day expo, 25 companies in Xinjiang signed 29 trade agreements with companies from 13 countries along the Belt and Road, with a total value of 10.48 billion yuan ($1.5 billion), said Haderbek Hamza, Vice Chairman of Xinjiang Uygur Autonomous Region, at a press conference on the expo's results. In addition, he said that agreements on two joint projects were signed between Xinjiang firms and their foreign counterparts along the Belt and Road, totaling 28.96 billion yuan ($4.2 billion).
Tourism cooperation
Commodity traders were not the only ones seeking business partners at the expo. "Turkmenistan regards the China-Eurasia Expo as an important cooperative platform, and the heads of six travel agencies came to Urumqi from Turkmenistan to seek partners through this platform," said Chinar Rustamova, Turkmenistan Ambassador to China, at a sub-forum on tourism cooperation between the two countries during the expo, where both sides expressed a wish to expand tourism cooperation.
Gurban Gurbanov, Director of the Ahalsiykhat State Travel Co., was from one of the six travel agencies in attendance. At the tourism booth, he was busy receiving visitors, who enjoyed posing with him, in his huge white fur hat and cheerful red gown.
The booth was decorated with pictures of tourist attractions in Turkmenistan. Pointing at the pictures, Gurbanov said, "Chinese people are interested in Turkmenistan; they like horses."
He was referring to the Akhal-Teke horses native to Turkmenistan, which are prized for their graceful figure, charming metallic sheen, speed, stamina, and resilience in harsh natural conditions. In Chinese, the stallions' name literally means sweating blood, which refers to the fact that they become pink-skinned after exercising. In ancient times, Chinese emperors received such steeds as precious gifts and cherished them.
Gurbanov said his company has partnered with some Chinese travel agencies and expects to expand the cooperation. He used the expo as an opportunity to present his country to potential tourists and business partners.
Travel brochures and leaflets in Chinese were available at the booth. An itinerary in one brochure included a visit to Ashgabat, the country's capital known for having the largest concentration of white marble buildings in the world, as well as to a horse stable and the Darwaza gas crater, where gas leaked from land subsidence is incinerated to prevent gas poisoning. The fire, said to have been ignited in 1971 by Soviet geologists, has been burning since, becoming a tourist attraction.
At the same time that Turkmenistan welcomes Chinese tourists to the country, Xinjiang is also looking to attract tourists from other parts of China and abroad.
"Turkmen people also like to visit China, and many of them go sightseeing and shopping in Urumqi," Gurbanov said.
With splendid scenery and a rich culture, Xinjiang has become a popular tourist destination. In the first seven months of the year, more than 78.3 million tourists traveled to Xinjiang, an increase of 38.7 percent year on year, spending over 121.4 billion yuan ($17.6 billion), a 40.7-percent increase year on year, according to statistics from Xinjiang's tourism development commission.
"Xinjiang and Turkmenistan have formed a deep connection through horseback riding, with Akhal-Teke horses acting as emissaries of friendly relations between China and Turkmenistan," said Hou Hanmin, head of the commission, during the sub-forum. She hopes tourism industries in both countries deepen cooperation and create a safer and more comfortable environment for tourists.
Government consensus
China and countries along the Belt and Road share a desire to expand cooperation. Since 2013, China's public and private sectors have established multi-level mechanisms for cooperation with countries and regions along the Belt and Road, said Fu Ziying, Vice Minister of Commerce.
China's trade and investment cooperation with countries and regions along the routes has yielded fruitful results, Fu said. He added that in the first half of the year, the commodity import and export volume between China and countries and regions along the routes reached $605 billion, an increase of 18 percent year on year. Moreover, Chinese enterprises have added $7.68 billion in investment to these countries and regions.
Fazal Hadi Muslimyar, Chairman of the House of Elders, the upper house of Afghanistan's National Assembly, said at the expo's opening ceremony that it "is not just a platform for the development of Urumqi and China but is also a very good stage for regional development."
Announcing that Afghanistan is in full support of the Belt and Road Initiative, he invited Chinese investors to invest into his country.
"Afghan dry fruit and saffron are very famous in the region; they are even exported beyond Asia to most European countries. Afghanistan has world-class rugs and handicrafts. There are many opportunities to invest in the infrastructure of Afghanistan," he added.
"I am deeply convinced that the China-Eurasia Expo will be another step forward, contributing to achieving the goals of the Belt and Road Initiative, bringing specific outcomes and broader regional benefits," said Maia Tskitishvili, Vice Prime Minister of Georgia at the opening ceremony.
She said that concrete steps have been taken to facilitate trade in the region. The China-Georgia Free Trade Agreement went into effect on January 1. In addition, Georgia and China's Hong Kong Special Administrative Region recently signed a free trade agreement, which is expected to take effect by the end of the year.
Trade flow between China and Georgia has increased significantly in recent years and totaled $939.54 million in 2017. Additionally, China is one of the largest wine markets for Georgia.
Tskitishvili concluded that the expo is an excellent opportunity to further enhance trade connectivity, people-to-people contacts and business relations.
Copyedited by Rebeca Toledo
Comments to wanghairong@bjreview.com