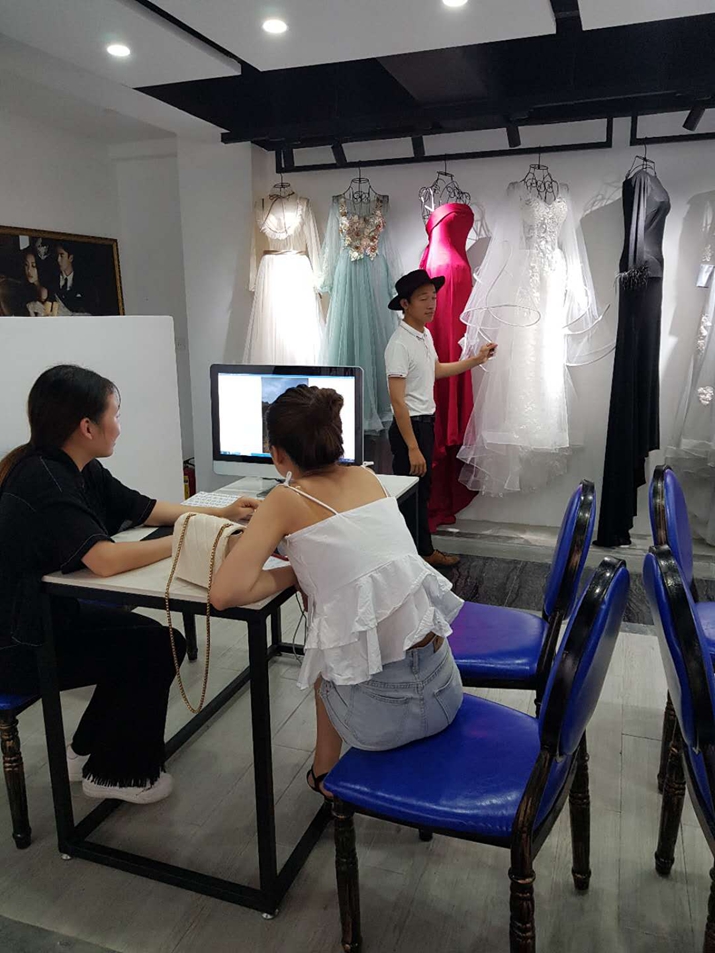 At Manjaz, Yang Yifei discusses wedding photo dresses with a client on September 18 (SUDESHNA SARKAR)
If you want to know how to make a wedding picture-perfect, come to Xitouxia Village. It's a cluster of bylanes in Xiamen in southeast China's Fujian Province, bustling with cafes, shops and brides.
Close to the picturesque Huandao Road, now famous as the route of the Xiamen International Marathon, the area is lucky to share a sliver of the beach. Thanks to the enchanting backdrop of the sea and the distant islands seen through a mist of spray, it has become popular with young couples ready to tie the knot and seeking an idyllic location to shoot those obligatory "wedding photos."
This has given rise to a thriving wedding photo shooting industry in Xitouxia. Yang Yifei, 25, is a photographer with Manjaz, a company offering complete shooting packages. The service comes with a four-member team of a makeup artist for the bride and groom, a photographer, an assistant, and a driver to drive the team from one location to another. Manjaz also stocks wedding dresses for hire and for couples coming from outside Xiamen, organizes their overnight stay. So lucrative is the business here that Manjaz, headquartered in Wenzhou City in east China's Zhejiang Province, opened a branch in Xiamen.
There are rows of hotels and boarding houses, which, in addition to tourists, benefit from the wedding shooters, said the manager of the Slow Life in Seattle boarding house. Then there are sellers of other paraphernalia, like the bouquet the bride carries, which could be either of silk flowers or the real thing, balloons, and even fireworks.
There is serious money involved and hard work. Yang Xiaoyou, a 20-year-old shop assistant, had come with her beau, Jiang Bing, 25, who doesn't have a fixed job yet. "We have been here for over nine hours," she said, still not tired. Companies like Manjaz charge about 5,000-6,000 yuan ($728-$874) per day.
For those, who want more diverse locations and have more money and time to spare, some of the wedding
photo
shoot
ing
companies at Xitouxia organize trips to Gulangyu, the magical island of music and architecture from different parts of the world that was recognized as a UNESCO World Heritage site last year. So a wedding is no longer a family matter but becomes an event for an entire chain of industries to rejoice, from transport and tourism to printing, catering and more
.