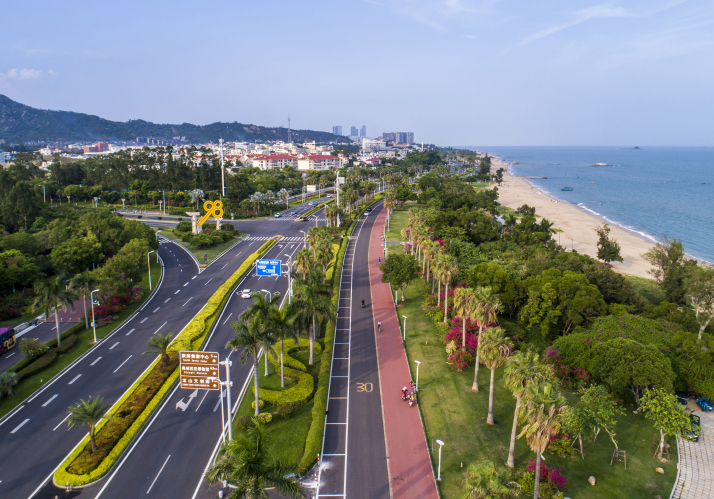 A bird's eye view of Huandao Road in Xiamen, Fujian Province (BEIJING REVIEW)
Fu Xunyi still remembers how terrible the summers used to be when he was a young boy. He grew up in Xiamen, a city in southeast China known as one of the torchbearers of reform and opening up due to its port and pioneering free trade zone. The summers were naturally hot and humid due to its geography but what made it worse for the Fu family was that they lived right by Yundang, a former port fallen on bad days.
In the 1970s, when the city sought more land to grow crops and feed its rising population, part of Yundang was filled up and shrunk into a lagoon. The reclaimed land, however, proved unsuitable for agriculture and was abandoned and subsequently became a garbage dump.
"The water stopped flowing. Yundang became a lake where refuse floated and no living creatures could survive," Fu said. "The stench was so appalling and waters bred such swarms of mosquitos that we had to keep our windows closed all the time, even in the peak of summer."
Back to glory
In the 1980s, the situation became so unbearable that residents began complaining. "They would go out of their way to draw attention to the lake's pollution. Finally, the authorities took action," said Fu, who, as an engineer at the Yundang Lagoon Management Center, had a hand in the restoration of the seawater lake.
First, the water had to be cleaned. The polluting factories were either shut down or relocated. Then the sludge accumulating on the lake floor for decades was dredged. Engineers began to replace the dead water with fresh seawater and a water treatment plant was built to treat the polluted water. Later, as Xiamen's population began burgeoning, a second plant was added.
The next step was to beautify the surroundings. "To make the neighborhood greener, we built a park using the sludge from the lake," Fu said. "Then green walking paths were built and a red forest." Mangrove forests were grown for nearly 2 km along the lagoon's bank, which are home to the egret, Xiamen's signature bird, and nearly 70 other species, making them a birdwatcher's paradise.
Today, the lagoon's waters have been cleaned to meet one of the highest national standards, and fish have returned. "It took 20-30 years for fish to return to the water and birds to the sky, but it has been done," Fu said, with quiet satisfaction. The restoration has been acknowledged as a model ecological restoration project by the United Nations Development Program.
The lagoon serves another critical purpose. Sluice gates were built to protect Xiamen from floods caused by typhoons. "If the sluice gates had not been built, floods could have inflicted heavy losses," Fu said.
The change has been noticed by others as well. Besides becoming a tourist attraction, Yundang Lagoon today draws hordes of a different kind of visitor: young couples who flock there before tying the knot to take the obligatory wedding photos. It's a routine for couples to search for picturesque scenes where they can pose for their memento photos. The volume of such visitors is high, creating a lucrative business for the entire industrial chain involved in this activity, from studios to hotels and transport.
Fu Shuai, a 36-year-old aviation engineer from Nanjing, came to the city in 2005 to work on aircraft maintenance. But spotting the business potential, two years ago he left his job and started Flydro, a drone photography business, to cash in on the boom.
On a hot summer day, Fu and his two assistants were busy taking aerial images of another green area, the scenic Huandao Road, where the Ninth BRICS Summit was held in 2017 at the Xiamen International Conference Center. "I love the variety (of work) and being my own boss," he said. "Green Xiamen has huge business potential."
Creating a garden city
Fu Rurong, Deputy Director of the Xiamen Development and Reform Commission, said, "Xiamen has become a garden city with a forest coverage of 40 percent and good air quality. But we are working to reach higher standards."
Through the years, Xiamen has been cautious about the kind of industries it allows, rejecting heavily polluting industries, though it means putting brakes on economic development. Private construction has been banned on the beach and the thrust is on preservation and going green.
As a coastal city, fishing used to be one of Xiamen's key industries. But now, to improve the ecosystem, the local government has put seasonal restrictions on fishing and reduced its intensity, said Zhang Xurong, an official at the Xiamen Oceans and Fisheries Bureau. "This year, the government has allocated a 10-million-yuan ($1.44 million) subsidy to wean fishermen off fishing during fishing moratoriums and help them renovate their boats," Zhang said. "With development, Xiamen needs a lot of manpower and there are alternative jobs. Nearly 100,000 fishermen have found other work."
In 2010, work started on a coastal wetland park. The 400-million-yuan ($57.66 million) project, to be completed next year, will be a key part of the project to stimulate tourism, science education and research, and maritime commercial production. With the growth of maritime traffic at the Port of Xiamen, special bureaus have been established to deal with emergencies like oil spills and other shipping accidents.
"Here in Xiamen, opening up has two aspects," Fu Rurong said. "One is allowing select industries. The other is how to work and live here. It is especially a good place for foreign talent to work and live."
Kulangsu, a pedestrian-only tiny island that is immensely rich in architectural and cultural heritage, is a prime example of foreigners settling down and living in harmony with locals. In 2017, it was recognized by UNESCO as a World Heritage Site. "The island has mountains, the sea and a community living in harmony with nature," Fu Rurong said.

A marathon culture
In the 1990s, the local government began to build a road around Xiamen Island for better connectivity. "First, it was just a road for people to travel. Then trees were planted to make it like a garden. For 20 years, the government and generation after generation have continued the work, making it greener," said Wu Mingxian, Deputy Director of the Xiamen Municipal Bureau of Sports.
Today, Huandao Road is another face of Xiamen, having become an international destination.
"The road is nearly 42 km; that's the length of a marathon race route," said Wu. "We had an outdoor sports lover, a resident called Ma Da, who had the brainstorm of starting a marathon on the road since it is also one of the most scenic spots with a breathtaking view of the sea. The mayor liked the idea and we started the Xiamen International Marathon in 2003 with about 2,000 runners."
Today, it has become an international fixture recognized as a Gold Label Road Race or premier international race by the Monaco-headquartered International Association of Athletics Federations with a top prize of $40,000. There are also four shorter marathons held annually, making the island a top destination for international participants. This year, the marathon contributed to green growth and its awareness by banning the use of plastics.
"The Xiamen marathon is not just a marathon but a cultural event," Wu said. "The locals interact with the runners, voluntarily providing drinking water, fruits and encouragement along the route. It is like a carnival where foreign runners can feel the support and amiability of Xiamen."
(Reporting from Xiamen, Fujian Province)
Copyedited by Rebeca Toledo
Comments to zanjifang@bjreview.com