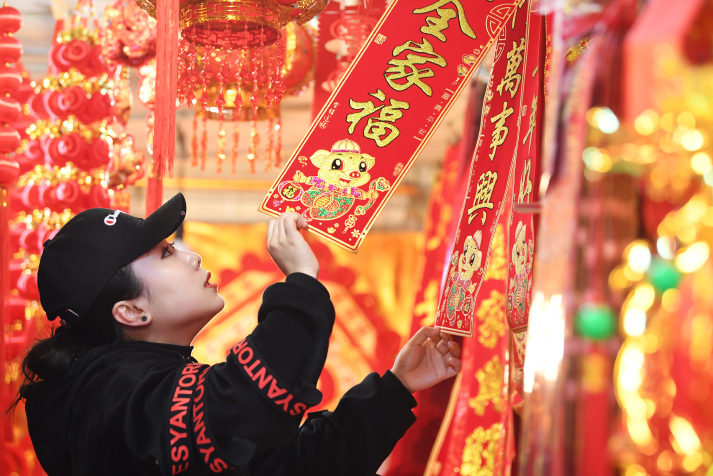 A resident of Chongqing Municipality chooses Spring Festival couplets on January 27 (XINHUA)
The overture to the 2019 Chinese Lunar New Year—the Year of the Pig—flowed into Beijing weeks before the actual holiday, which falls on February 5 this year, the first day of the New Year according to the lunar calendar. Strings of red lanterns hang from the sides of light poles, brightening up the otherwise drab winter scene and igniting the holiday spirit, while shops are all festooned with elaborate holiday decorations, either for adornment or sale. On January 20, the Beijing Municipal Government kicked off colorful holiday cultural activities with a skating performance at the Summer Palace ice rink. Despite this enticement, many people residing in the capital are anxious—like migrating birds pending their annual journey—eager to rush back to their hometowns, even if it means enduring extra hassles such as scrambling for travel tickets, shopping for gifts, packing and being stuck in traffic jams.
Liu Zhiwei, an electrical engineer in Beijing is ready to go. "I am from Shandong Province. According to our traditional customs, the Lunar New Year is about family reunion, so we usually return to our parents' home," he said.
Wu Jun, a vegetable vendor in Haidian District in Beijing, is on the verge of returning to his hometown in Xinyang City, Henan Province, with his wife. The couple, both in their 40s, is eager to reunite with their parents and their young son and daughter. "Though it is not far, I am too busy to go back home except for the Spring Festival. The children miss us very much," he said.
Hundreds of millions of people will join the holiday season travel rush. People all over the country are expected to make 3 billion trips primarily for family reunions and some for tourism, according to official estimates.
What draws so many people back to their place of origin? What does the Spring Festival mean to them? How will they celebrate it? Through several interviews, here is what Beijing Review uncovered.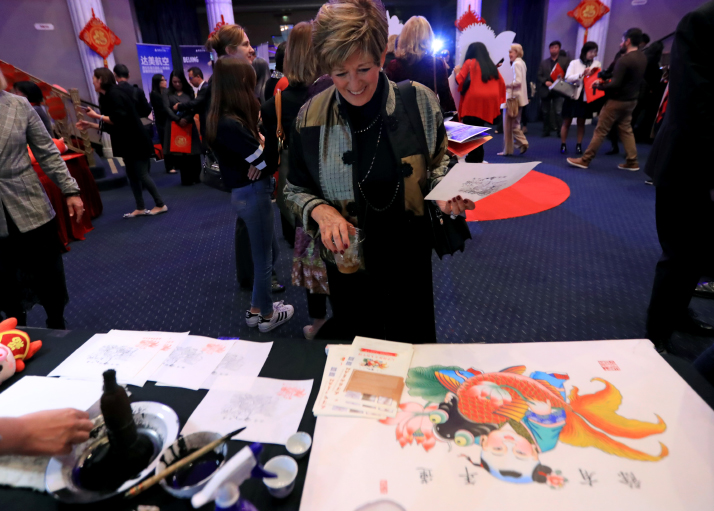 A visitor admires a woodcut picture at an event to celebrate the Chinese Lunar New Year in Los Angeles, California, on January 25 (XINHUA)
The natives return
For Zou Bo, the owner of a hostel on Kulangsu Island in Fujian Province, the Spring Festival means a journey back to his hometown Yantai in eastern Shandong and his childhood.
"My fondest memories of the Lunar New Year consist of three things: firecrackers, new clothes and the magical hands of my mother," he said.
Zou, 49, grew up in a village on the outskirts of the city. "The most thrilling thing for boys in the countryside was that they could set off firecrackers during the Spring Festival," he said. "When we entered the last month of the lunar calendar, my family would buy firecrackers for us, which my brother and I treasured very much since life was so difficult that my family did not want to splurge on firecrackers." They usually got 200 firecrackers, he said, and to make the stock last longer, they only set off a few each day.
Back in the 1970s and 80s, new clothes for New Year's Day were handmade in most rural families. "My mother has dexterous hands, so she made all the clothes for my brother and me. The clothes fit us well and made us look very handsome, winning compliments from relatives and neighbors," Zou recalled.
"Since others asked my mother to make their clothes for the New Year as well, she would get really busy before the holiday, making clothes until late into the New Year's Eve," he said. "I remember every year on that night, as my brother and I were about to doze off into our dreams, she would still be sewing, with her head bent over. When we woke up on New Year's Day, we would find a stack of new clothes waiting for us in our clean and tidy room. We could not help but marvel at her pair of magic hands."
Although the village has become part of the city during the urbanization process, Zou still enjoys returning to his hometown and connecting with his family and friends from childhood.
For 38-year-old Liu Zhiwei, the Spring Festival means getting closer to tradition. In his hometown, it is celebrated in the traditional way. On New Year's Eve, he and his parents, wife and children usually get together, putting up couplets on door frames and papercuttings on windows. "One year, we even bought a tree laden with oranges to decorate the house, since orange trees promise happiness in the coming year," he said.
In their home, New Year's Eve always starts with a feast, with fish symbolizing surplus year after year, chicken representing good luck and dumplings signifying reunion, he said. After dinner, they usually watch the Spring Festival evening gala on TV and set off fireworks and firecrackers outside. The restless and excited children will not go to bed until early into the New Year. The next day, they awaken early to the sound of booming firecrackers. They then greet each other, get dressed up and visit neighbors. Children are thrilled to get red packets of gift money. In the ensuing week, the family's schedule is packed with visits to and from relatives, peppered with feasts and rituals to commemorate ancestors, he explained.
For 10-year-old Mu Mu, a fifth grader in Beijing's Haidian District, the Spring Festival is a time to visit his grandparents and get back to nature. Living amid skyscrapers and concrete, he thinks his grandparents' home in the rural area in Liaoning Province is a fun place, even though it's cold because it lacks central heating. He will take his pair of pet parrots along. "Grandpa's home has a heatable brick bed all around, which will keep the birds warm," he said. "There are also roosters, hens and dogs in the yards to play with, and we can catch fish in the river and climb hills." There are also a lot of firecrackers, he added.
For Lai Fan, a graphic designer in Dazhou City, southwest China's Sichuan Province, the Lunar New Year is a time full of hope and love. "This year is quite special for me, because I just turned 40 and as I enter middle age, my life and work have become more stable. In particular, I am going to move into a new home during the Spring Festival. This is a new start; I feel the coming year is full of hope," she said.
Nevertheless, the deepest impressions that the Spring Festival left on her were those from her childhood. In addition to delicacies such as homemade sausages and glutinous rice dumplings, new clothes, fireworks and dragon dances, she remembers her father rewarding the children for their school performance on New Year's Eve. "My grades were always higher than my elder brother and sister, so I always got the biggest prize," she said. Another thing that she enjoyed was walking along mountain trails to her grandmother's home. "Although the trip was more than an hour by foot and we had to scale a steep slope, the joy of seeing dear grandma who we hadn't seen for quite a while would always drive away our fatigue," she said. "Besides, we could also pick some early-blooming wild onions by the roadside as a gift for grandma."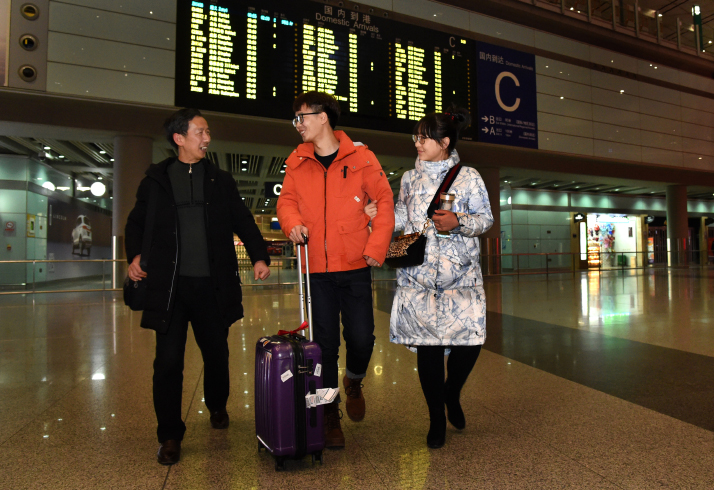 A young couple in Beijing picks up the husband's father from Guizhou Province at the Capital International Airport on January 30. The father is celebrating the Spring Festival together with his son and daughter-in-law in Beijing (XINHUA)
Fading traditions
Although the holiday travel rush continues, in recent years, many people feel the flavor of the Spring Festival has begun to fade, which can be explained by a number of factors, such as an improved living standard, the development of Internet technology, urbanization and a faster-paced life.
As hundreds of millions of people take to the road, Liu Meifu, who is in her 70s, goes on with her life as usual. She is going to spend this Spring Festival in Beijing, where she lives with her daughter's family, looking after her grandson.
For her, the Spring Festival is no longer significantly different from any other day. "Nowadays people do not have to wait for the Spring Festival to eat good food or wear new clothes," she said.
She recalled that when she was young, households were rationed several kilograms of meat, eggs and cooking oil for the festival, more than what they got on regular days, so people looked forward to the holiday to enjoy better food. "We had to queue up and trade coupons for these items. I often had to stand in line for more than an hour," she said.
Her memories of the holiday also include steaming huge buns decorated with red dates and sending them to relatives as gifts. Today, these buns can be bought in supermarkets, and people seldom send them as gifts.
Back in her hometown, the first thing people did on the morning of the New Year's Day was visit neighbors, but in Beijing, neighbors hardly visit each other, she said.
"The emergence of new things has made traditional festival rituals outdated. In the past, we had to give holiday greetings face to face, now we can deliver them by telephone or text message," said Liu Zhiwei. "Previously the festival was celebrated with a lot of fireworks and firecrackers, whereas today, they have been banned in many places to protect the environment. Even the once popular Spring Festival evening gala produced by China Central Television has been criticized by an increasingly nitpicking audience."
Rather than being glued to TV sets, many people have become addicted to their smartphones, sharing moments and virtual red envelops, said Hu Ziwei, a 22-year-old studying in the United Kingdom.
This year, she plans to celebrate the Lunar New Year's Eve by having a gathering with friends and classmates in a Chinese restaurant in London, dining, drinking and singing. The following day however, she will have to go to class. While studying abroad, she has celebrated New Year's Eve by eating out or making dumplings at home, going dancing, playing cards, occasionally watching the Spring Festival gala or traveling.
"Even if I return to my hometown for the festival, I will no longer feel as carefree as when I was a child. Young adults like me have to face inquiries and pressure from the older generations, such as asking about her dating status and urging her to get married early," she said.
Unconventional celebrations
As people's income rises, their life has become more colorful and their lifestyle less traditional, said Yi Shuang, a 37-year-old human resources officer native to Beijing.
This year, she is looking forward to a lazy holiday. "I will simply stay at home, read books, watch TV dramas and tidy up the house. Because of fast-paced work and study during the year, a holiday is so precious that I just want to relax," she said. Nowadays, many people are too busy or lazy to follow Spring Festival traditions such as rituals to welcome in and bid farewell to deities or visiting certain relatives on certain days.
Sightseeing has become a relatively new way to mark the Lunar New Year. Li Gejing, 40, cofounder of a business in Beijing, usually travels overseas during the holiday season with family members.
In previous years, Yi Shuang has also taken trips during the holiday. "Travel can reenergize us, enrich our knowledge and give us a lot of wonderful memories. After being refreshed by a tour, I am ready to set new goals for myself," she said.
China's leading online travel agency Ctrip predicted that Chinese tourists will make 400 million trips, including 7 million to overseas destinations during the week-long Spring Festival holiday this year, with Thailand and Sanya City in south China's Hainan Province the most popular foreign and domestic destinations, respectively.
Some of the domestic trips will be made by people traveling to large cities for reunions with family members working or studying there, according to Ctrip. This is a reversal of the traditional Spring Festival travel rush, which is characterized by people leaving large cities to return to smaller ones or to rural areas.
The reverse travel rush is reflected in Ctrip's flight booking data, which showed a more than 40 percent year-on-year surge in flight bookings to metropolises such as Shanghai, Beijing and Guangzhou one week before the Lunar New Year's Eve.
Although the flavor of the Spring Festival may be growing weaker, and ways to celebrate it have been changing, Liu Zhiwei still looks forward to the festival. "Society always progresses and new fashions may become our new traditions," he said.
"But whichever way the celebrations change, for family members living apart from each other, a reunion, even though short, is always precious," Hu said.
(Ji Jing, Li Qing, Wang Yajuan and Ma Miaomiao contributed to the report)
Copyedited by Rebeca Toledo
Comments to wanghairong@bjreview.com