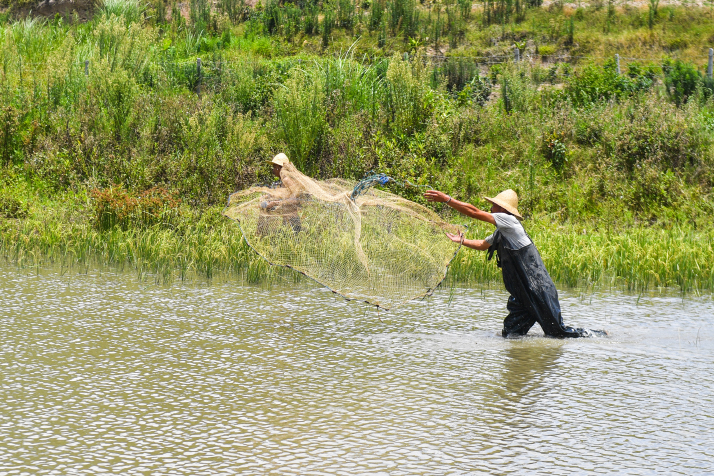 A farmer throws a fishing net in a river in Huyu Township, southwest China's Yunnan Province, on June 10 (WEI YAO)
Yang Guo and her husband Meipu Ganpang used to struggle to make ends meet as farmers in Huyu, a township in southwest China's Yunnan Province. Poverty eventually broke up their family, forcing Meipu to become a migrant worker in distant cities with more job opportunities, leaving his wife and two children at home.
It was a common situation in Huyu, where about 8,500 people live. In 2018, the residents of its four villages were living below the national poverty line, an annual income of 2,300 yuan ($334).
There were many reasons. The land was barren compared with nearby regions, transportation and infrastructure were underdeveloped, and there were few pillar industries.
In addition, most of the villagers weren't well-educated. It was not easy for them to accept new concepts and master new skills, Yin Jiahui, Secretary of the Huyu Township Committee of the Communist Party of China (CPC), said.
Fish and rice
"The only solution was to pool together the scattered human and material resources and create our own unique businesses," Yin said.
The township began to research the area and its people's business potential as part of the nationwide drive to eradicate absolute poverty by 2020, a campaign that focuses on the poorest villages and counties where people live below the poverty line.
The conclusion was that while farming and animal husbandry could be a means of income, the villagers didn't have the knowhow to explore potential markets. Private companies had access to labor, logistics, information and capital, but their financing channels were limited. While farmer cooperatives could pool the participants' land for development, they were stuck at a basic development stage and lacked high-caliber professionals who could lead them to further growth.
After the assessment, the four villages set up a collective in May 2017. Huyubeng Agricultural Development Co. today has financing capital of over 25 million yuan ($3.6 million), mainly from farmers' contributions as shareholders and funds given by large companies to assist the township. It started developing businesses suited to the local conditions, ranging from planting, breeding and produce sales to agricultural machinery manufacturing, logistics and tourism.
With investment from Huyubeng, an aquaculture company was established, benefiting many families like the Yangs. They received fish fries as part of the poverty alleviation project and received training from fishery experts invited by the local government. When the fish grow bigger, they are sold to the aquaculture company, generating income for the families.
With the money they earned from selling the fish, Yang's family bought livestock and poultry, increasing their income. The 36-year-old also got a part-time job as a street cleaner this year, one of the jobs the township offers to poverty-stricken families.
"In the past, we couldn't have a decent life even when we worked hard all day. But now the work is less hard and we earn more and live more comfortably," Yang said.
The aquaculture company has rented several plots that are used as demonstration paddy fields. Here fish are raised in the standing water used to irrigate the crop. The fish eat the worms and other insects in the crop, making it high-quality since pesticides are not needed. Besides the paddy fields, the fish are another source of income for the farmers.
The aquaculture company is expanding its ambit to include entertainment and tourism with fishing, sightseeing and farmhouse visits.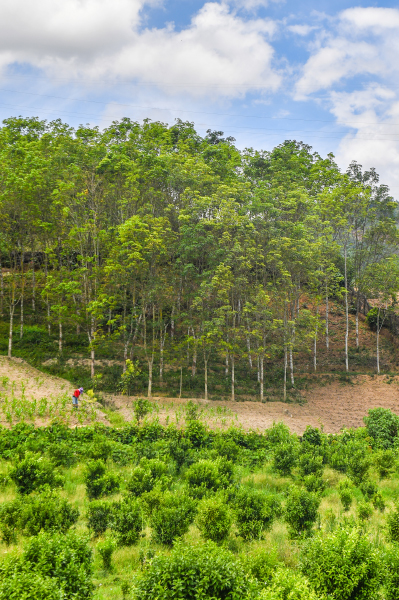 A lush lemon field in Huyu Township, southwest China's Yunnan Province, on June 10 (WEI YAO)
Building a brand
Huyubeng, in cooperation with other companies, has developed a series of agricultural programs. It has acquired the management right to land in the four villages that was previously fragmented into small plots and was not well utilized. Besides fish ponds and paddy fields, the land is used to grow cash crops like lemons, sugar oranges and avocados, plants that are suited to the local climate. Planting professionals and technicians are hired to help farmers increase their crop yields.
Huyubeng's shareholders get a year-end bonus and those participating in the planting business are paid a proportional dividend from the harvest profits.
The company's programs ensure that farmers are the ultimate beneficiary. For example, Huyubeng established a joint venture with Ruili Yuyao Sugar Orange Planting Co. to manufacture fruit baskets and boxes. Locals can work for the new company and the boxes and baskets they make are sold to farmers at a discount. The discounted boxes and baskets help the farmers save more than 100,000 yuan ($14,530) every year.
Currently, the company has expanded its customer pool and received a large number of orders from farmers in other provinces.
So far, Huyubeng has helped more than 600 local people find employment. Enterprising farmers who want to start their own business are encouraged to seek training and financial support from the company.
In 2018, Huyu's fiscal revenue was nearly 243 million yuan ($35 million), up 11 percent over the previous year. The per-capita annual net income of local residents was 11,040 yuan ($1,604), a 10-percent increase from 2017.
However, Huyubeng faces challenges to further development. "We need more access to capital, business management professionals and marketing channels," Yin said. But, despite the difficulties, he is optimistic that Huyubeng will build itself into a well-known brand that both farmers and customers can rely on.
(Reporting from Huyu, Yunnan Province)
Copyedited by Sudeshna Sarkar
Comments to luyan@bjreview.com