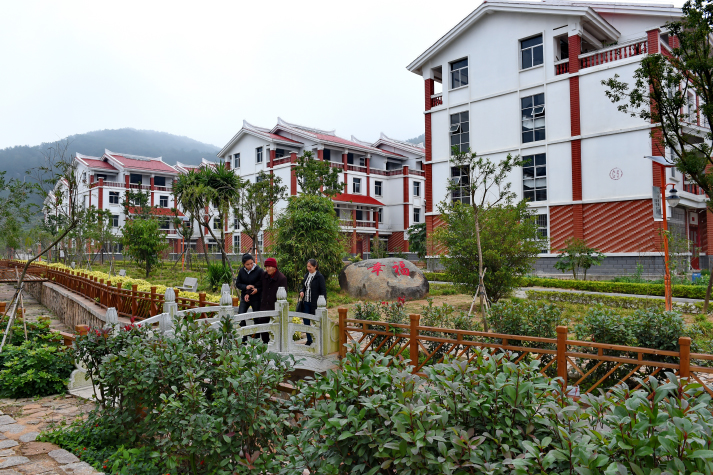 Residents enjoy a walk in Jiankou Village in southeast China's Fujian Province on January 19, 2017. The village started to renovate its old houses in 2012 (XINHUA)
Song Shuangping's one-story, black-roofed house with its clean white walls sits proudly in the middle of a row of other brand new houses in Wangwan.
This village in Yan'an City, a former revolutionary base of the Communist Party of China in northwest China's Shaanxi Province, emerged from absolute poverty in May. Song's two-bedroom house is functionally organized. In the small yard in front, the farmer in his 40s has planted green vegetables.
"We have an indoor toilet and running water now, it is very convenient," Song said. "I don't have to worry my house would collapse during the rains or windy days."
Song moved into his new house last year. Before that, the family lived in a dilapidated cave house, an old style of Chinese dwelling, with little space. Such cave houses can be seen on the Loess Plateau in northern Shaanxi. Families lived in them for generations as they struggled with financial difficulties.
Song was born and raised in a cave house built in the 1950s. He lived there for around 20 years.
Like Song, the living conditions of the Chinese people have enormously improved since 1949, when the People's Republic of China (PRC) was founded. The past decades have witnessed more than an economic boom and prosperity, there has been great advancement in people's quality of life.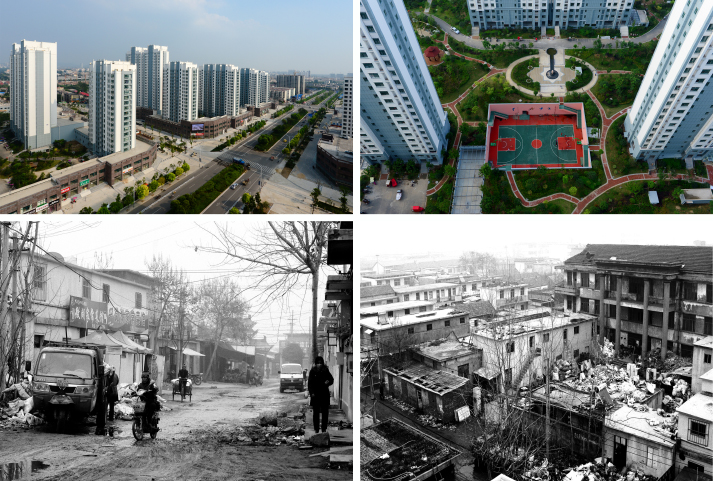 Photos of a shantytown in Zaozhuang City, east China's Shandong Province, after and before renovation (XINHUA)
Quality life
For many young urban couples in China, buying an apartment is on the top of their list before starting a family. They consider various factors before making the final decision, such as the type of apartment, sound insulation, supporting facilities or even how green the neighborhood is. But decades ago, none of these calculations were needed.
There was an acute shortage of houses in the early days of the PRC. Years of war before the founding of the PRC had damaged many residences and the rapid population growth added to the demand. In 1950, China's urban house stock was just 400 million square meters. With 61.7 million city dwellers, the per-capita home size was only 5.5 square meters. Besides the tiny space, they were also shabby and badly designed.
Many people in cities lived in so-called tube-shaped apartment buildings, where a corridor ran through each floor with the rooms on one side of it. In many families, three generations lived crammed into one room with an area of over 10 square meters. They shared one toilet with neighbors on the same floor and cooked in the corridor.
A limited number of houses were allocated by public institutions and state enterprises to their employees at a very low price or even free. It put a huge financial pressure on the government since the capital for these apartments could not be recouped to build new residences.
The gap between the shooting-up population and the number of apartments available widened. To address the situation, the government introduced housing reforms.
In 1980, then Chinese leader Deng Xiaoping proposed commercialization of housing, moving away from the prevailing concept of public ownership. It pointed the direction for China's housing reform system in urban areas. Subsequently, individuals and their employer companies were encouraged to pool in money and build housing together. In 1998, the government officially issued a regulation asking organizations to stop allocating accommodation to their employees, marking the start of a new marketization era of the housing system.
After 20 years of reform, the living conditions of most Chinese have totally changed. China's per-capita housing area reached 40.8 square meters in 2018, more than seven times the area 70 years ago. Tube-shaped apartment buildings were mostly replaced by residential communities with functionally designed apartments and supporting facilities. In rural areas, houses evolved from adobe cottages to brick buildings, with per-capita area growing from 8.1 square meters in 1978 to 45.8 square meters in 2016.
"Such progress would have been impossible without the opening-up policy and housing reform," Meng Xiaosu, who spearheaded China's property reform policies in the 1990s and was dubbed "godfather of real estate" by the media, once said.
With the housing reform, China's real estate sector was born and began to grow rapidly, playing an indispensable role in urbanization. In 2018, real estate contributed 6.5 percent to the GDP growth. Land transfer fees and taxes from the industry provided 35.4 percent of local governments' financial income in 2018 and with the increased funding capability, they could construct and improve urban supporting facilities.
Affordable housing
A dual-track approach was adopted. While commercial housing was built on one hand, affordable houses were also built for low-income residents. Commercialization solved housing difficulties for many and generated funds for building affordable housing.
Meng called ensuring housing security a long-term effort. "After we eliminate absolute poverty in 2020, relative poverty will still exist and there will always be low-income groups. Therefore, building affordable housing will certainly be a long-term task."
In 2008, the Chinese Government began to promote urban welfare housing projects on a large scale. Various types of welfare housing were created, such as low-rent housing and affordable housing. Shantytown transformation was part of the efforts.
Urban houses were built by state enterprises or public institutions and allocated to their employees under the planned economy. They were mostly located around mines, forests and old industrial areas to facilitate production. As time passed, they became dilapidated and hazardous. With cities expanding outward, such buildings had to be renovated.
Liaoning Province in northeast China, one of the heavy industry bases that were established after the founding of PRC, began renovating its shantytowns in 2005. This move was followed by other places later. As a result, from 2008 to 2017, 100 million residents moved to new housing from shantytowns.
By 2020, the government will renovate 15 million dilapidated homes to improve people's living conditions.
Despite the improvements in people's living conditions, problems also emerged, such as exorbitant housing prices and house speculation. There is a structural imbalance in many cities, especially the big ones.
"The proportion of commercialized houses is high, while that of affordable and low-cost houses is still low. The proportion of self-owned houses is also high while that of rented houses is low," Ni Pengfei, a researcher with the Chinese Academy of Social Sciences, said.
According to Ni, to have an apartment to live in is important. But that doesn't mean every family or individual has to own property. Depending on their financial situation, they could also live in rented houses or houses with ownership rights shared by both the government and the property buyers.
The authorities are taking active measures on such issues. The local government of Shenzhen, south China's Guangdong Province, has issued a regulation that at least 60 percent of the new housing coming up in new residential areas should be low rent housing.
According to Beijing's 2017 land use plan, 6,000 hectares of land will be used to build 1.5 million sets of houses in five years. Of this, 1 million sets will be commercial housing and the rest rental housing.
Copyedited by Sudeshna Sarkar
Comments to wenqing@bjreview.com