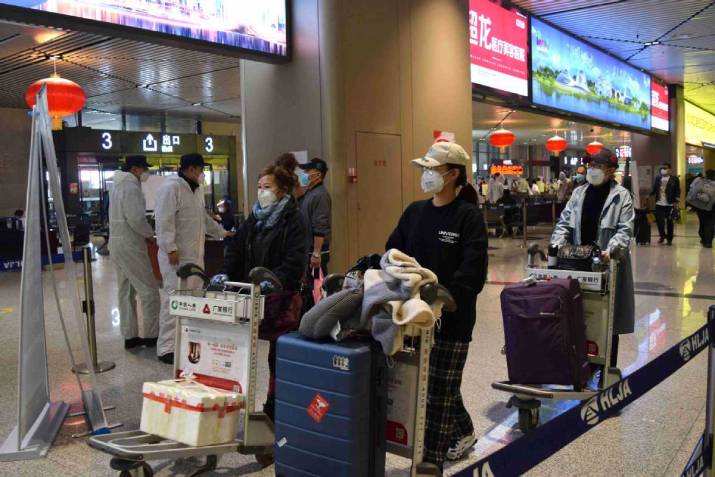 Travelers wearing masks push luggage carts at an airport in Harbin, Heilongjiang Province in northeast China, which borders Russia on April 11 (AGENCIES)
China has strengthened epidemic control in its border regions and expanded coronavirus infection testing in key areas to contain the spread of the novel coronavirus from Russia, which has become China's second-largest source country of imported cases.
Measures such as the closure of border crossings with Russia to travelers and a lockdown of communities in key areas will continue to be enforced, along with the arrival of more medical support sent from across China, the establishment of a temporary hospital and the guarantee of more coronavirus infection testing.
On April 12, China reported a record daily high of 97 imported cases of COVID-19, of which 72 were from Russia and reported in Shanghai and Heilongjiang Province.
According to the National Health Commission, as of April 12, the country has reported 240 imported cases from Russia, in comparison with 282 from the United Kingdom, the largest source country of imported cases, and 153 from the United States.
The closure of all border crossings with Russia to travelers, especially the highway port of entry in Suifenhe, Heilongjiang, has been enforced since April 7. A lockdown of the city, which has reported 194 confirmed cases and 121 asymptomatic cases from Russia since March 27, has also been enforced since April 8.
On April 12, Suifenhe reported another 21 new imported cases of COVID-19 from Russia, all Chinese citizens returning via the highway port of entry in the city after flying from Moscow to Vladivostok.
The other 51 imported cases from Russia on April 12 were reported in Shanghai, all landing at Pudong airport on the same flight on April 11. According to the Shanghai Public Health Administration, 92 people who had close contact with the 51 confirmed cases are still under medical observation in the city.
"On April 11, the country registered a record daily high of imported cases. This indicates an increasing risk of imported cases, putting pressure on cities of entry," Mi Feng, a spokesman for the National Health Commission, said at a news conference in Beijing on April 12. "We should be prepared to tackle the risk of imported cases for a relatively long period."
On April 12, the Chinese embassy in Moscow issued a notice on its WeChat account reiterating that all Chinese citizens should abide by Russia's epidemic prevention requirements and avoid long journeys.
According to Yu Kaijiang, director of the First Affiliated Hospital of Harbin Medical University and head of the provincial medical team dispatched to Suifenhe, many inbound travelers entering China via Suifenhe were exhausted after the long journey, which "could have worsened their condition", and "it would have been better if they stayed and got treatment locally".
Yu said at a news conference on April 9 that all patients would be sent to designated hospitals in Suifenhe and Mudanjiang, based on their conditions.
A temporary hospital in Suifenhe, which is in a converted office building and has more than 600 beds, also became operational on April 11. It will admit asymptomatic patients if the city's hospitals do not have the capacity to treat them, Yu said.