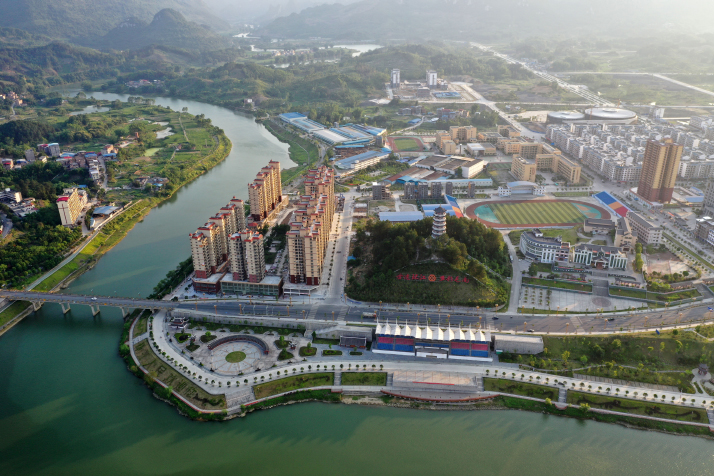 An aerial view of the seat of Huanjiang Maonan Autonomous County in Guangxi Zhuang Autonomous Region in south China on May 14 (XINHUA)
Huang Bingfeng came to Beijing as a deputy to the National People's Congress (NPC) annual meeting with good news from his hometown. On May 9, Huanjiang Maonan Autonomous County in Guangxi Zhuang Autonomous Region shook off poverty, adding Maonan to the list of ethnic groups in the country to beat back poverty.
Some Maonan people wrote a letter to President Xi Jinping, sharing the joy of poverty elimination and expressing their determination to continue to build their hometown. Xi replied to the letter, encouraging them to take this as a new starting point for a better life.
Since China launched its poverty elimination campaign, many ethnic minority groups have shaken off poverty. However, since many of these ethnic minorities are located in remote areas with poor transportation, the battle against poverty requires a greater effort.Hope for karst area
Residing in a karst and mountainous area in south China, the Maonans, with a population of about 100,000, have been inconspicuous for a long time. Huanjiang, the only Maonan autonomous county, was established in 1987. Back then, the poverty rate was as high as 77 percent in the county, Huang told Xinhua News Agency.
Wei Zhenling, Deputy Procurator General of Liuzhou Municipal People's Procuratorate in Guangxi, is the only Maonan member in the National Committee of the Chinese People's Political Consultative Conference National Committee. Wei was 14 years old when Huanjiang was set up.
"Village and town roads used to be winding and bumpy," Wei told local media in Guangxi. "The mountains made transportation very difficult and it was extremely hard for us to get out of there."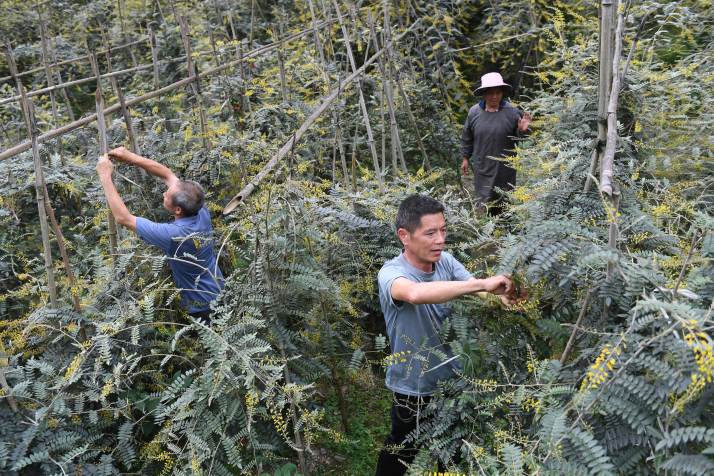 Maonan villagers plant Chinese medicinal herbs in Huanjiang Maonan Autonomous County on May 13 (XINHUA)
Wei left her hometown to enroll in Sun Yat-sen University in Guangzhou, capital city of Guangdong Province in south China. When she told people she was Maonan, most people would say they had never heard of the ethnic minority group.
"Being an ethnic group with such a small population, living in isolated mountains, it was hard for us to be noticed," Wei said. This largely changed after the government invested more in her hometown, especially in recent years. Now all towns and most villages are connected by asphalt roads.
But for Huang, this is not enough. The absence of an expressway has long been the largest bottleneck for the development of Huanjiang. The karst scenery there is spectacular and is a World Natural Heritage Site along with six other karst areas in south China. But due to the inconvenient transportation, the number of tourists in the Huanjiang karst area is significantly smaller than in the other areas. For years, Huanjiang's economy has been the least developed in Guangxi.
Huanjiang therefore adopted various measures in its campaign against poverty. Officials in different local departments were assigned to work in villages. They lived with villagers, learned about their needs and difficulties and helped them to develop their own industries such as breeding silkworms, cattle and hogs.
Qin Liu, 27, who was working in the meteorological bureau in Huanjiang, took the initiative to go to Guan'an Village in May 2018. She visited every household, listening to their issues and taking detailed notes on the conditions of every household.She then applied for 100,000 yuan ($14,000) in supportive funds from the government and set up a cooperative to raise ducks. To explore distribution channels for the ducks, Qin went to fairs in bigger cities and quickly opened up the market. Meanwhile, the local government helped residents living in extremely remote areas resettle in Huanjiang.
Tan Sumiao, who moved into her new house in the county's relocation site from a far-off township, said she spent only 10,000 yuan ($1,400) for the new house. "I lived in a very old house in the township. It was dark even in the daytime," she said, "The new one is bright and sunny. I never dreamed of living in a house like this before."
After relocation, the local government took steps to find jobs for the relocated people. She was hired by a factory producing electronics and earns about 2,000 yuan ($279) a month.
"I didn't have any savings before. My family depended only on the farmland for food. But now, my husband is working in a property management company and also earns about 2,000 yuan a month," Tan said.
"The net income of Maonan people increased from 3,570 yuan ($500) in 2015 to 11,756 yuan ($1,640) in 2019, while the fiscal revenue of the local county government increased from 331 million yuan ($46 million) in 2015 to 650 million yuan ($90 million) in 2019," Huang told Beijing Review.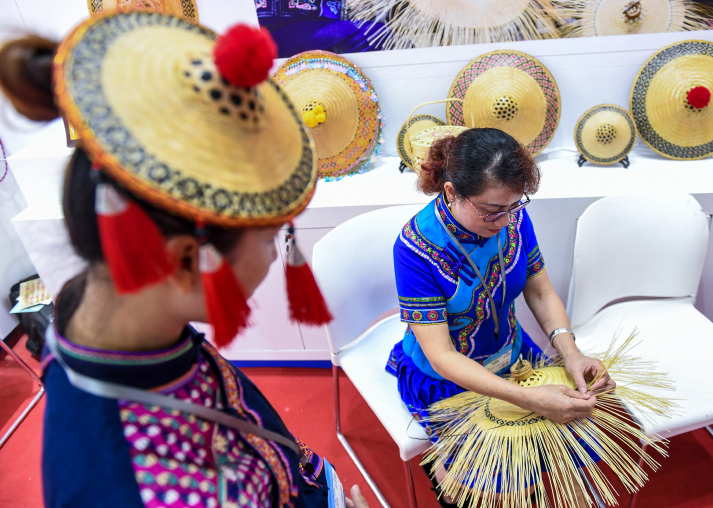 Tan Sujuan, an inheritor of the bamboo hat weaving technique of the Maonan ethnic group, makes a hat at the 15th (Shenzhen) International Cultural Industries Fair in Shenzhen, Guangdong Province in south China, on May 17, 2019 (XINHUA)
Unique features
Maonan tradition and folk culture has been skillfully preserved while the county forged ahead with poverty alleviation. Since the Maonans do not have a writing system, they pass down their legendary stories and customs through dance.
The Nuo dance, or Feitao in the Maonan language, is the traditional theatrical performance of worship. In 2008, Feitao was included in China's national intangible cultural heritage list and has been staged in many countries including Germany, Thailand and Japan.
Another Maonan national intangible cultural heritage is the weaving skills shown in Maonan bamboo hats. Tan Sujuan, 50, is now the inheritor of the weaving technique of conical bamboo hats. The hat is considered by locals as a treasure and token of love among young suitors.
Tan Sujuan has specialized in the craft for over 20 years, setting up a hat weaving base and helping over 20 households get rid of poverty with the skill. "Some primary schools in the county combine the Maonan and Mandarin languages in teaching, using folk songs and dances in class," Huang said.
Huanjiang will improve its poverty-prevention mechanism, develop more specialty industries, provide follow-up services for poverty alleviation and build relocation housing to boost income growth in sustainable ways, according to Huang.
The NPC deputy told Beijing Review he submitted three proposals this year: pushing forward the construction of the Libo-Desheng Expressway that passes through Huanjiang, adjusting the fiscal system and policies in less-developed areas, as well as raising standards and subsidies for rural road construction.
The Guiyang-Nanning High-Speed Railway under construction will run through Huanjiang. "It is scheduled to be completed in 2023," Huang said. "Local people will then be able to board express trains in the county. This was totally inconceivable a few years ago."
(Print Edition Title: Paving the Way)
Copyedited by Rebeca Toledo
Comments to yuanyuan@bjreview.com