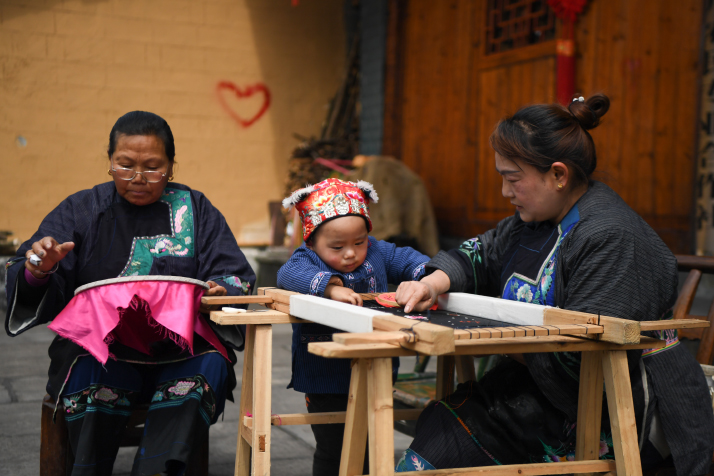 Villagers make embroidery works in a cooperative in Shibadong Village of Xiangxi Tujia and Miao Autonomous Prefecture, Hunan Province in central China on April 24 (XINHUA)
It is hard to find any "old" photo of Yang Chaowen's village as people living there were too poor in the past to buy a camera. By old, Yang means the days before 2000.
Yang is from Shibadong, a village in Xiangxi Tujia and Miao Autonomous Prefecture in Hunan Province, central China, where the residents are mostly from the Miao minority community. Shibadong got its name from 18 natural karst caves, a landmark scenic spot in the village. It took months for the locals to decide on the name after four smaller villages were combined in 2005 to form a bigger one.
But no matter what the village was called, for Yang, it didn't make any difference at that time. A poor, quiet and empty place as almost all the young people had left to seek their livelihood in the cities, the village's only asset was its landscape. Located in the highlands in the Wuling Mountains, at an altitude of about 700 meters, it overlooked a valley and green sloping terrain. "It had nothing but breathtaking scenery," Yang told Beijing Review.
After getting married in the 1990s, Yang left the village with his wife. They went to Zhejiang Province in the east, working there for over 10 years. But in late 2013, something made Yang decide to come back.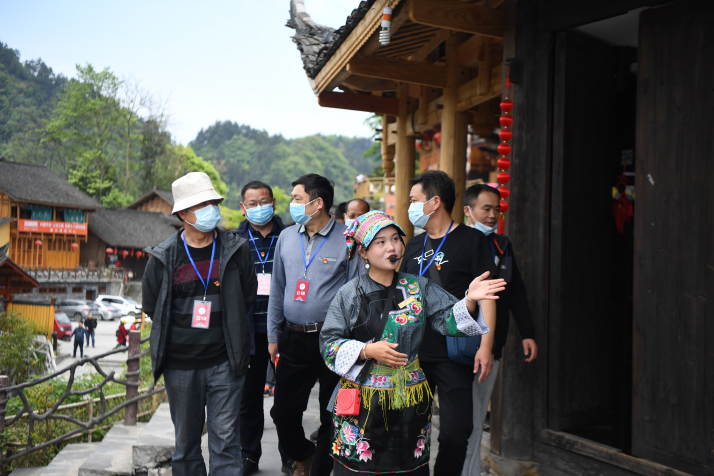 A tour guide shows tourists around Shibadong on April 24 (XINHUA)
An unexpected visitor
On November 3, 2013, an unexpected guest dropped in, creating a splash in the quiet village. It was President Xi Jinping, just seven months after he had taken office. Shi Pazhuan, a 64-year-old villager, shook hands with the visitor but didn't recognize who he was as she didn't have a television at home.
The dirt road to the village was unsuitable for vehicles. So villagers had to walk for an hour to the paved regular road to catch a bus. The nearest market where they sold their agricultural products was over two hours away.
There was no tap water; the power supply was erratic; the phone signal was unstable. All this made the efforts to develop the village into a tourism destination go in vain. The per-capita net annual income was 1,668 yuan ($238), only 18.75 percent of the average income in other rural areas.
Xi talked to the villagers, explaining the idea of targeted poverty alleviation. It was a new way of emerging from poverty. There would be tailored plans to suit different people and places. It would be a sustainable model that could be replicated elsewhere.
Yang, who was in Zhejiang at that time, watched the news on TV, mesmerized. He was too excited to sleep that night. Sensing something big would happen in his village, he decided to go back.
The decision sounded crazy to his wife, who refused to go with him. Still Yang went. He was one among a big group that flocked back from different parts of the country, encouraged by the news. In their eyes, the village trapped in destitution could become a gold mine of opportunities.
Yang took the lead to open a family inn in the village in early 2014 by renovating a house of his uncle's, anticipating tourists would swarm in.
But they didn't and Yang's guesthouse had to shut down after two months. He had to leave the village again and rejoin his wife in Zhejiang. Some of the other returnees left too.
The reason for the failure of the business in early 2014, as Yang concluded later, was largely poor transportation. In 2014, the road was still bad and the village was still cut off.
"The road was a big headache for the villagers," Shi Jintong, Secretary of the Shibadong Village Branch of the Communist Party of China, told China Central Television. "It always put villagers in a dilemma."
He explained the dilemma with two instances. The villagers, while yearning for harvest, were also afraid of it as they had to carry the grain to the market to sell it and it was backbreaking work. It was the same with swine raising. When the swine grew up, they had to hire people to carry the pigs to the market and pay half the money they earned to the carriers.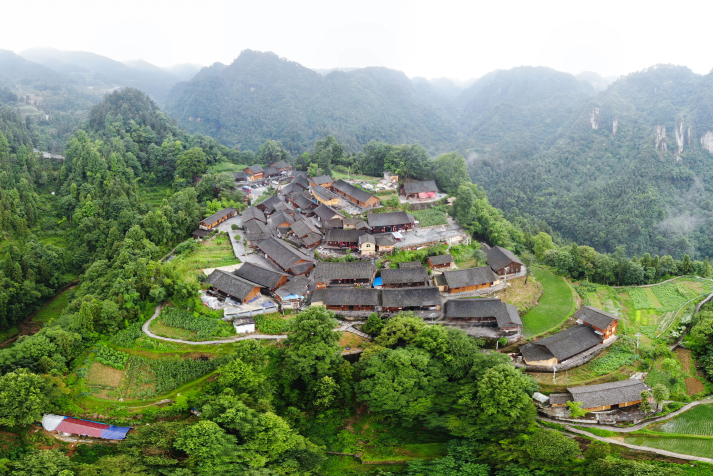 An aerial view of Shibadong Village in Xiangxi Tujia and Miao Autonomous Prefecture, Hunan Province, on June 29 (XINHUA)
Winds of change
However, in 2014, things began to change. A poverty alleviation team from the county government came to the village. They explained which villagers could be registered as poverty-stricken and eventually, among the 939 individuals, 533 from 136 households were identified as impoverished.
Instead of simply giving them money, the team made tailored plans for each household and provided 50,000 yuan ($7,140) in interest-free loans to those who wanted to start their own business. It also offered free training to help them do that.
Based on local conditions and resources, the village decided to develop six industries: rural tourism, crop cultivation, livestock breeding, mountain spring water, Miao embroidery, and labor service outsourcing.
The road was paved in late 2014. A guesthouse opened by another villager benefited from the road and made profits that year.
Encouraged, Yang went back to the village again in 2015 and reopened his inn the next year. His wife joined him as the venture turned out to be doing well. In 2018, Yang bought a car and a year later, opened another branch.
Figures from the village show that now over 200 villagers are involved in tourism. Some run restaurants and guesthouses, some work as tour guides, shuttle bus drivers or security guards. Some sell local specialties to tourists.
In 2018, the village received about 300,000 visitors. The number doubled in 2019, making tourism a major industry. There are social benefits as well.
"I am happy my parents have come back and have their own business here. Now I can be with them every day. In the past, I saw them only once every year at Spring Festival," Yang Shiqin, a 13-year-old, said.
Her parents returned in 2018 and opened their guesthouse in 2019. Now, there are over 10 guesthouses in the village. Since May, tourism started to revive from the novel coronavirus epidemic. Yang's guesthouse gets over 100 guests every weekend.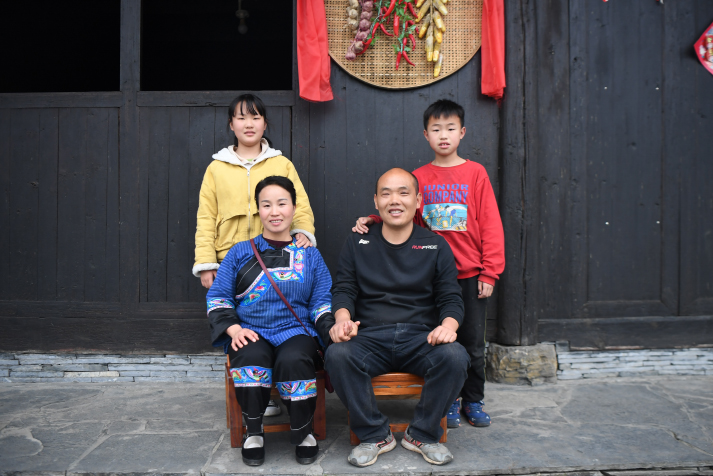 Yang Shiqin (left, back) in a family photo with her parents and brother in Shibadong on April 25 (XINHUA)
Targeted poverty relief
The targeted poverty relief measure offered a life-changing opportunity for Long Xianlan, who was regarded as a village wastrel with no job and a drinking habit.
Long was provided the 50,000-yuan ($7,190) loan and free training on beekeeping, enabling him to start his beekeeping business in 2015 with four boxes of bees. They grew to more than 300 crates in the following years and last year, his annual income was 400,000 yuan ($57,140).
He also started a beekeeping cooperative, which has over 560 people from Shibadong and neighboring villages as its members. The once despondent pauper has now become a poverty alleviation star.
The scarcity of arable land was a bottleneck for cultivation. The average arable farmland was just enough for the villagers to feed themselves. To develop a fruit plantation industry, the poverty alleviation team rented land in a neighboring village and started to plant kiwifruit.
In 2018, the sales revenue was 7.82 million yuan ($1.17 million), and the villagers received an average dividend of 1,200 yuan ($171) each. In 2019, the income doubled.
With the new initiatives, Shibadong shook off its impoverished label in 2016 as the villagers' per-capita income reached 8,313 yuan ($1,187), much higher than the national poverty line of about 3,000 yuan ($430). In 2019, the per-capita annual income increased to 14,668 yuan ($2,100).
The remarkable changes have attracted more young people to come back. Shi Linjiao came back last year after graduating from the Zhejiang Conservatory of Music.
With two other returnees, both college graduates in their 20s, Shi Linjiao is promoting the culture, delicacies and specialties of the village to the outside world by posting short videos and live-streaming on major social networking platforms.
She herself anchors the programs, dressed in traditional embroidered Miao clothes and traditional silver ornaments, including a crown, a unique adornment used by Miao women.
It didn't take long for their account to attract thousands of followers. Today, it also provides another channel to sell preserved meat, honey and kiwifruits from the village. However, Shi Linjiao doesn't want to stay in this business much longer. She is preparing to teach in the local primary school.
The school offers pre-school education with two grades and there are 22 students. For higher grades, the children need to go to another school in a neighboring village.
Pu Litao, who teaches in the school, is not from the village. She said though the infrastructure of the school has greatly improved in recent years, the lack of teachers remains a concern.
However, with the Internet, village children can now attend the same classes online as their peers in metros like Changsha, capital of Hunan, and Beijing. During the summer and winter vacations, college students from other parts of the country come to the village as volunteer teachers. "In the summer of 2019, students from the prestigious Tsinghua University came to our school," Pu said.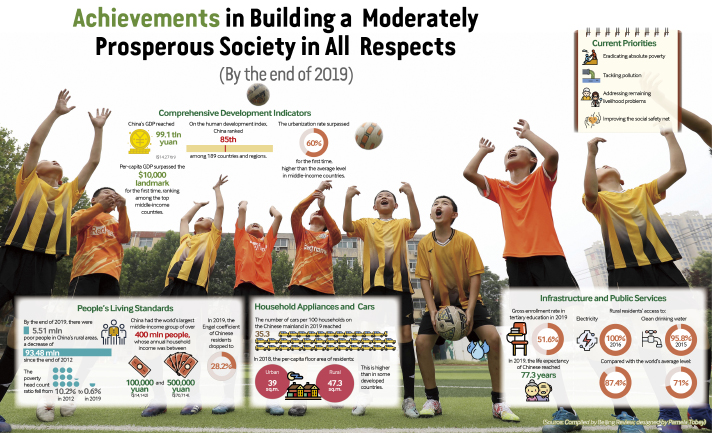 Cultural drive
Miao embroidery, which has centuries of history, has been recognized as an intangible cultural heritage. Traditionally, young girls learn to embroider from their mothers and grandmothers. But the heritage was in danger of fading out with young people leaving the village.
In 2014, Shi Shunlian, a former Party chief of the village, established an embroidery collective, which is a platform for housewives to earn money. The collective has more than 190 housewives whose handmade embroidery fetches them about 3,000 yuan ($429) during busy months.
CRRC Zhuzhou Locomotive, a major manufacturer of rail transit equipment in Hunan, is a big buyer of ethnic embroidery since 2018. Orders from the company amount to about 100,000 yuan ($14,286) each year.
The collective has created new patterns like express trains for CRRC's souvenirs and the orders from the big company are generating more interest in their embroidery work.
"We are looking for more talents to make innovative designs that will marry traditional art with modern style," Shi said.
(Printed Edition Title: Cradle of Change)
Copyedited by Sudeshna Sarkar
Comments to yuanyuan@bjreview.com