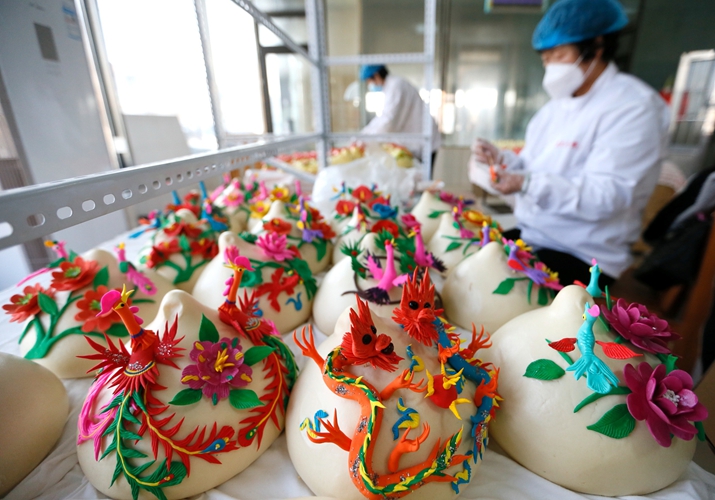 Pastry cooks make traditional decorated steamed buns for Spring Festival in Qingdao, Shandong Province in east China, on February 1 (XINHUA)
This year, Sun Fu, a deliveryman with Meituan Waimai, a leading food delivery service platform, will have his Spring Festival Eve dinner at work in Beijing. Understanding the concern that the travel rush during the Chinese New Year might trigger a resurgence of the novel coronavirus disease, he decided not to go back to his hometown in Shanxi Province in north China for the traditional reunion with his family as he had in the past.
"Although I won't enjoy the happiness of a family reunion, I'm still glad that I can earn more money working during this national holiday, delivering meals of happiness to other families," Sun told Beijing Review.
Reunion dinner
The reunion dinner on the Lunar New Year's Eve, February 11 this year, is considered the most important part of the Spring Festival celebration. Usually, family members, no matter where they live or work, meet at one place, usually in their hometown, for the grand meal that may last for hours from early evening to midnight. This is a custom that has continued for thousands of years.
For this meal, the best dishes are served in abundance, as abundant food is believed to bring the family great wealth in the new year. The dishes usually carry meanings. For example, most reunion dinners will include a whole fish, which symbolizes surplus and prosperity because fish in Chinese sounds like "surplus." To strengthen its symbolic meaning, the fish dish will not be eaten completely, leaving some leftovers for meals afterward.
Different regions may eat different symbolic food. In north China, families usually prepare dumplings, which mean wealth, good luck and happiness, while people in south China usually eat tangyuan, stuffed dumplings made of glutinous rice flour.
Some families get together at home and prepare for the big meal together, while some prefer going to restaurants to enjoy the delicacies and service, which saves them the trouble of cooking. This also boosts dining consumption.
Restaurant bookings for the meal usually start one month before Spring Festival Eve, or even earlier at some popular restaurants. By the end of the lunar year, the private rooms of many restaurants are usually booked, leaving only some tables in the public dining area.
Keeping in mind local authorities' directives to reduce mass gatherings and strengthen epidemic prevention and control, restaurants have become more flexible this year. For example, in the past, diners had to pay a deposit to book a table or room. The deposit was forfeited if they canceled the booking due to personal reasons. But this time, many restaurants have agreed to return the deposit as long as the customer gives them advance notice. Some restaurants are offering options like putting the money into a membership card that can be used for other meals or to pay for takeaway deliveries.
Some restaurants have launched services such as semi-cooked takeaway packages. Quanjude, a time-honored restaurant headquartered in Beijing famous for its roast duck, is selling pre-cooked gift packages that will keep for a week. Customers can refrigerate the packages until Spring Festival Eve.
In January, the Shanghai Restaurants Cuisine Association published a list of more than 430 restaurants in Shanghai offering pre-cooked Spring Festival meals. Jin Peihua, Deputy Secretary General of the association, told Xinhua News Agency that these restaurants are certified to provide food delivery and follow stringent hygiene measures. Customers can scan the QR code on the packages and watch a cooking tutorial video telling them how to best prepare the food.
Meizhou Dongpo, a restaurant chain with nationwide presence, is also offering similar services. In addition, it has a door-to-door chef service, with a 30-percent service fee. The chefs will bring all the ingredients and cookware needed and clean up after they finish cooking.
Sun expects the last afternoon of the lunar year to be a busy time for him as many families will order their reunion dinner from restaurants.
Many restaurants are still feeling the pinch because of the epidemic. Luo Yongcheng, manager of one of the restaurants of the Beijing Dayali Restaurant Group, said their booked dine-in orders so far were only about one third of the orders in 2020. It is the same with delivery orders. However, he added that many people had called up to ask about the deposit and when they would close booking. They were obviously still waiting to see the situation before making their decision.
Luo said the restaurant staff who work during the festival will receive bonuses and can take their holiday later.
Meal-for-one
Hu Xinjie, a 28-year-old accountant from Changchun, Jilin Province in northeast China, will have the New Year Eve dinner on his own in Shanghai where he works. It is the first time he is spending the festival on his own away from his hometown.
"It may sound a bit lonely, but it does have its bright side. I won't face the stream of endless visiting relatives and will have some 'me time' after the hustle and bustle of working for a year," Hu said. He plans to order food for one and hoard some snacks for the big night.
As mass gatherings are discouraged, many restaurants are offering packaged dishes or freshly cooked dishes for one or two persons as well.
"The new concept has a lot of advantages. It saves money, prevents food wastage, and still gives me a sense of ceremony," Hu said.
The large supermarkets, which operate normally during the festival, are also offering pre-cooked or semi-cooked New Year Eve dinner options of small portions. Online stores too are innovating to cater to one or two customers. Traditionally, rice is sold in 5-kg or 10-kg packages meant for families. But now small bags weighing 1 kg or even less are available online. So are smaller bottles of alcohol.
Hu said he is also considering having hotpot at home on Spring Festival Eve. Not the traditional dish but the self-heating instant hotpot. The instant hotpot product, much bigger than the average instant noodles cups, contains two plastic boxes and several packages of the ingredients. It comes with detailed instructions. The ingredients, meat, vegetables, vermicelli and flavoring, go into the upper box. Into the lower box goes a sachet of quick lime that provides the heat required to cook the pre-cooked ingredients once water is poured onto it. After 15 to 20 minutes of simmering, the hotpot is ready.
The package, which also comes with chopsticks, a spoon and toothpicks, is gaining increasing popularity. According to statistics from online marketplace Tmall, the convenient hotpot was among the bestsellers on January 20, the first day of the platform's New Year shopping festival.
Other popular food or associated products during the shopping festival were hotpot condiments, induction cookers, Laoganma, a famous chili sauce brand, and luosifen, a Chinese noodle soup that is a specialty of Liuzhou in Guangxi Zhuang Autonomous Region in south China.
(Print Edition Title: A HAPPY MEAL)
Copyedited by Sudeshna Sarkar
Comments to luyan@bjreview.com