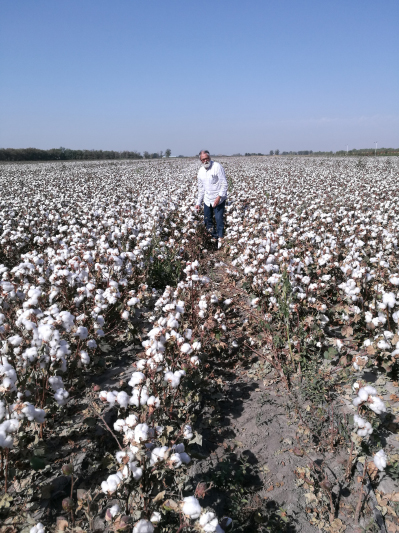 French author Maxime Vivas poses in a cotton field in Xinjiang Uygur Autonomous Region (COURTESY PHOTO)
'The United Nations Food and Agriculture Organization has announced an imminent overproduction of cotton; main exporters being India, the U.S., and China. The U.S. has now launched a global smear campaign [against Xinjiang cotton] and if this proves successful, countries and companies alike will no longer be buying Chinese cotton," explained French journalist and writer Maxime Vivas in an exclusive interview with Beijing Review, shortly after the Better Cotton Initiative—a non-profit, multi-stakeholder governance group based in Switzerland—initiated its so-called Xinjiang cotton boycott.
On March 19, Vivas shared a video of Lawrence Wilkerson, a retired U.S. Army Colonel and former chief of staff to former U.S. Secretary of State Colin Powell, in charge of the East Asia and Pacific sector, giving a speech in August 2018. Wilkerson said in the video, "If the CIA (U.S. Central Intelligence Agency) wanted to destabilize China, that would be the best way to do it—to form unrest and join with those Uygurs in pushing the Han Chinese in Beijing from internal rather than external."
"Now retired, he admitted with a smile that the CIA had fomented conflict in Xinjiang," the writer said.
In his latest book, Uygurs: Putting an End to Fake News, he gives readers a year by year, to the dollar, account of the financial amounts received by the so-called "Uygur World Congress." And he adds "precisely what is requested of it in return."
This is not the first time Vivas has lifted the veil on the more "unwholesome" practices adopted by the West from time to time. The 79-year-old has always strived to broadcast China to the general public through objective reports and commentaries.
In defense of Xinjiang's truth
Vivas first visited China in 2008, while his son was living in Beijing. His knowledge of China was limited to the stereotypes the French media used to communicate. In Beijing, he found the reality to be rather different from those reports. The Chinese capital to Vivas was as up-to-date and fresh as Tokyo. He found himself taken aback by the limited knowledge the French apparently possessed about the most populous country in the world and thus set out on a journey to align and explain his views on China via his website: Legrandsoir.info.
In 2010, Vivas returned to China, this time traveling to Tibet Autonomous Region with journalists from Le Figaro and Le Monde. Before his visit, all he knew about this autonomous region were the ideas and views circulated by Western media: religious repression, the ban on the Tibetan language; and the general destruction of Tibetan culture. Fast forward one decade and one might argue that this narrative bears a striking similarity to what is being said about Xinjiang today.
Upon leaving the airport, however, he saw road signs and newspapers in Tibetan, and noticed that radio and television programs were broadcast in the local language. He also observed the Buddhist monks in the streets, going about their day. Vivas then could not help but recognize the huge gap between the media's prefabricated preconceptions about Tibet and what he was observing with his own eyes. Contrary to what Western media outlets had widely conveyed, it occurred to him that Tibetan culture was being kept under the protection and preservation of the Chinese authorities.
Literal eye-openers, the Frenchman's foray into Tibet launched a fascinating investigation into the 14th Dalai Lama, Tenzin Gyatso, which ultimately resulted in Vivas' book Dalai Lama: Not so Zen (2011). The author exposed the dark side of this well-known religious figure, revealing the inconsistencies, the tricks and the lies behind the seemingly compassionate, kind and generous image of this paragon of virtue. The work painted the unmasked picture of a fallen monarch who has only one goal in mind: himself, i.e. his return to Lhasa and the restoration of his theocratic regime.
Later that decade, Vivas paid two visits to Xinjiang Uygur Autonomous Region, in 2016 and 2018 respectively, stopping at farms, factories, schools, hospitals and mosques. He wrote down everything he saw in Uygurs: Putting an End to Fake News. He took an in-depth look at how so-called non-governmental organizations such as the "National Endowment for Democracy," "Human Rights Watch," and the "Uygur World Congress" fabricated fake news and disseminated their lies, including those regarding Xinjiang's "forced labor" and "genocide" on-goings.
"There is not an ounce of truth in the anti-China allegations involving the Uygurs. Some journalists have never even been to Xinjiang and they readily pass on the lies to their readership," he said.
Front-row to China's development
These trips to China left a striking impression on Vivas. He experienced firsthand the fast-paced urbanization throughout his exploration of the region's numerous modern cities, and witnessed the tremendous changes in the countryside due to a formidable push towards infrastructure building, not to mention the vast network of bullet trains taking shape. In Urumqi, capital city of Xinjiang, he noticed that the new high-speed train station was under construction. "It's very good news. It will only take some 10 hours to get from Beijing to Urumqi, opening up the entire region to global tourism," he said, plaintively addressing the fact that so few in Europe know.
Vivas is keen to discover the new Silk Road and plans to visit cities along the Belt and Road routes to gain a better understanding of how China is securing its trade routes to deliver goods and services to other parts of Asia, Europe and Africa.
The writer today gives the Chinese Government full credit for contributing to the overall prosperity of the country's ethnic minorities. In Tibet, he noticed that the government had refurbished temples and provided air conditioners and televisions. In Kashgar, Xinjiang, he saw a mosque larger than the Notre Dame de Paris. Language courses and vocational training are provided to help locals, especially ethnic Uygurs, find employment. Despite their differences, he believes, all share the common interest and desire to live a better life in a peaceful, stable environment.
The year 2021 is of the utmost significance for China: It celebrates the centenary of the Communist Party of China and the advent of a moderately prosperous society, the nation's first centenary goal. China's GDP this year aims to double the 2010 GDP so that the population's daily needs such as housing, food, transport and schooling will no longer be of concern, Vivas elaborated. Additionally, a larger number of Chinese will be able to find employment in undertakings slated to further the nation's overall progress, he reckoned.
"My expectations are that China will demonstrate that it is in fact possible for a country to be both a great power as well as a patron of peace and friendship," Vivas concluded. BR
(Print Edition Title: An Ounce of Truth)
Copyedited by Elsbeth van Paridon
Comments to liuyunyun@bjreview.com