Among the crowd, Zhang Liming and his colleagues from the State Grid Binhai branch, dressed in their work uniform—a red vest and a blue safety helmet—were busy checking charging piles by parking lots filled with vehicles to ensure power supply.
"These charging piles are essential for low-carbon and green travel, so we must test them carefully," Zhang, head of a power line repair work team told his colleagues.
For over three decades, Zhang has been working on emergency power line repair, and he found fulfillment in the job. "In other people's eyes, my job might seem dangerous and tough, but I'm happy being an electrical technician, solving problems, major or minor, and serving people in need," he told Beijing Review.
Lifeline guardian
The son of a plumber, Zhang had a great admiration for skilled workers after hearing the stories of how his father had made national water conservancy projects possible. In 1987, Zhang, 18, became a power cable inspector.
Over the years, he formed a habit of finding out the locations of electric transmission lines wherever he worked and noting down any changes in the surroundings, then drawing a precise circuit diagram, with the electricity consumption patterns of all power users on it. Zhang learned the operating parameters of the circuits, their safety status and users' characteristics by heart so he could troubleshoot when service calls came. For this he earned the nickname "a living map for emergency maintenance." He has covered 80,000 km over the past three decades and completed more than 20,000 tasks without a single accident.
His wife Li Haichun knows how much Zhang is devoted to his work. She remembers how once, in the middle of the night, Zhang was talking in his sleep and asked her to hand him a wrench or a pair of pliers.
Besides fulfilling his duties and responsibilities, Zhang and other coworkers also volunteer to help the elderly in need with daily chores, such as repairing household appliances and changing light bulbs in their apartment. Zhang also volunteered to include his phone number in community service manuals in case residents needed assistance.
In 2018, Zhang was awarded the title Role Model of the Times for his dedication to maintaining the communities' electricity network. The title was conferred by the Publicity Department of the Communist Party of China (CPC) Central Committee. Since 2014, individuals and groups winning the honor have been selected from all walks of life—frontline workers, village teachers, drivers, medical workers and scientists. Their stories are reported by the media on various platforms for the public to learn about them.
With their sense of responsibility and down-to-earth effort, the role models are worth respecting and learning from, said Jiang Jianguo, deputy head of the Publicity Department of the CPC Central Committee, at the opening ceremony of a photo exhibition on the theme of the Role Model of the Times held in Beijing in May.
"During years of work, I have learned a lot from other role models who are committed to their work. I hope society, especially the younger generations, can also be inspired by them and realize their own value at their posts," Zhang said.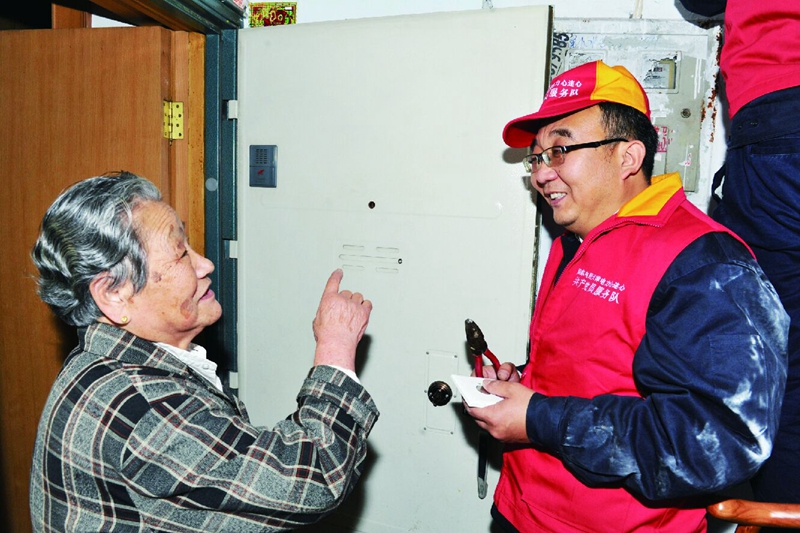 Zhang Liming, a recipient of the title Role Model of the Times, talks with a resident in Tianjin (XINHUA)
From worker to creator
Zhang is a person with innovative ideas. He shares these ideas with others to inspire more innovation. In 2011, the Zhang Liming Creative Studio was established in Tianjin as an incubator for technological innovation, through which more and more blue-collar workers have shared the experience gained from everyday work.
"Innovative ideas can be inspired not only by computers and robots, but also by the daily frontline work of electric technicians," Zhang told Beijing Review. "Spotting problems during work, taking them seriously and figuring out their solution is how I interpret innovation," Zhang said.
Once during a work meeting on safety data analysis, he found a large number of problems that call for repairs had the same cause—residents dropped their electricity cards into the electric meter boxes by accident when they purchased electricity. Every time that happened, maintenance staff had to be called in to help them get the card out.
After doing the math, Zhang figured out that such a minor problem could cost over 1 million yuan ($156,500) a year in Tianjin alone—not taking into account the labor service fee. To solve the problem and avoid unnecessary cost, Zhang came up with the idea of connecting a key ring to each card, preventing the card from falling into the slit of the meter box.
Another ground-breaking idea came from his routine work. One day in 2016, Zhang went on his inspection rounds when he saw colleagues working on high-voltage electrical equipment 10 meters above the ground. Wearing heavily insulated clothing and gloves with sweat dripping from their faces, Zhang was determined to make a difference.
Together with other staff members at the creative studio and other research teams, he started studying how to let robots do the dangerous work for the engineers and workers. In a year, the first generation of such a hot-line robot came to life, partly freeing the hands of workers. They call it the "Ironman."
Through constant improvement, the fourth generation of Ironman robots has been put to work in Tianjin and other parts of the country with great success. It can finish some operations without any help from technicians.
Zhang's robot team works in collaboration with relevant government departments, research institutions, companies and universities to develop more roles for the robot. Soon, a modified version that can work in various work scenarios and situations will make its debut.
Moreover, Zhang's innovation team has launched more than 500 technical innovation projects and gained over 200 national patents. "I hope in the future our technological innovation can make people's life more convenient, power line repair more efficient and maintenance workers' jobs easier," Zhang said. BR