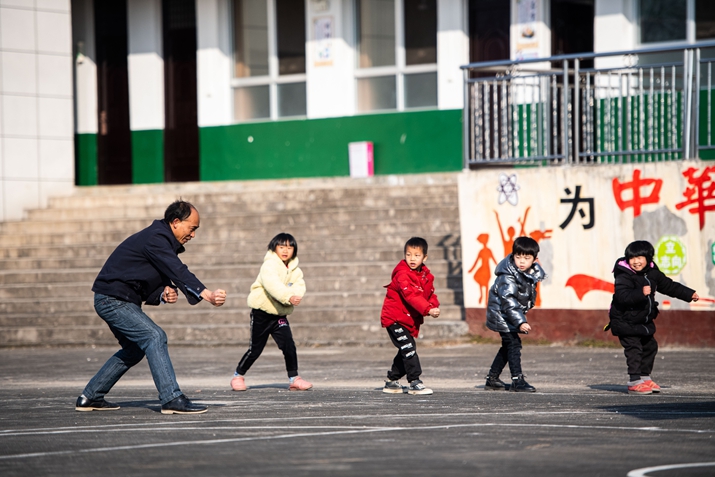 Zhu Lianming, a teacher at a rural primary school with only four students in Changsha, Hunan Province, leads a physical education class on January 16 (XINHUA)
Liu Lili, 7, and Liu Tingting, 5, who hail from Qixingguan District in Bijie, Guizhou Province, have rarely seen smiles on the faces of their family members, many of whom have either physical or mental disabilities. This family environment had slowed down many aspects of the sisters' development, including their language skills.
However, after a program launched by the China Development Research Foundation (CDRF) provided them with 120 in-home training sessions, the sisters are performing well in kindergarten.
Speaking at the Seventh International Conference on Poverty Reduction and Child Development in Beijing on July 24, Lu Mai, Vice Chairman of the CDRF, said the home visits, which spanned over two and a half years and cost around 7,000 yuan ($1,083) in total, were life-changing for the two young girls.
James Heckman, a Nobel laureate in economics, told the conference via video link that early childhood development has a high rate of return on investment.
Heckman's research shows that intelligence and social skills develop at an early age, and investing in children early on brings economic benefits to a society as more successful and productive adults require less social welfare support. At the conference, he stressed that establishing the basic skills of rural children at their early ages would be essential to creating a foundation for China's future growth.
Not enough
The Chinese Center for Disease Control and Prevention said at a press conference in Beijing on April 29 that by the end of 2020, a total of 11.2 million Chinese children had benefited from a government-led nutrition improvement program since its launch in 2012. As part of the program, free nutrition packages were provided to infants aged 6 to 24 months in all counties that faced extreme poverty across the country.
According to the center, rates of anemia and stunted growth among children aged between 6 and 24 months in the surveyed areas stood at 16.3 percent and 3.2 percent, respectively, by the end of 2020. These rates had decreased by 50.5 percent and 68.3 percent compared with the 2012 levels.
Similarly, according to statistics from the Ministry of Education in 2020, over 40.6 million rural students in the compulsory education system had benefited from a national nutrition improvement program since its inception in 2011. With government subsidy, the program supplements their diets with nutritious meals.
The nature of childhood poverty is multidimensional, according to Li Shi, a professor of economics at Zhejiang University. "The primary stage of poverty usually manifests itself as malnutrition, however, as a family's income increases, poverty usually causes issues relating to education and healthcare," he said at the conference.
A report released by the UN Educational Scientific and Cultural Organization (UNESCO) in July, Right From the Start: Build Inclusive Societies Through Inclusive Early Childhood Education, detailed the way in which early childhood education has the potential to expand opportunities for disadvantaged children.
Shahbaz Khan, Director of UNESCO's Beijing office, told the conference that improving early childhood care and education lays the foundation for children's development and brings individual and social benefits, and it is one of the best ways to reduce inequalities.
In recent decades, China has improved its rural education system. However, a research jointly conducted by the CDRF and China National Children's Center from August to September 2020 showed that unbalanced and insufficient early childhood development remained a prominent issue, especially in underdeveloped rural areas.
It measured several aspects of child development, including gross and fine motor function, language ability, social skills and adaptivity, in impoverished areas. At the national level, around 5 percent of children aged under 3 lag behind their peers when it comes to overall development. According to the findings of this research, however, four to six times more children are underdeveloped in impoverished areas. The discrepancy in the age group of 3-6 years is similar, with the highest percentage reaching 30.2 percent in southwest China.
The research suggested that special attention should go to the early development of rural children aged under 6.
Targeted measures
Heckman pointed out that while the development of childhood skills is strongly influenced by the family and social environments, many rural parents in China migrate to the cities for work. This sees the left-behind children being raised primarily by their grandparents, who often have lower levels of education.
At the conference, Li Minyi, an associate professor at the Department of Education at Beijing Normal University, shared the results from a study undertaken by her department showing that in Gansu and Guangdong provinces, children who live with their parents generally outperform those raised by their grandparents in terms of academic and broader achievements.
Preschool as a skill training base could help even out the imbalanced found on the family environment.
In an attempt to bridge this gap, the CDRF has established more than 3,000 preschools in underdeveloped rural areas since 2009, enrolling more than 200,000 children aged 3 to 6.
China's gross enrollment rate reached 85.2 percent in 2020 for three-year preschool education, according to the Ministry of Education. In contrast, the global average is 61.5 percent, Khan said.
China is steering its national strategy from poverty alleviation to rural vitalization. Lu called for a special program to promote early childhood development in rural areas by, for example, realizing full coverage of preschool education, ensuring that every village has a kindergarten, and offering free, nutritious meals to all preschool students.
Wang Haiyan, an education official from Gansu, said with the support of both the government and civic groups, it is relatively easy to increase the rate of enrollment in preschool education. The next step, she pointed out, is to improve the quality of teaching and teaching materials.
Lu also proposed that the government should offer additional services, such as home visits to rural minors who have physical or mental disabilities, left-behind children and those whose parents have a lower educational background. "I hope all parties concerned will continue to work together to address this issue as we still have a long way to go when it comes to child development," he added.
(Print Edition Title: The Earlier, The Better)
Copyedited by G.P. Wilson
Comments to taoxing@bjreview.com