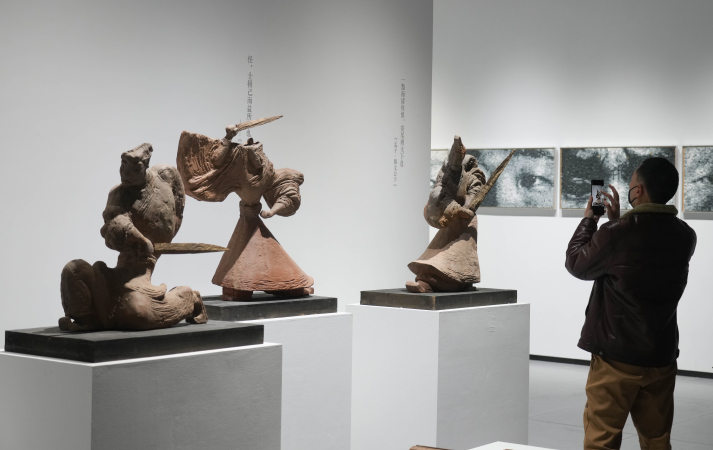 A visitor takes pictures at the preview of the Jingdezhen International Ceramic Art Biennale 2021 on January 10 in Jingdezhen, Jiangxi Province (XINHUA)
The city's small size hasn't confined its fame. Gifted with the best of everything needed to create porcelain, it has long been a mecca for both porcelain lovers and makers. Even the name of the town, Jingdezhen, was bestowed on it by an emperor over 1,000 years ago, who was enamored with the ceramics crafted there.
Art is ubiquitous in this town, which is located in a mountainous area in Jiangxi Province. Ceramic works of various designs, colors and sizes dominate the city. Since ancient times, it has been a destination for "migrant" craftsmen, who have flocked there seeking a living and recognition in the industry.
This tradition has been passed down to modern times. Along with the craftsmen, young designers with innovative ideas also view the city as an ideal place to bring more possibilities to traditional art. Some come and go; some stay and some stay longer.
The long haul
Ran Xiangfei has stayed longer—for over eight years so far. He first visited the town in 2009 as a college student majoring in industrial design at Jiangnan University in Wuxi, Jiangsu Province.
Boasting the largest ceramic output in China, Jingdezhen has everything that porcelain admirers love. Studios and workshops offering short-term training on porcelain making are on almost every corner in the urban area of the city. In them, students can experience every step of ceramic making, from wedging and throwing clay to painting and firing it in kilns.
Ran originally intended to stay for one month and have his first close look at the porcelain-making process. "The magic of making porcelain is that it is easy to turn a design idea into reality," he told Beijing Review. "In Jingdezhen, a place with unique clay for making quality porcelain and that possesses a complete industry chain, it is very easy to produce porcelain. As long as you have a design idea, you can always find the right material and craftsmen to help you achieve it."
The large number of young people in the city is another reason Ran has stayed. "Young people make the city vibrant," he said. "And the size and pace of the city make life more relaxing here than in larger cities."
Ran arrived in Jingdezhen in December 2013. Seven months later, he set up his own studio. He named the studio Yiyang Yisheng, which means "one item, one lifetime" in English. "I hope every piece made by the studio will be used by its owner for their whole life," he said.
Arriving in Jingdezhen, Ran was not new to running a business. While he was in college in 2010, he founded an industrial design company with some friends and won several international design awards. After setting up his own studio, he took some of his artworks to exhibitions both in China and abroad. The unique design of his artworks brought him many orders.
"You can't expect fast money in this industry," Ran said. "It is normal for an item to take months, even years, from initial design to final product. Patience is a must for ceramic creators."
Spin city
While Ran buried himself in work, the city experienced rapid changes. Taoxichuan, a ceramic art district and cultural community created by renovating a bunch of abandoned state-owned ceramic factories, was opened in 2016.
The old chimneys from the factories' kilns were left on the site as a reminder of the passage of time. The old workshops have been renovated into art galleries, cultural centers, museums, restaurants and hotels. Taoxichuan also regularly holds open-air fairs, where local ceramicists can sell their wares. Within a short time, the district has become a landmark in the city and a tourist destination.
It has also become an experimental market for students from Jingdezhen Ceramic University (JCU), the only university specializing in ceramics in China, to display their artworks and make face-to-face contact with customers.
Zhou Xin, who now owns a studio in Jingdezhen, is a regular at the fair. She graduated from JCU with a bachelor's degree and obtained a master's from Jimei University in Xiamen, Fujian Province. After graduating, she returned to Jingdezhen to establish her business.
"Creativity is the top priority that JCU teachers emphasize in class and the students are required to make every piece an artwork," Zhou said. "We meet tourists from everywhere at the fair. They have varied tastes and that is also a source of inspiration for us."
The name of her studio, Big Fish, came to her by accident. When she was studying at JCU in 2016, she ordered a large unfired plate, 1 meter in diameter, from a local ceramicist so she could glaze and fire it, and sell it at the fair. While she was carrying the plate back to campus, it broke in two, with one half very much resembling a big fish. She tried to paint the half to look like a fish and fired it, and the result looked unexpectedly pretty. She brought it to the fair and met quite a few customers who loved it. One customer even ordered 10 copies.
Inspired by this chance event, she started to make fish-shaped items after establishing her studio. Last year, she began uploading videos of her products to streaming platforms in order to sell them online. Within two months, she had sold over 1,300 items, 100 times the volume she sold at the fair, making about 100,000 yuan ($15,760).
Surprised by the buyer enthusiasm, she started to worry about how to produce enough work. "The items were all handmade and couldn't be produced in large volumes," she said. "Flaws can occur at any step in the process, and we have to be very careful. Only after they come out from the kiln can we tell whether they are intact or not." Zhou hopes customers will learn more about the entire porcelain-making process and see the effort craftsmen pour into it.
For Mia Wu, who moved to Jingdezhen from Shanghai six months ago, this process is precisely where the charm of ceramics lies. She compared the ceramic-making process to cooking, which she loves best. "Before you lift the lid of the pot, you are not quite sure what the dish will look like," she said.
The former white-collar worker used to be a frequent visitor to ceramic studios in Shanghai, and was strongly attracted by the diverse arts and crafts community in Jingdezhen before deciding to move there. "Life in Jingdezhen is slow," she said. "It has to be slow as making ceramics needs time."
She also spends much less money than she used to in Shanghai. Everything she needs is within 10 minutes by electric bike. She works part time as an assistant to a ceramic artist and spends most of her spare time on her own porcelain works. She carries these to the fair where she meets "interesting customers from all over China." "As long as you have ideas and aren't too lazy, you won't have a problem making a living in this town," she said.
"Drifters" is the word for people like Wu in Jingdezhen. The word was used initially to describe young people following their dreams in big cities like Beijing and Shanghai. The special charm of the small city has now made it a dream destination for youngsters. Some artists come here to seek inspiration, some come for a change of pace, and some come here to establish their own porcelain brands.
For Ran, an eight-year resident of Jingdezhen, it is good to see more young people entering the city, but the boom is a bit "too much" and has created a "fickle atmosphere." Some entrepreneurs, for example, only come and stay here for a few days a year, just so they can label their products "Made in Jingdezhen."
"They don't have a deep connection to the city—except for that label," he said. "I hope I can create items that incorporate more of the city's stories and features in the future."
(Print Edition Title: The Ceramic Circle)
Copyedited by G.P. Wilson
Comments to yuanyuan@cicgamericas.com