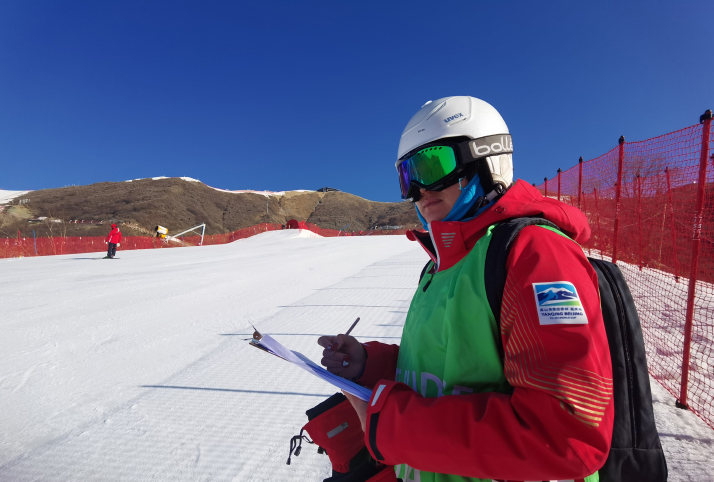 Guo Junhua judges a skiing event (COURTESY PHOTO)
On January 21, Guo Junhua, a local of Yanqing District, Beijing, entered the closed-loop management system.
"This marks the start of my own Olympic experience. Thank you to my family and colleagues for their support; I can now fulfill the task at hand supported by COVID-19 prevention and control measures," she shared on her WeChat Moments.
The system, in effect from January 23 until the Paralympics wrap up on March 13, covers all Games-related people and places to ensure the event's success amid the lingering pandemic.
Guo will serve as a member of the steward crew at the National Alpine Skiing Center during the Olympic Winter Games Beijing 2022 that run from February 4 to 20, and will become an alpine skiing judge during the Paralympics commencing on March 4. After an extended period of preparation, she is already familiar with her Olympic responsibilities.
"Ever since Beijing won its bid to host this year's Winter Olympics in July 2015, it had been my dream to participate in and contribute to the Games' realization," Guo, born and raised in Zhangshanying Town in Yanqing, told Beijing Review.
The opening ceremony of the Beijing 2022 Games will be held three days after the Spring Festival. Though she will miss out on this most important time of family reunion, Guo figures it will bring her a momentous new experience.
"I am so excited to be able to realize my dream," said the co-founder of the Beijing Polar Ski Club, adding preparations for the event as well as epidemic prevention and control are all in good order.
The need for speed
Guo's first brush with the ski slopes occurred when she was 16, when Beijing's first ski resort, Vanke Shijinglong, opened to the public in 1999. The high school student was amazed by foreign skiers zooming down the mountain and wanted to have a go at it herself.
She rode the magic carpet up a green run and made her way down without taking a tumble. "With the wind whistling in my ears, I fell in love with skiing at first 'sight'." Captivated, Guo spent a lot of time at the resort. With a bunch of chocolates stuffed in her pocket, she didn't even pause for meals.
Winter sports used to be a luxury in China some 20 years ago. Not everybody was lucky enough to have a ski resort right in their hometown. Others had to travel far and wide to find a ski run. But Beijing's winning its bid to host the Games has been a game changer in the development of the country's winter sports. Guo, active in the industry for many years, also discovered new opportunities.
"I started to learn more about ski instruction to enrich myself," she said, adding she then obtained a skiing coach certificate from both the Chinese and Swiss sports authorities. Guo also passed the examinations to qualify as a judge and participated in several Olympic test events. "That was my first time participating in world-class skiing events," she added.
Today, Guo is happy to have yet another cherished opportunity to improve her professional skills both as a skier and a referee. "I can closely observe the athletes' techniques and improve my arbitrating knowledge during this most important of athletic events," she said.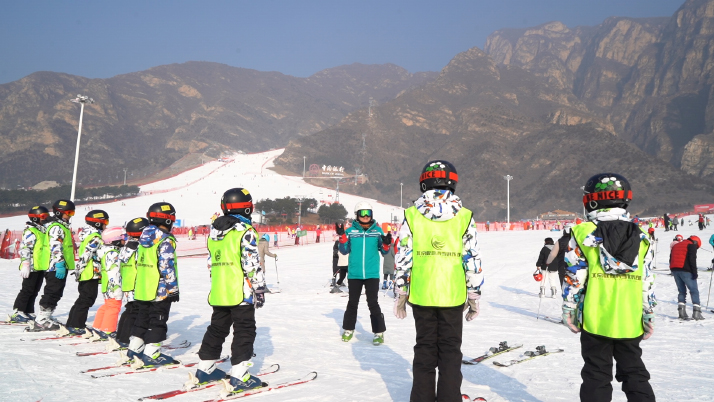 Guo Junhua teaches students to ski at a resort in Yanqing District, Beijing, on January 19 (YIN KANG)
Hope springs
"In 2015, when I heard Yanqing would be one of the venues for the Beijing 2022 Games, I immediately returned from Sichuan Province, where I was managing a ski resort, to work in my hometown," Guo recalled.
At the time, China had committed to engaging 300 million people in winter sports. She wanted to contribute to this goal by teaching children to ski. With the support of the local government, the first public training camp for Beijing children came into being.
To improve athletes' performance in alpine skiing, it is essential to promote winter sports among children, she said. The camp enrolled 17 local students aged 4 to 11; they all liked to ski and managed to pass several tests. After one year of training, they were able to come down the black runs, the most challenging run, by themselves. Some have been sent to Yanqing's junior ski team to receive more professional training.
Having worked at different ski resorts for many years, the idea of setting up a business entered Guo's mind. The Olympic Winter Games could not have come at a better time. Along with the increasing nationwide passion for ice and snow sports, she teamed up with friends and established the Beijing Polar Ski Club in 2018, targeting young snow sports enthusiasts.
The club also encouraged parents to get involved. Young students need protection which requires the accompaniment of adults, and the latter can also further develop their interest in skiing, Guo explained. Since Beijing won the winter Olympic bid, she has noticed an increasing number of ski learners visiting her hometown to join the ice and snow sports lineup.
At the same time, the market requires more professional talents such as coaches, and Yanqing can cater to this demand. In preparation for the Beijing International Horticultural Exhibition in 2019 and the Olympic and Paralympic Winter Games, the Yanqing District Government started launching massive training projects in 2018, motivating over 100,000 residents. It also highlighted the cultivation of various jobs related to the winter sports industry, for example in ski instruction and venue maintenance. Many Yanqing residents jumped onto the Olympic trend to increase their incomes, Guo said.
"My hometown enjoys a long snow season, making it the perfect place to develop winter sports; the grand Olympic event taking place here further works to that advantage," Guo said.
(Printed Edition: Slaloming Into Spring Festival)
Copyedited by Elsbeth van Paridon
Comments to liqing@cicgamericas.com