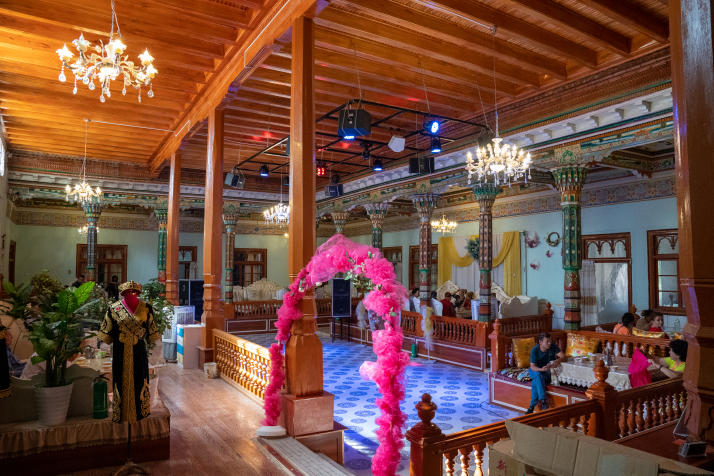 The brightly decorated banquet hall of Adris Tursun's resort in Azgan Village, Artux City of Xinjiang Uygur Autonomous Region, on July 30 (ZHANG WEI)
From age 25 to 40, Mijit Yasinjan, an ethnic Uygur, worked as a second-hand car dealer in Shanghai, more than 5,000 km from his hometown.
Azgan Village where Mijit was born is in Xinjiang Uygur Autonomous Region, northwest China. For decades, the young people of this Uygur village in Suntag Township of Artux City have traveled to the developed areas on China's eastern coast in large numbers to do business, for example, engaging in the wholesale of fabrics or running restaurants. Today, among the 4,127 villagers, more than 400 are still working and living in the eastern region.
But more and more people, like Mijit, opt to come back. "My hometown is doing well now, and my income is higher than before," he said.
Eliminating Extreme Poverty
Mijit continues his used-car trading business in Artux, while he also runs a shop at a local fig-trading market and owns a convenience store in Azgan.
Artux is known as "China's Home of Figs," and Azgan features more than 73 hectares of fig trees, accounting for about 80 percent of the village's total arable land. However, given figs can only be stored for one to two days at room temperature, it is difficult to transport them to locations far away. When in season from May to October, figs can only bring in meager profits; moreover, the fruit is not considered a delicacy locally, so selling it close to home won't result in big business.
However, the retail price of fresh figs in big cities like Beijing and Shanghai is much higher, up to $2 each. In 2018, Artux was enrolled in the National Rural E-Commerce Comprehensive Demonstration Project, which aimed at accelerating rural e-commerce. Air-conditioned preservation technology was introduced to the area, extending the storage period of fresh figs from the previous one or two days to one or two weeks. This gave Artux' specialty the opportunity to be sold nationwide.
And that wasn't the end of it. Deep-processed products such as dried figs and jam have blown the market wide open. One hectare of orchard can now generate about 150,000 yuan ($22,200) in income. In 2019, the integrated development of the fig industry increased the incomes of 338 impoverished households, and the following year Azgan bid farewell to absolute poverty overall.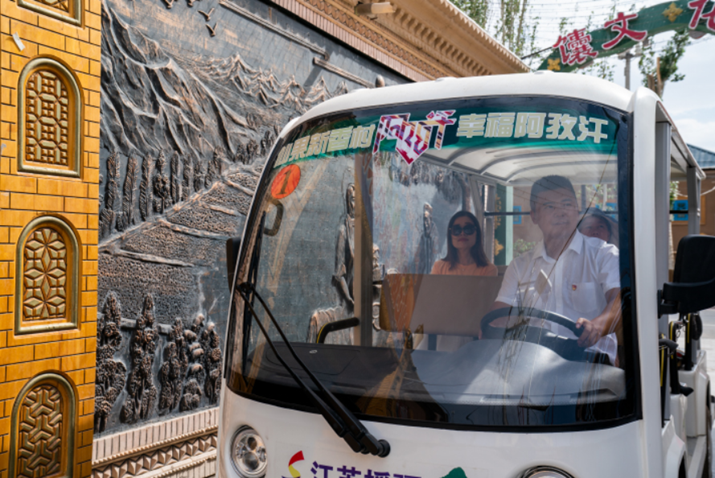 An electric sightseeing bus makes its way through the Naan Bread Culture Alley in Azgan on July 30
A rural renaissance
But the eradication of absolute poverty by no means marked the end of rural development in China. What really drew Mijit, and others, back to their hometown from more economically developed cities were the broader development prospects and ever better living environment in the villages.
The bright prospects are the result of China's rural revitalization strategy, first proposed during the 19th National Congress of the Communist Party of China (CPC) in 2017 and repeatedly stressed by the Chinese leadership ever since.
Rural social and economic development is "to ensure agriculture becomes a promising industry, farming an attractive occupation, and rural areas beautiful places to live and work," President Xi Jinping once said. The strategy intends to achieve the basic modernization of agriculture and rural areas by 2035, and the overarching goal of a strong agriculture, a beautiful countryside and well-off farmers by 2050.
For Azgan, the real transformation occurred in late 2019. This ordinary village has been identified as one of the nation's demonstration sites for rural revitalization. Under the counterpart support policy which pairs up developed regions with underdeveloped ones to offer assistance, Kunshan City, Jiangsu Province, one of the most economically developed county-level cities in China, invested 30 million yuan ($4.5 million) in Artux to give its streets a makeover and upgrade its infrastructure. The overhaul further included the creation of a 1.6-km-long shopping street for locals and tourists alike, lined with 108 houses of regular families. At the same time, a 2-km-long wooden trestle road was constructed to connect the numerous fig orchards. The whole village, with homestays, eateries and overall rustic charm, has turned into a fig-themed tourist attraction. In 2021, before the local makeover's completion, the village already welcomed more than 100,000 tourists.
With their business acumen, the villagers quickly spotted a range of newfangled commercial opportunities. After learning the local government was going to renovate Azgan, Adris Tursun, who used to do business in Urumqi, capital of Xinjiang, returned to his home village to gain some first-hand insight. Just then, professionals were visiting every household to ensure they would be able to come up with a renovation blueprint that was in line with residents' requirements. After seeing the house of Adris'
family, they suggested he open a large restaurant that could host weddings. After discussing the matter with his wife, Adris decided to leave Urumqi and invested 600,000 yuan ($89,219) in the renovation of the family home. In October 2020, the resort, offering a combination of catering and accommodation services, officially opened its doors. In addition to receiving tourists, it also serves villagers, who are very enthusiastic about the new venue. Today, the local hotspot hosts wedding banquets almost every weekend and, what's more, within a year, Adris earned back the funds he'd initially invested.
With these relatively wealthy residents coming back to the countryside to invest, their investment has not only boosted the rural economy, but has also given many relatively poor villagers the opportunity to get a steady job—in addition to planting figs. And with the increase in income, more villagers have opened their own shops, inspiring more people to participate in the local economy.
Zhu Zhidong, Secretary of the Azgan Village Branch of the CPC, told Beijing Review that more than 30 new stores have opened in the village since the beginning of this year. At present, the transformation of Azgan has leveraged more than 170 million yuan ($25.1 million) of capital, a number still on the rise.
Mijit, meanwhile, is currently preparing to open a bed and breakfast service in the village in addition to his convenience store. He is both a contributor to and beneficiary of rural revitalization.
(Print Edition Title: Return to the Village)
(Reporting from Artux, Xinjiang Uygur Autonomous Region)
Copyedited by Elsbeth van Paridon
Comments to liangxiao@cicgamericas.com