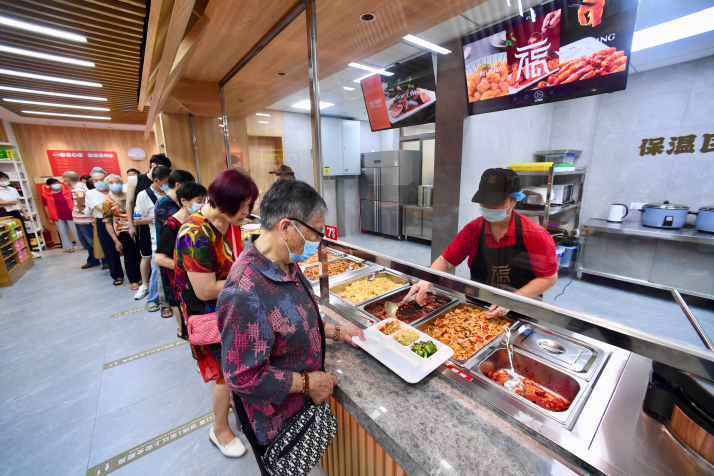 Senior residents wait in line to get food at a residential community canteen in Fuzhou, Fujian Province, on June 21 (XINHUA)
China is a rapidly aging nation, with the number of people aged 60 and above reaching over 267 million, accounting for 18.9 percent of its population by the end of last year. This proportion is expected to exceed 30 percent by 2035.
Faced with this irreversible trend, China has seen remarkable progress in senior care over the past decade thanks to continuous efforts to improve relevant policies and systems and the implementation of concrete measures, the National Health Commission (NHC) said at a press conference on September 20.
Unstoppable trend
A population's retirement peak must follow a population peak. According to Beta Data, a Shanghai-based digital technology service platform, China has had three waves of baby booms since 1949. The first wave occurred between 1949 and 1957, shortly after the People's Republic of China was founded, as the country implemented a policy to encourage its population to have more children.
The second wave happened from 1962 to 1971. The country's healthcare system improved rapidly during that time and people's willingness to bear children increased accordingly. This baby boom was the largest to date.
The third wave lasted from the mid-1980s to the early 1990s. Though subjected to the family planning policy introduced in the late 1970s to tackle overpopulation, those born during the second wave had reached reproductive age, resulting in a relatively large population base.
In China, the retirement age is currently set at 60 for men, 55 or 60 for female white-collar employees and 50 for female blue-collar workers. Average life expectancy is anticipated to reach 78.3 in 2025, up from 77.3 in 2019, according to the country's 14th Five-Year Plan (2021-25) for public services. Average life expectancy in China had previously gone from 67.8 in 1981 to 77.3 in 2019, a white paper released by the State Council Information Office read.
Those born in the 1962-71 wave have reached or are approaching retirement age, causing the current retirement peak—starting this year; the third boom will similarly lead to another peak in retirement roughly 20 years from now.
China will become a moderately aging society three years later with 20 percent of the population aged 60 and above, and become a severely aging society by 2035 when 400 million people will be 60 or over, accounting for 30 percent of the population, Wang Haidong, Director of the NHC's Department of Aging and Health, said at the press conference.
Wang also noted the great pressure to manage the daunting aging scenario. The number and percentage of the population of senior citizens, the old-age dependency ratio (the ratio of the number of elderly people aged 65 and above when they are generally economically inactive to the working population, namely, those aged between 15 to 64), and the social dependency ratio (an indicator that gives insight into the number of people of non-working age, compared with the number of those of working age) will peak around 2050. It will pose great challenges to public services accessibility and the sustainability of the social security system.
"We should neither ignore nor be pessimistic about the aging of the population," said Yang Yansui, a professor at the School of Public Policy and Management at Tsinghua University, adding that population aging can be seen as social progress, and a healthy and long-lived society can be achieved through careful planning.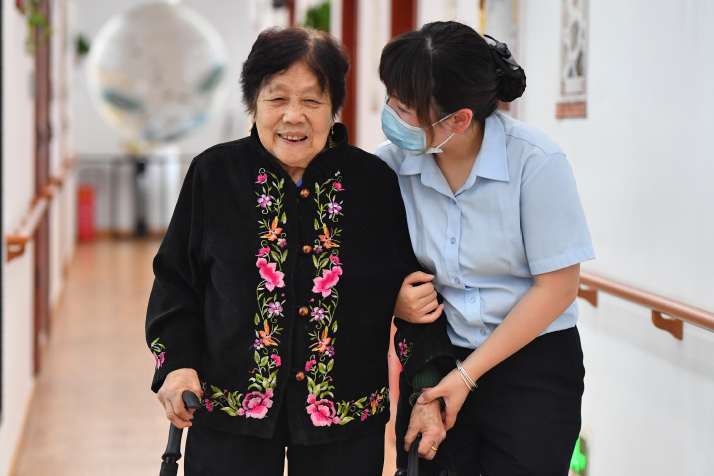 A staff member assists a senior citizen with leg problems on a walk in a nursing home in Xiangtan, Hunan Province, on May 17
(XINHUA)
Upgraded services
The government work report released earlier this year stated China will "proactively respond to population aging and work faster to build a system of domestic, community and institutional elderly care services to meet different medical and healthcare needs."
It added the country will improve senior care in urban and rural areas, support private entities in providing services such as senior daycare, meal and cleaning assistance, and rehabilitation; steadily improve long-term healthcare insurance; and encourage the development of mutual-aid services for older adults in rural areas. The latter is a model of elderly care, pioneered by Japan in light of its super-aging society, under which seniors are assisted by seniors, as well as by fellow villagers and others willing to lend a hand. The model still requires continuous improvements to expand its coverage, lower its cost, enhance its efficiency, and promote its sustainable development in China.
Younger generations taking care of older family members is the norm in China. As the old Chinese adage goes: "Filial piety is the foundation of all virtues." However, many challenges are adding to the burdens placed on young(er) shoulders. For instance, many of them are the only child and when they get married, the couple then has to take care of at least four senior family members. Also, many parents don't live in the same city as their offspring, as the latter often pursue careers in bigger cities, making senior care a tough task.
Currently, community-based elderly care is gaining momentum, accessible to all urban communities and more than half of rural communities, according to NHC data.
Mudan Community in the city of Shenyang, Liaoning Province, is home to more than 3,000 households and over 10,000 residents, of whom some 46 percent are aged 60 and above. Many of them live alone and have a hard time taking care of themselves.
In 2017, the local district government established a senior care center in the community with an investment of 500,000 yuan ($69,874), offering a range of at-home services, daycare and long-term care services, from health checks, bathing and walking assistance, to housecleaning. Last October, the community upgraded and invited a renowned senior care service enterprise to run the center. People over the age of 80 in the jurisdiction now enjoy three hours of free at-home services every month.
The community has opened a canteen where older adults can enjoy affordable meals in a clean environment. The canteen also offers delivery services during bad weather or for those with limited mobility. Seniors aged 60 to 79 are charged 10 yuan ($1.4) per meal per person and those 80 and above 8 yuan ($1.12), while centenarians dine for free.
"In the past, it was difficult for me to cook at home by myself and I often made do with leftovers. Now, with this canteen, I can enjoy wonderful food every day," an 81-year-old resident surnamed Li said.
The Mudan community center also provides some 40 seniors who live alone with smart bracelets, which monitor their heart rate, blood pressure and other vital signs. In case of emergency, they can contact the medical services by pressing their personal emergency response button or asking community workers for help.
The community also invites doctors from different hospital departments to offer basic online diagnoses, saving residents the trouble of having to go to the hospital.
Earlier this year, the State Council released a plan for the development of the country's senior care services system during the 14th Five-Year Plan (2021-25) period. It stated it will step up institutional innovation, and boost policy support and financial input to enable older adults to share China's development achievements.
With a solid material foundation, sufficient human resources and a long-standing culture of filial piety, China is confident in its ability to tackle population aging, the plan adds.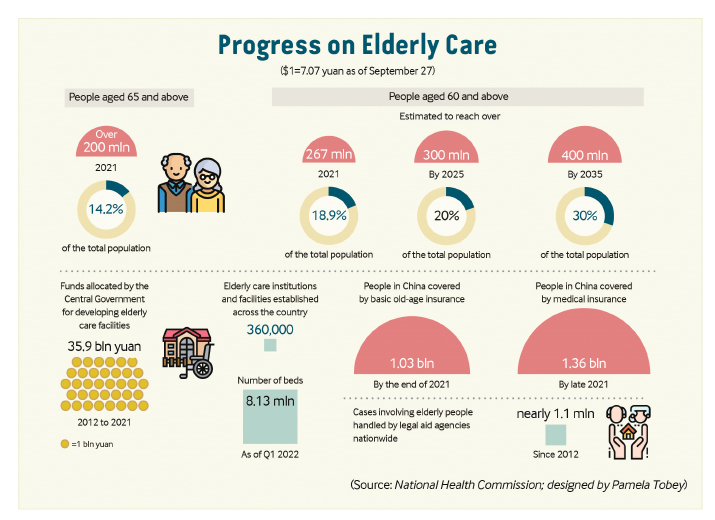 Happy go lucky
Two of the top concerns among older adults are health and happiness, Huang Gairong, a member of the 13th National Committee of the Chinese People's Political Consultative Conference (CPPCC), said while attending an interview on the sidelines of the Fifth Session of the 13th CPPCC National Committee in March.
Huang, also head of the Henan Provincial People's Hospital gerontology department, said health means being able to recover from illness, see and hear clearly, and look after oneself; happiness means having fun in life and not being left behind by the advancing society.
This year's government work report read China will explore new ways of developing senior citizen education and promote the high-quality development of both elderly care programs and other related care services.
Currently, China has established more than 40,000 learning centers for older adults, while cultural facilities and tourist sites are open to them for free or at discounted prices to encourage them to participate in recreational activities, Wang said.
New educational options allow the country's elderly to enjoy retirement, rather than just survive. As of the end of 2019, China had more than 76,000 such universities, covering some 11 million elderly students; yet supply still falls short of increasing demand.
Lu Dewan has been taking the Min Opera performing class at Fuzhou Senior-Citizen University in Fuzhou, Fujian Province. The 65-year-old has been a fan of this traditional local art her entire life.
Lu said her senior classes have brought her two major gains. One is making new friends with similar interests with whom she can hang out and travel. The other is "giving back to society," in her words. Together with her classmates, she established an amateur performance group to showcase what they have learned across community entertainment centers, nursing homes and orphanages. "On the one hand, we promote our traditional Fuzhou culture; on the other, we hope to bring joy to others," Lu said.
Chen Bojing, another student at the Fuzhou Senior-Citizen University, has taken psychology classes dedicated to senior citizens for three semesters. He said as he got older, he tended to get feelings of unsettledness and worried about his future, and the course helped him in this regard. He also shares what he has learned with others dealing with similar mental issues.
A university for senior citizens in Langfang, Hebei Province, offers educational programs to help senior citizens avoid falling victim to fraud, which often pops up in online form nowadays. Gullibility and a lack of digital knowhow have made senior netizens more vulnerable to modern-type fraud. Such courses and seminars present seniors with common examples and teach them precautionary measures.
Moreover, many younger seniors opt to get a part-time job to kill time, all the while earning some extra pocket money. This August, the Senior Talent Information Center of the China National Committee on Aging created an online network offering job recruitment information specific to older generations.
For example, one post of a McDonald's in Beijing recruiting retired seniors as waiters went viral online. The monthly salary is 1,800 to 3,500 yuan ($251 to $488) for four or five days a week, four to eight hours a day.
The network aims to broaden the channels of senior employment and establish a think-tank discussing how to cope with China's aging population, Wang Jianjun, President of the China National Committee on Aging, told the Global Times.
Active aging has been increasingly embraced by seniors. Some also engage in volunteer activities; participating in social activities and contributing their skills and wisdom give them a sense of fulfillment. Gong Chunrong, an 83-year-old in Guanghan City of Sichuan Province, often volunteers to mediate family disputes in her neighborhood; stages singing and dancing performances at a community rehabilitation center; and helps other seniors.
"Doing so makes me feel happy," she told a local television station.
(Print Edition Title: Active Aging)
Copyedited by Elsbeth van Paridon
Comments to luyan@cicgamericas.com