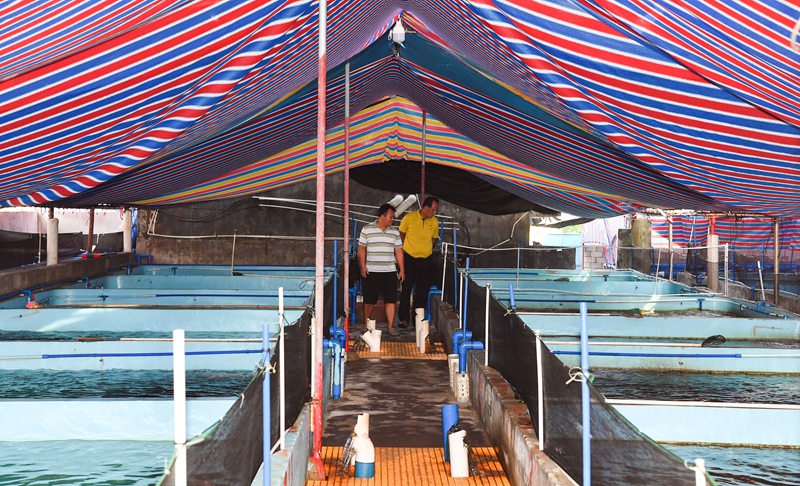 Wang Shumao (right) visits a sea-water aquaculture center in Tanmen Village, Qionghai, Hainan Province, on September 14, 2022 (XINHUA)
For Wang Shumao, a fisherman in the tropical island province of Hainan, the South China Sea is more than just a fishery—it is an ancestral ocean that has nurtured his village since ancient times. "It brings us food and joy. I love everything about it," the 66-year-old said.
Wang was born and raised in Tanmen Village, a fishing port in Qionghai City on the island's eastern coast.
A kind-hearted fisherman
Wang first went fishing with his father in the South China Sea when he was 18. "I felt afraid when the 30-ton wooden boat was tossed by the violent waves of the vast ocean," he recalled. "And the sleeping berth was small. It was a tough trip."
In the years that followed, he became used to the fishing life and soon mastered the skills of piloting the boat, fishing and diving. The more time he spent on water, the more he has learned about the ocean. He knows which reefs in the South China Sea are havens for boats and can figure out whether there is an undercurrent by scattering a handful of ashes onto the water.
Wang spent eight months of each year on the sea, not only fishing, but also coming to the aid of his fellow fisherfolk. Whenever a boat breaks down or loses its way, Wang volunteers to go to its rescue.
One night at midnight, Wang was wakened by a sharp knock at the door when he was asleep at home. A fellow villager informed him that a fishing boat with five villagers on board was out of contact, with the lives of its crew in possible danger. Without hesitation, Wang assembled some experienced fishers to search for the lost villagers in the dark night. After hours of searching, they finally found the villagers, whose boat had broken down and been stranded on a reef. When the villagers boarded Wang's boat, they wept with joy.
Did Wang feel afraid while searching the sea in darkness? "It was urgent and I had no time to think about the danger. But after returning, I was filled with fear. After all, we are just ordinary people of flesh and bone," he told Beijing Review.
Despite the fear after every rescue, Wang never quit helping others. He and his fellow fishers have together saved more than 600 fishers and crew members from home and abroad, whose boats were stranded or capsized at sea. "No matter where the fishers are from, we save them whenever they are in need," Wang said.
Bigger boats
Thanks to his expertise in fishing and entrepreneurship, in the early 1980s, he bought his own fishing boat and was one of the first of his generation to become a captain. In 1996, Wang joined the Communist Party of China (CPC).
To prevent overfishing and further protect the oceans, China rolled out a policy to ban summer fishing in the Bohai Sea, the Yellow Sea and the East China Sea in 1995. In 1999, the policy was expanded to include the waters north of 12 degrees north latitude in the South China Sea.
Tanmen Village is home to 3,000 residents, most of whom lived off fishing. The annual moratorium means a loss of income for them for at least two months every year. Some couldn't understand the policy. Wang visited every household and explained it to his fellow fishers. Wang knew that it was time for the villagers to think about changing their traditional ways of life.
A turning point came in September 2003, when the permanent site of the Boao Forum for Asia was built 13 km south of the village. The site has become a popular scenic spot, attracting tourists from all around the country. The area's popularity put Tanmen Village on the tourist map, as it became a popular destination for eating seafood.
Back then, all of the village's fishing boats were made of wood, with a tonnage of no more than 100. "Strong winds and huge waves battered our boats on days with bad weather, and it was very dangerous for wooden boats to hit a reef," Wang's younger brother said. But in order to buy bigger boats, Tanmen's fishers had to borrow money from the bank. Many hesitated. Wang, again, took the lead. He, together with other fishers, took a loan and bought a 350-ton steel boat one year later.
"The boat, with a dedicated kitchen and sleeping cabins, maneuvers steadily, even in rough seas with huge waves, which has brought us an unprecedented sense of safety," he said. "The most important thing is that our catches have tripled, which has increased our income."
Inspired by Wang's success, other fishers followed suit and more than 30 steel vessels called Tanmen Port home as of July 2021.
Turn of tide
In April 2018, President Xi Jinping announced a decision to build a pilot free trade port on Hainan Island, and provide relevant support for the province. Environmental protection is high on the agenda. As the seasonal fishing ban has been extended from two to more than three months in the South China Sea, fishers can no longer live solely from fishing far off shore.
In the same year, Wang was elected as a deputy to the National People's Congress, the highest state organ of power, with a five-year term.
Wang has since visited many developed provinces to study different ways to achieve common prosperity. He believes that going ashore to develop marine tourism and fish farming is the new way to prosper.
But fishers were lacking both the funds and knowledge necessary to make the most of these new opportunities. Wang, together with other village leaders, sought help from banks and universities for loans and technical support.
In the following years, seafood restaurants proliferated in the village and a dozen homestays have been opened. Recreational activities such as scuba diving and diving for shellfish are also available. After diving for shellfish was first introduced to tourists in May 2021, it brought villagers a profit of more than 100,000 yuan ($13,870) in less than two months.
Wang admitted that the pandemic has dealt a heavy blow to their businesses, but he remains optimistic.
Fish farming is another way to develop the village economy. There are more than 100 ponds in Tanmen and villagers pooled their savings to set up a sea-water aquaculture cooperative, breeding high-value fish such as leopard coral groupers, which can be sold for a little more than 240 yuan ($33) per kg. "It's better and much safer to make money ashore than on the sea," Wang said.
In 2021, Wang was elected as the secretary of the CPC Tanmen Village Branch. He and other villagers are considering building a supply hub to offer quicker and more convenient services to passing fishing boats.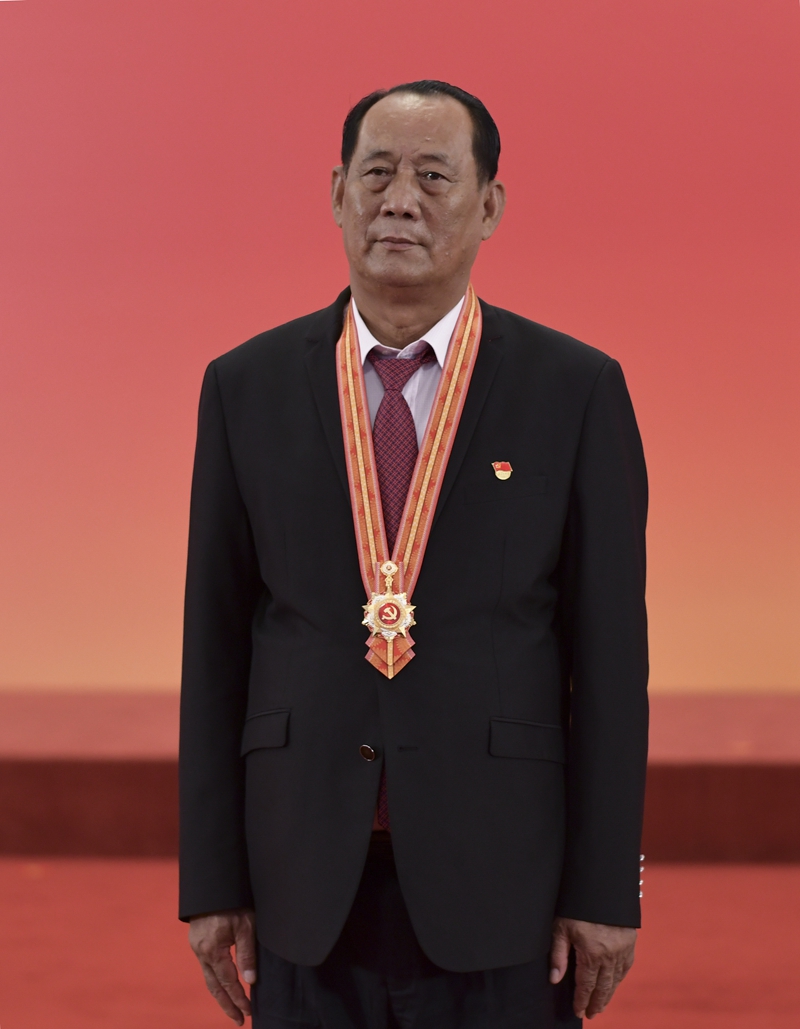 Wang Shumao, a fisherman from Hainan Province, is awarded the July 1 Medal, the highest honor for a CPC member, on June 29, 2021, two days before the Party's centennial (XINHUA)
New mission
June 29, 2021 was an unforgettable day for Wang as he was awarded the July 1 Medal, the highest honor for a CPC member, two days before the centenary of the Party. He was elected as a delegate to the 20th CPC National Congress in April this year. "As a CPC member, I want to do more for those in my village and my country," Wang said.
During the 20th CPC National Congress, Wang proposed enhancing efforts to present the Party's history to younger generations. "Our Party has gone through an arduous journey in the past century. Although our life is better off, we, including young people, should not forget the hardship the Party has gone through."
The congress concluded on October 22, but Wang's new mission has just started. "I will explain the policies elaborated in the report that General Secretary Xi delivered to the congress on October 16 to every family in my village. And I hope they can work as one to achieve modernization." BR
(Wang Ruohan contributed to this article)
(Print Edition Title: Leading by Example)
Copyedited by G.P. Wilson
Comments to linan@cicgamericas.com