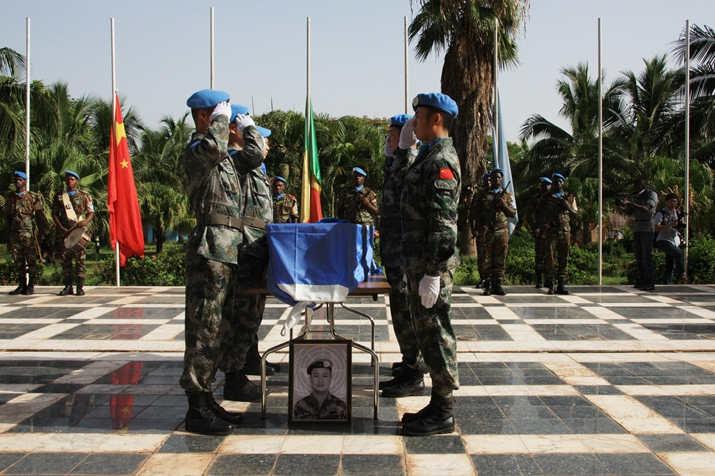 The UN Multidimensional Integrated Stabilization Mission in Mali on June 7 honors Chinese peacekeeper Shen Liangliang who died in a terrorist attack on a UN mission camp in Gao, north Mali, on May 31 (XINHUA)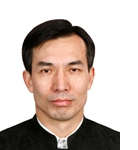 One Chinese peacekeeper was killed and five others were left injured when a vehicle-borne improvised explosive device was detonated at a camp of the UN Multidimensional Integrated Stabilization Mission in Mali (MINUSMA) in the country's northern town of Gao on May 31.
It was the second attack MINUSMA suffered within a week. Just two days prior, on May 29, a UN motorcade was ambushed in the town of Sevare in central Mali, killing five peacekeepers, also known as Blue Helmets. In May alone, a series of hits on MINSUMA claimed 12 lives and injured many more.
Since its inception in 2013, the UN mission in Mali has lost more than 60 lives, making it the UN's deadliest active peacekeeping operations.
The Chinese peacekeeping force involved in the latest attack arrived in Mali in the middle of May. Composed of military engineers, security personnel and medical staff, it will perform a yearlong task in the West African country, which is host to numerous armed organizations.
An affiliate of Al Qaeda in North Africa has claimed responsibility for the recent attack on the MINUMSA camp. The jihadist group, led by Algerian Mokhtar Belmokthar, has conducted a series of terrorist attacks in North Africa and the Saharan area.
Last November, gunmen from the group launched an assault on the Radisson hotel in Bamako, capital of Mali, holding more than 100 people as hostage. Malian security forces were finally able to muster a counterattack, but they failed to rescue all the victims. More than 20 hostages, including three Chinese citizens, were killed in the incident.
Terrorists are often indifferent to or do not recognize Blue Helmets' neutrality when launching attacks. Any peacekeeper is vulnerable to terrorist threats, regardless of nationality. Therefore, China's independent foreign policy of peace and its insistence on non-interference in internal affairs of other countries cannot guarantee the safety of Chinese peacekeepers that perform hazardous UN missions, in spite of their work in the pursuit of stability.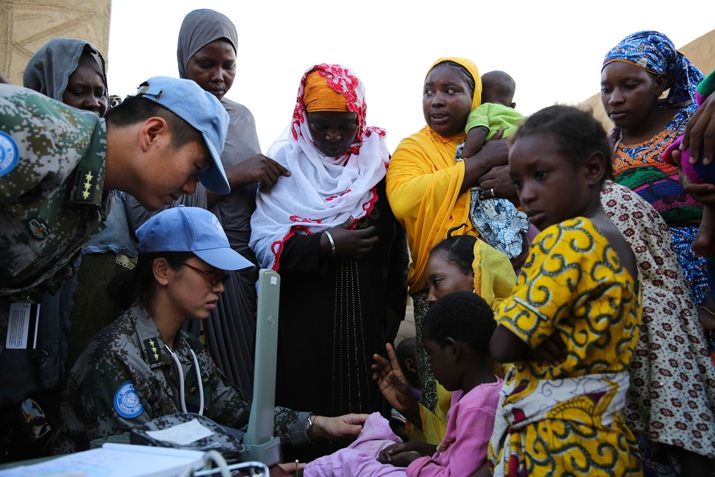 Doctors from the Chinese peacekeeping troops provide free medical service for local people in Gao, north Mali, on October 31, 2015 (XINHUA)
According to UN Secretary General Ban Ki-moon, a total of 129 peacekeepers died on duty in 2015 alone. Blue Helmets constantly face the risk of losing their lives when they perform missions in territories seeped in conflict.
China began participating in the work of the UN Department of Peacekeeping Operations in 1988 and sent its first troops for UN peacekeeping missions the following year. Over the last 27 years, China has dispatched the largest number of peacekeepers among the five permanent members of the UN Security Council--China, France, Russia, the United Kingdom and the United States, with more than 3,000 Chinese taking part in more than 20 peacekeeping missions. China is also the second largest financial contributor for UN peacekeeping missions, behind only the United States. Over the next three years, China will share 10.2 percent of the world body's total cost in this aspect. During the UN summit held in New York City in September 2015, Chinese President Xi Jinping pledged up to 8,000 personnel to UN peacekeeping missions. China, owing to its increased national strength, is trying to assume a greater role under the UN framework, as expected by the international community.
Meanwhile, Chinese peacekeepers are facing growing safety risks. In May 1993, rocket shells pierced a camp of Chinese peacekeeping troops in Cambodia, killing two and injuring seven. In October 2005, a Chinese transport soldier was killed by gunshots in Liberia. In July 2006, a UN observation point on the Israel-Lebanon border suffered Israeli artillery strikes, fatally injuring a Chinese officer.
Currently, an urgent matter for China's policymakers should be assessing risks for peacekeepers in complex and varied environments. In consideration of geopolitical factors, religious conflicts and rampant terrorist activities, the Chinese Government should be more prudent before deciding whether or not to partake in such operations.
There was a concern over China's decision to send peacekeepers to Mali in 2013 after MINUSMA was established to support the nation's reconciliation between the north and south and carry out security-related tasks. The conflict in Mali is highly convoluted, with some rebel groups fostering ties with international terrorists. French involvement even adds to this complexity, with the African country, an ex-colony of France, still regarded as part of the French sphere of influence. As a result, the conflict in Mali has been labeled as a religious war and a clash of civilizations by rebels.
To France, Mali has become a bloody battlefield in the fight against terrorism. But to local rebels, the country represents the frontline against Western "crusaders." Under such circumstances, peacekeepers face a near impossible task of averting the trouble caused by hatred toward foreign interference.
After the attack in Gao on May 31, UN Secretary General Ban has outlined measures to strengthen MINUSMA. His proposals include increasing the number of peacekeepers and police by 2,500 and will be deliberated by the UN Security Council.
China needs to reconsider its role in MINUSMA and evaluate the prevalent dangers in Mali. Participating in peacekeeping operations is an international obligation that China should fulfill as a responsible big country. However, China should try to avoid sending peacekeepers to regions involved in conflicts between civilizations or being caught up in trans-regional or trans-national conflicts. The Chinese peacekeeping forces should also refrain from joining combat missions. Of course, casualties are usually inevitable in the undertaking of peacekeeping operations. Though, China must take even greater effort to enhance the safety of its peacekeepers and increase their ability to cope with multiple threats in turbulent regions.
The author is a professor of international studies at Beijing Foreign Studies University
China's Role in the Mali Mission
In 2013, China for the first time sent a peacekeeping security division to Mali, which had been plunged into chaos and violence due to a military coup and armed attacks in 2012.
Until now, China has deployed four contingents to the West African country as part of a UN peacekeeping mission, consistently contributing to the country's peace process.
The third contingent was replaced by the fourth contingent of 395 peacekeepers in May.
At the end of the third contingent's mission, a statement from the UN Multidimensional Integrated Stabilization Mission in Mali spoke highly of China's role in preserving peace and stability in the region.
During the second half of 2015, Chinese peacekeepers in Mali tackled over 90 incidents including bomb threats and terrorist attacks.
Chinese Blue Helmets have also helped a local community build a football pitch.
At present, more than 2,400 Chinese peacekeepers are operating in seven African task areas including Mali, Liberia and the Democratic Republic of the Congo, according to the statistics released by the Ministry of Foreign Affairs.
(Source: Xinhua News Agency)
Copyedited by Dominic James Madar
Comments to liuyunyun@bjreivew.com