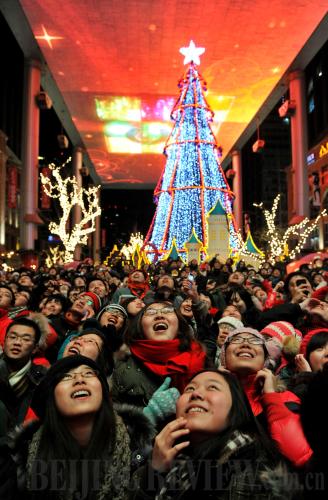 RINGING IN 2011: Young people happily join the New Year Countdown for 2011 at The Place in Beijing (CFP)
The concept of happiness differs from person to person and country to country. Beijing Review asked two people—Zhao Xingzhou, a doctor at a hospital in Baoding, north China's Hebei Province, and Niu Fenglei, a white-collar worker at an IT corporation in Beijing—to share their ideas about happiness.
Beijing Review: Are you happy with your life now?
Zhao: Yes, I am happy with my current life.
Niu: Generally speaking, I am happy, although there is much pressure in my daily life.
Why are you happy?
Zhao: I think the most important factor affecting one's happiness is one's character. A billionaire may not be happier than someone with a moderate income, due to their different characters.
I have a harmonious family. Everyone in my family is kind to each other. My wife is considerate and my son is smart and wonderful. All these things make me feel warm all the time. I work in a hospital. I like my job and like to help patients. As a doctor, I am satisfied with my income. Several years ago, I bought an apartment for my family. Even though it is not a very big one, it makes us all feel happy. Sometimes, when I have time, I like to hold a party with my friends, which brings me the happiness of friendship.
Niu: First, I am content with my job. I am an IT engineer in a foreign company. The work environment and salary are both okay, but I feel tired sometimes because of the intensity of my job. Second, I have a good wife. She is an editor in a publishing house. We live happily together, which I think is another important source of my happiness. We do not have a child now because that would add to our economic pressure, but we will have one in a few years when our economic condition is better. Our child will certainly make us much happier.
Regarding the pressure in our lives, the thing I most want to mention is the ceaselessly increasing price of housing. I am not a native Beijing resident, and my family is not a wealthy one. My wife and I will have to rely totally on our own incomes to buy a house. Unfortunately, housing prices have been skyrocketing while our salaries have not increased much. Although we have worked for almost six years in Beijing, we cannot afford to buy an apartment.
In your opinion, how does wealth relate to happiness? What other factors affect one's level of happiness?
Zhao: In my opinion, amicable family relationships and a suitable job are not only necessary but also are more important to happiness than wealth.
For me, I think I most need more vacation and spare time. My work is so busy. I seldom have time to go back to my hometown to see my parents. They are old and living in the countryside, so I worry about their health. I would like to have more time to take care of them. In addition, high-intensity work also affects my health and my happiness.
From looking at colleagues, I can see that academic promotion is one element they are concerned about very much. It affects their happiness very much. Competition is so fierce.
Niu: In my opinion, wealth is surely an important factor affecting happiness. However, it isn't the most important one. If you are a rich man without love from your family and your friends, you won't be happy. I think factors affecting one's happiness are numerous. For a young guy of 30, a job, house and marriage are very important. In addition, health and income are also important factors that affect happiness. The health of my parents also has an effect because they are not fully covered by the social security system.