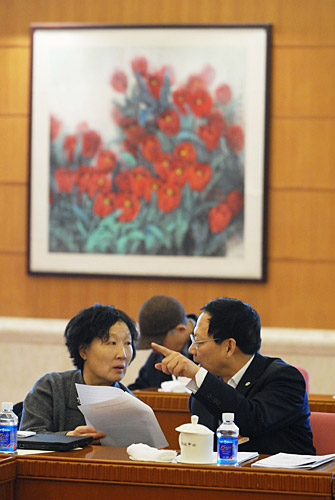 SHARED TOPICS: CPPCC National Committee members Li Li (left) and Hong Jiansheng talk during a panel discussion of political advisors from the scientific and technological circle in Beijing on March 4 (CFP)
On March 6, Han Zhaoshan and Gao Baoyu, two national lawmakers from northeast China's Liaoning Province, walked around the neighborhood near their Beijing hotel room at lunch to talk with retired people and collect ideas for the income distribution system reform.
"The gap between the rich and the poor is widening," said Gao, President of the Yingkou Port Ltd. Co. who was attending the annual full session of the 11th National People's Congress (NPC) between March 5 and 14. "It has negative effects on social stability and the income distribution system needs to be reformed soon."
"On the one hand, our national economy is developing at very fast speed," said Han, Board Chairman of the Panpan Security Industries Co. Ltd. "And on the other hand, I hear many people from rural areas complaining it's more difficult to earn money."
Han visited rural areas in Liaoning many times before coming to Beijing. "How to balance income distribution has been a crucial issue for the government," he said.
An urgent task
Chi Fulin, a member of the National Committee of the Chinese People's Political Consultative Conference (CPPCC), the top political advisory body, and President of the China Institute for Reform and Development, has been studying income distribution for quite a few years. In his opinion, public blame on this issue is partly because the government used to put more effort on national wealth increase.
"China's GDP has soared in the past years, which was the world's second largest in 2010," said Chi. "But the growth of ordinary people's income is comparatively low. This shows our economic growth mode targeted more aggregate growth, which gave priority to the growth of national wealth and resulted in the decline of consumption."
Chi said in a proposal submitted during this year's CPPCC National Committee session the existence of monopoly is one of the important factors leading to the imbalance in wealth distribution.
WIPPING OUT MONOPOLY: National Committee member Wang Wenbiao blames monopoly for causing imbalanced income distribution (WANG YE)

Wang Wenbiao, a member of the CPPCC National Committee and Vice Chairman of All-China Federation of Industry and Commerce, shared Chi's views on this issue. "Monopoly must be broken and state-owned enterprises (SOEs) in monopoly sectors must pay more to the state to reduce the income gap between monopoly and non-monopoly sectors. The average salary in certain monopoly industries is at least 10 times that in non-monopoly sectors," said Wang.

Their thoughts are echoed by NPC deputy Li Yongzhong, who is Chairman of the Board of Supervisors of Guangdong Zhongren Group Construction Co. Ltd. "SOEs created about 8 percent of China's jobs and generated about 51.72 percent of the country's total industrial profits, but they only contributed 20 percent of the state's tax revenue last year," he said.

Li said monopoly sectors, such as oil, power and telecommunications, were dominated by SOEs, which are either not open to private investors or set a high access threshold for new investors.

In his motion to the NPC session, Li said profits monopoly companies generate by taking advantage of social resources and their status must be used to improve the livelihood of the people, instead of being retained by the companies to raise their workers' salaries, bonuses or other forms of welfare benefits.

"Monopoly profits belong to the whole nation, and should be allocated accordingly during the initial distribution," said Zhang Wenxian, a member of the CPPCC National Committee and a professor at the School of Management of Fudan University in Shanghai.

According to Zhang, state-owned companies used to pay all profits to the state, but after reforms started in the 1980s to revive morale among SOE employees, the practice was gradually abolished in the early 1990s.

In regards to the opaque expenditures and payroll packages of SOEs in monopoly sectors, Zhang suggested a special accounting mechanism be set up in accordance with the Anti-Monopoly Law. Otherwise, even if some of the SOEs are obliged to disclose their finances, they could still transfer earnings among their holdings and subsidiaries, which there would be no way to audit.

Wang Xiaolu, a member of the CPPCC National Committee and Deputy Director of the National Economic Research Institute under the China Reform Foundation, said, "GDP includes the government's fiscal income, corporate income and household income. For the household income, highly paid people's earnings increased at a higher speed than those with lower income, and the growth of non-labor remuneration is higher than that of the labor remuneration."

Data from the National Bureau of Statistics shows from 2005 to 2010 the state's fiscal revenue jumped 21.3 percent annually, while household income grew about 9 percent.