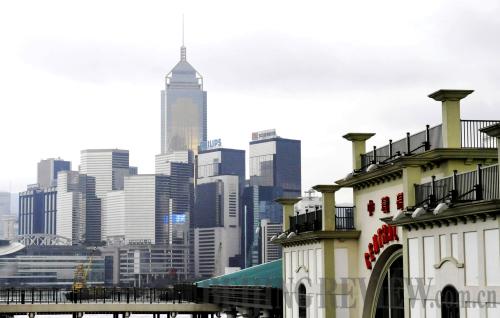 POWERFUL HEART: The financial district of Hong Kong. At a press conference on March 14, Premier Wen Jiabao said the Central Government will increase support to Hong Kong's development in the next five years (HUANG XIAOYONG)
Hong Kong
There is a separate chapter devoted to Hong Kong and Macao in the 12th Five-Year Plan Outline. This shows the Central Government has firm support for long-term stability in Hong Kong and Macao.
This not only meets the aspirations of the governments of the special administrative regions (SARs) of Hong Kong and Macao, and the people in these two SARs. It is also in the interest of the long-term development of Hong Kong and Macao.
Hong Kong, with strong backing of the motherland and facing the world, has a free and open economy. It has a fully developed legal system that is consistent with international legal practice. It has a large pool of managerial personnel of various kinds.
Hong Kong has withstood the test of two financial crises, so I believe Hong Kong's traditional advantage as an international financial center has not changed.
It is stated in the 12th Five-Year Plan that the Central Government will support Hong Kong in developing itself into an off-shore RMB business center and an international asset management center. Actually, many of the pilot programs we have conducted in the reform of the financial sector in recent years have been in Hong Kong SAR. For example, the RMB deposits now in Hong Kong have exceeded 300 billion yuan ($45.65 billion).
At the same time, we have also run the pilot program of settling cross-border trade with RMB in Hong Kong, in particular, trade in goods. Moreover, the cooperation between Hong Kong and the mainland, in particular, the Pearl River delta, has been enhanced. Fast progress has been made in a series of infrastructure projects linking Hong Kong with the mainland. All these have facilitated the freer flow of goods and personnel between the two sides. I believe these measures will help consolidate and develop Hong Kong's status as an international financial center.
I believe Hong Kong has the ability to cope with not only regional competition and risks, but also international competition and risks. At the same time, Hong Kong is confronted by a complex external environment. Therefore, it is important for the Hong Kong SAR to be mindful of potential perils, make the most of opportunities and meet the challenges head on.
I have said that Hong Kong needs to pay close attention to the following three things. First, Hong Kong needs to have a long-term and scientific development plan. Second, it needs to attach great importance to addressing the underlying problems in Hong Kong's economic and social development. Third, Hong Kong should work hard to improve people's well-being.
At the same time, I believe it is important for Hong Kong to pay close attention to the development of education, science and technology, so as to sustain its momentum of future development. Meanwhile, Hong Kong needs to further develop its service sector, including financial services and tourism, in the light of Hong Kong's actual conditions; and to further develop those small innovative high-tech enterprises to create more jobs.
Hong Kong has sufficient government revenues and ample foreign exchange reserves. Hong Kong needs to make the most of its favorable conditions to improve its social safety net, and in particular, take good care of the vulnerable groups, so that people in Hong Kong will lead a much better life.