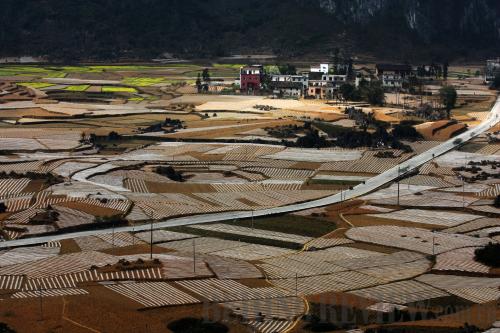 FULL OF POTENTIAL: Farmlands in Donglan County, southwest China's Guangxi Zhuang Autonomous Region. Premier Wen Jiabao pledged greater efforts to develop rural areas at his press conference on March 14 (ZHOU ENGE)
Urban-rural gap
In recent years, farmers' incomes in China have been rising fairly fast. Last year, farmer's cash income reached 5, 919 yuan ($900.63), and for the first time, it increased faster than urban residents' disposable income. It rose by over 10 percent. This is indeed encouraging.
There are three main sources of a farmer's income. First, in 2006, we fully rescinded agricultural taxes, and in that year, the Central Government allocated 132.6 billion yuan for this purpose. At the same time, we have raised production subsidies for farmers and this year, the figure will exceed 120 billion yuan ($18.26 billion).
In rural areas, we have introduced free nine-year compulsory education. We have abolished the textbook fees and expenditure for living on campus for rural poor students. Moreover, the secondary vocational education has been made free of charge for rural students and students who have agriculture-related majors. This is an important source of increasing farmers' income.
Second, and more importantly, farmers no longer face discrimination if they choose to migrate to work in the cities. Now we have about 242 million rural migrant workers working in the cities and their wage income accounts for about 50 percent of their total income.
Third, some farmers also have property income. All these are important aspects of raising farmers' income. It is important we must not be overoptimistic in this aspect, because our agricultural foundation is not yet solid, and we have yet to put the increase of farmers' incomes on a steady course. To continue to raise farmers' income is a very important aspect of our efforts to address income distribution inequalities. Many efforts remain to be made on this front.
For example, over the past several years, the prices of agricultural products have risen by 20 to 40 percent. This year, we will build on that basis and continue to raise the minimum purchase prices of some grains. At the same time, we will take active and steady steps to reform the household registration system so that those migrant workers who meet certain eligibility requirements will become urban residents. At the same time, we will also address migrant workers' needs in their life and work, including training, the schooling of their children and their social security coverage.