RIPPLE EFFECT: Pictured is a factory of the YTO Group Corp., a tractor manufacturer based in Luoyang, Henan Province. Rising inflation will impact industries as production costs grow (GU LILIN)
While many developed countries grapple with deflationary forces, China faces a different monster: inflation. The problem has cast an ominous shadow over the country, although policymakers have pulled out all the stops to keep inflation at bay. How serious is the problem? And what should the government do to address it? Zhuang Jian, senior economics officer at the Asian Development Bank PRC Resident Mission, sat down with Beijing Review reporter Hu Yue to discuss the matter. Edited excerpts follow:
Beijing Review: Inflation has become a real concern for China. How will it affect the economy?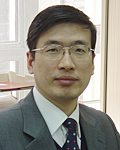 Zhuang Jian, senior economics officer at the Asian Development Bank PRC Resident Mission

Zhuang Jian:

For the red-hot Chinese economy growing at nearly double-digit rates, an inflation level of around 5 percent is modest and tolerable. Unlike deflation and serious inflation that drains life out of the economy, moderate inflation will have a limited impact.

The biggest problem is that inflation damages residents' wealth. The poorer groups are the most vulnerable as they spend a large portion of their incomes on food and lack the financial assets to hedge against inflation risks.

Besides this, rising food prices would force the poor to trim expenses on other activities like entertainment and travel. By disproportionately harming the poor, inflation worsens not only poverty but also income inequality.

For the manufacturing industry, inflation means higher costs and greater profit pressures. Most manufacturers would have to endure slimmer profit margins or raise product prices at the cost of market shares. Of course the best solution is to strengthen productivity and management efficiency to offset the negative impact.

Despite rapid CPI growth, stagflation in China is all but impossible. Fixed assets investments remain as local governments have kickstarted a string of projects, like infrastructure construction. Although consumption growth has faltered due to expiration of many policy incentives, and the government's clampdown on the real estate market is also a drag on consumption growth, the outlook is promising because wage growth is accelerating and the social safety net is improving.

The biggest concern rests with exports as global economic recovery has yet to take hold. But trade deficits for the entire year are less likely. We expect the Chinese economy to grow a robust 9.6 percent in 2011, compared with 10.3 percent last year.

What's causing this round of inflation? How much is it affected by rising international commodities prices or imported inflation?

A set of mixed factors have caused the inflation headache in China. Prices of international commodities, including crude oil, iron ores and grain, are heading north, exacerbating inflation in China. The list of reasons for the price surges is long and includes quantitative easing policy in the Western markets, a weaker U.S. dollar and political unrest in the Middle East, which limited crude output as mainly to blame. Meanwhile, Japan has also injected massive liquidity into the market in a bid to revive its quake-ravaged economy. As it starts reconstruction, Japan's buoyant demands for commodities will also force up prices.

The international factors translate into a higher producer price index in China through trade links, which in turn feed into consumer inflation. For example, China now relies on imports to meet 55 percent of its needs for crude oil. It is estimated that surging commodities prices contribute more than half to China's current CPI growth.

Domestically, the lending spree in the past two years has sowed the seeds of excess liquidity. More disturbingly, though, is cost-push inflation characterized by climbing land prices and labor costs. The labor costs inflation, in particular, is entrenched. Wage growth is picking up pace as the new generation of migrant workers demand better salary. Unlike other factors that may swing up and down, the labor costs are bound for an upward spiral in the long term.