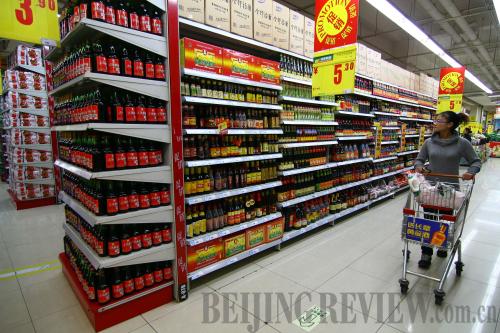 LESS BANG FOR YOUR BUCK: A consumer selects food at a supermarket in Fuyang, Anhui Province (CFP)
In addition, vibrant domestic demands are stretching supplies, especially in terms of food. Thanks to seven consecutive years of bumper grain harvest, China is able to feed its vast population, but pressures are piling up for the country to tame food prices.
In March, the CPI grew 5.4 percent year on year, with 1.73 percentage points coming from non-food prices. So it seems that price pressures that started in a narrow range of food products have broadened into other items, including rent.
How do you expect the inflation situation to turn out in the near future?
We believe that inflation will ease in the latter half of the year as the effects of the government's tightening policies take root. The CPI is expected to grow at around 4.6 percent for 2011, above the government-set target of 4 percent for the entire year. But it would be a remarkable success given acute woes of neighboring countries—India and Viet Nam, for instance, are reeling from serious inflation and lackluster economic growth.
In 2012, inflation rate is projected to further dip to 4.2 percent as domestic excess liquidity diminishes. Also, global crude prices may taper off if the political situation in the Middle East stabilizes.
However, a string of uncertainties still abound. It remains to be seen whether the U.S. dollar will regain its strength. Meanwhile, the second round of quantitative easing policy in the United States will end in mid-2011, but the Fed has left the door open for even more powerful monetary expansion should growth remain tepid. If the Fed stops massively printing money, it would offer a relief for inflation-stricken countries including China.
The Chinese Government has put price stability on top of the agenda for this year's economic work, and spared no effort to combat inflation. The problem is that the lagging effect of the credit surge two years ago will continue to provide strong tailwinds for inflation in the near term.
For the Chinese Government, the most daunting challenge lies in a trade-off between cooling inflation and maintaining growth. After all, too aggressive tightening measures may damage the growth engine.
Since 2010 China has raised interest rates four times and the reserve requirement ratio 11 times. So it indicates that policymakers are more concerned about inflation than growth. In my opinion, even if the growth rate slows to 9 percent, it is still acceptable and healthy.
What kind of measures should the Chinese Government take to tame inflation?
China has a set of tools at its disposal to fight inflation. More monetary tightening measures are in the pipeline, such as hikes in interest rates and the reserve requirement ratios, as well as auctioning of central bank bills. The central bank can also strengthen its "window guidance" to advise commercial banks about issuing loans.
There is no need to worry that higher interest rates will attract more hot money. The speculative capital sneaks in to cash in on the stock and property markets. As a result, stabilizing those markets could effectively shun torrent hot money influx.
The broad money supply (M2), which covers cash in circulation and all deposits, increased 16.6 percent year on year by the end of March, above the government's target of 16 percent for 2011. So China still needs to continue taking actions to soak up excess liquidity, but the pace of tightening might slow down in the latter half of this year to cushion the blow to the economy.
Besides, appropriate appreciation of the yuan could also help calm down inflationary fears. A stronger yuan would make imports cheaper and shrink the trade surplus, so the central bank can issue less yuan as counterparts of its foreign exchange reserves. That is a needed boon to drain excess liquidity.
Moreover, it would help if China could properly ensure supplies of agricultural products and affordable houses. It is necessary to avoid the over-use of administrative price control measures, and allow the markets to play a bigger role in tackling inflation.
China has adjusted some of the weights in the basket of the CPI, lowering the weight for food and raising the weight for residential factors. More efforts are still needed to restructure the index to reflect major changes in the consumption pattern in the last decade. The housing prices, in particular, are skyrocketing these years and significantly changing people's lives.
In theory, a broader definition of inflation should cover asset prices including stocks and houses. In China, those asset markets have absorbed a flood of liquidity, allowing consumer prices to stay at a relatively stable level.