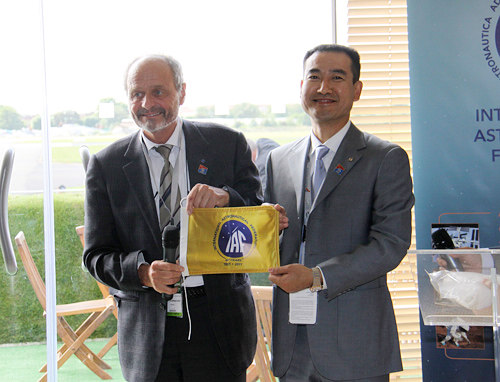 INTERNATIONAL COMMITMENT: Berndt Feuerbacher, President of the International Astronautical Federation (IAF), and Zhai Zhigang, a Chinese astronaut, stand with an IAF flag in Paris on June 23. The IAF handed over 300 of its flags to China. These flags entered space aboard Tiangong-1 and will be brought back by a Chinese astronaut when he completes China's first manned rendezvous and docking mission next year (SHU SHI)
China's first unmanned space module Tiangong-1, or Heavenly Palace-1, successfully lifted off from the Jiuquan Satellite Launch Center in northwest China's Gansu Province on September 29.
"The successful launch of the 8.5-ton prototype space laboratory has opened the gates for China's deep space exploration program," said Qi Faren, former chief designer of China's Shenzhou spacecraft. "It is a decisive leap forward for the Chinese space industry and will bring about the rapid development of space science and related technologies."
According to published plans, Tiangong-1 will eventually be transformed into a manned space laboratory after trial dockings by three spacecraft—Shenzhou 8, Shenzhou 9 and Shenzhou 10.
"In simple terms, Tiangong-1 will serve as a target spacecraft, while the Shenzhou spaceships will be trackers," Qi said.
The unmanned Shenzhou 8 was expected to go into space within two months after Tiangong-1's launch. Scientists on the ground will control the docking between the spacecraft and Tiangong-1. If that mission is a success, at some point in 2012, Shenzhou 9 and Shenzhou 10 will complete at least one manned docking with the new space platform.
Space docking technology is considered one of the most advanced proficiencies for space exploration as it requires the precise handling of two high-speed spacecraft that meet and dock.
Any miscalculations during a docking could lead to the collision of involved spacecraft, said a statement on the official website of China's manned space program, Cmse.gov.cn.
"Rendezvous and docking are difficult because it is like asking two drivers to keep a distance of 1 meter between their cars while racing," said Jiao Weixin, a professor at the School of Earth and Space Sciences of Peking University. "The mission requires two craft, traveling at speeds of 28,000 km per hour, to enter the same orbit and connect with precision."
Following its conversion into a manned space laboratory, Tiangong-1 will provide a "safe room" for astronauts to conduct research in space.
Tiangong-1 consists of an experiment module and a resource module. Pressure, temperature, humidity and the air in the experiment module are controlled so that astronauts can live and work in it. The resource module supplies the energy needed to power the spacecraft.
Since a space laboratory is subject to almost no gravity and operates in a vacuum, it allows experiments in the life and material sciences to be conducted in conditions that cannot be replicated on the Earth. Scientists can breed new crops, invent new drugs and create new materials, along with conducting research in astronomy, Earth observation and navigation.
"During the coming Shenzhou 8 mission, China and Germany will jointly carry out a biological cultivation experiment in the spacecraft," said Wang Zhaoyao, a spokesperson for the China National Space Administration (CNSA), adding China and France are also discussing the possibility of joint experiments in China's space laboratory.
"China has now reached the second phase of a three-step plan drafted in 1992 for implementing a manned space program," said Zhang Jianqi, former deputy chief of China's Manned Space Program.
During the first stage of the program, unmanned and manned spacecraft were sent into near-Earth orbit to conduct Earth observation and scientific experiments.
China first developed its Shenzhou series of spacecraft. In November 1999, Shenzhou 1, China's first unmanned spacecraft, successfully blasted into space. Three more successful unmanned missions followed, with Shenzhou 2 in 2001, and Shenzhou 3 and Shenzhou 4 in 2002.
This first stage culminated with the successful implementation of China's inaugural manned space mission on October 15, 2003. Shenzhou 5 carried astronaut Yang Liwei into space, and he remained in orbit for 21 hours.
China then began the second stage of its manned space program. The goals of this phase include: the launch of spacecraft with more than one astronaut, spacewalks, docking between spacecraft and space modules, and the establishment of short-term manned space laboratories.
The first two goals were achieved by Shenzhou 6 and Shenzhou 7 spacecraft in 2005 and 2008. The current focus is on the docking of the three spaceships Shenzhou 8, Shenzhou 9 and Shenzhou 10 with Tiangong-1.
"The ability to dock is critical to building space stations, since it allows the delivery of supplies and personnel. After two spaceships connect, they will become a single unit so that astronauts can move freely from one to the other," Qi said.