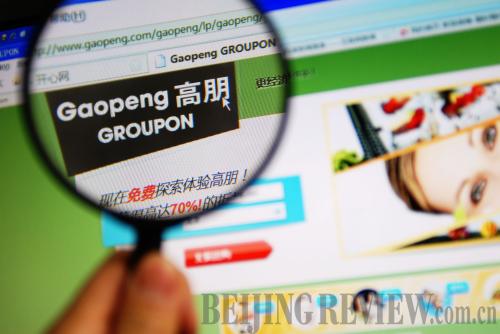 LOOMING CONCERN: Gaopeng.com has experienced painful lay-offs, triggering worries about the group-buying industry's prospects (CFP)
After a year of reckless expansion, China's group buying websites are facing some chilly headwinds. Gaopeng.com, a joint venture between Groupon and China's Internet giant Tencent, has laid off more than 400 employees and closed down 13 local branches. The ambitious company vowed to dominate China's online group-buying market only a few months ago when it was launched. It made headlines by aggressively poaching staff from competitors.
Gaopeng is not alone in the industry downturn. Nuomi.com, operated by the NYSE-listed social networking site Renren.com, is one of the few group-buying sites that have regularly published financial reports. The company reported painful losses of $4.5 million for the second quarter as income falls short of growing advertising expenses.
Worse still, newspapers are filled with reports that Tuan900 closed after its bosses ran away with 2.4 million yuan ($375,000) collected from its customers.
Gaopeng's experience is likely to have a domino effect on many clone sites that have mushroomed across the nation. Many believe an overwhelming industry reshuffle is already underway, which would force a majority of smaller players out of the market.
Wang Huiwen, Vice President of the Beijing-based Meituan.com, said the market is seeing its bubble burst.
"The tide of job losses will spread through the entire industry, involving many companies, small and big alike," she said. "Winter for the business is coming soon, and it will be freezing."
Hu Yanping, General Manager of the Beijing-based research company Data Center of China Internet, said the lay-offs sounded an alarm for the industry to avoid blind expansion and focus on services and product quality.
Following the United States, China has been another hotbed for group buying websites drawing online shoppers. Modeling after Groupon, collective shopping websites feature a deal of the day, which kicks in once a set number of customers agree to buy the product or service. Mostly the sites negotiate with local merchants and promise to deliver crowds in exchange for discounts. They make money by taking a portion of the revenues generated by the deals and also through some advertising.