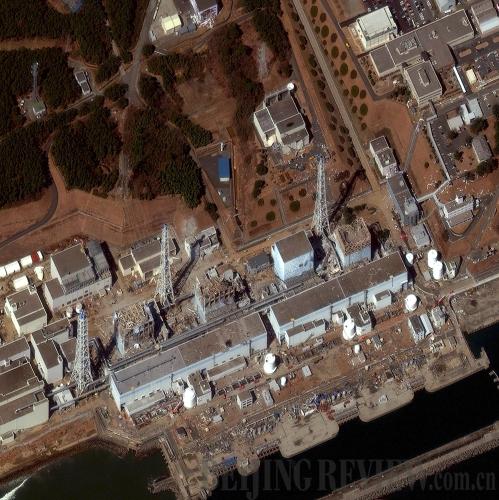 Fukushima Daiichi nuclear power plant, Fukushima Prefecture, Japan on March 19 (XINHUA/AFP)
In the wake of the Fukushima nuclear accident caused by the earthquake and tsunami in Japan, the safety of nuclear power plants and the development of nuclear power have raised concerns, especially in China, which has prioritized nuclear industry to ensure power supply for its booming development.
On March 16, the Chinese Government suspended the approval process for future nuclear power projects. The State Council's suspension of nuclear power projects to check for dangers or inadequacies in the plants in operation or under construction came just in time, said Yu Zhuoping, consultant for the Chinese Nuclear Society (CNS) and member of the National Nuclear Emergency Coordination Committee.
"Of the nuclear facilities in operation, we should check whether procedures are sound, whether the operation rules are strictly obeyed, whether the management of nuclear power generation sets is powerful enough, and whether the nuclear power supervisory authority is fully performing its duties," Yu said.
Pan Ziqiang, Director of the Science and Technology Committee of the China National Nuclear Corp. and member of the CNS, agreed with Yu. Of the nuclear power plants in construction, both of them said a safety assessment of the highest standards should be carried out. Hidden dangers must be eliminated and if any plant isn't in line with safety standards, the construction should be stopped immediately.
Yu said the Fukushima accident would make China elevate the anti-earthquake and anti-tsunami levels of nuclear power plants, but detailed standards will be decided by the National Nuclear Safety Administration. He estimated approval of new nuclear power projects may be resumed after the new standards are released.
But China will not completely put a halt to its nuclear power industry simply out of fear for future catastrophes, said Yu.