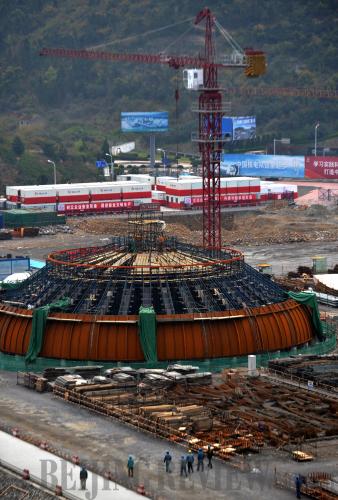 Fangjiashan nuclear power projects at Qinshan Nuclear Power Plant, Zhejiang Province, China, are under construction (ZHAO ZHONGZHI)
China's practice
"In China, supervision of nuclear power safety is stricter than any other industries," said Yu, who used to be a senior operator at a first-generation nuclear power plant.
China has a complete set of safety guarantee mechanisms for nuclear power plants, including design, construction, management and operation rules and requirements, equipment maintenance, personnel training, regular tests and radiation protection, Yu said.
China is prudent in selecting the sites for its nuclear power plants, taking the economy, technology, environment and safety into full consideration. With these principles, Chinese nuclear power plants are often located in comparatively remote places in coastal areas, at least 50 km away from large or medium-sized cities. Nuclear power plants are not built within thousands of meters of active fault zones. Within 100 km of sea area and 50 km of land area around the nuclear power plant there shouldn't have been in history 6.0-magnitude or above earthquakes. Designated areas also should not have experienced 6.0-magnitude or above earthquakes in its geological history within 600 years.
When selecting sites for nuclear power plants, China also considers the influence of excessive radiation on the public and environment should a radiation leak occur. Nuclear power plants are also located in areas that are easy to isolate, in the event of a natural or contrived incident.
Yu said when selecting sites, the maximum level of underground water, the maximum magnitude of earthquakes, the most serious typhoons, thunderbolt strikes, serious mud-rock flows and particularly flight routes should all be considered.
According to the China National Nuclear Corp., designing, construction and operation of Chinese nuclear power plants are all within the principles of multilevel protection.
Current designs provide four protective screens between the nuclear fuels and outside air. The first is the fuel pellets, with most of the fission products and gas products kept within the pellet. The second is fuel cladding, which is strong enough and will not react with water under high temperature. The third is pressure pipelines and a coolant system, which seals up fuel rods to prevent radioactive substance from leaking to the reactor building. The fourth is reactor containment shield, which can prevent radioactive substances from entering the environment.
Chinese nuclear power plants also have an engineered external safety system, which is divided into three parts. The first is an isolation system, which isolates the reactor building. The second is an injection system, which can inject water into the reactor core when the reactor loses coolant. The inject system is programmed to automatically pour water under certain pressure if there's no electric current or manual operation. The third is an emergency cooler and spray system to cool the building and lower the pressure in the building.
Pan said all safety systems in Chinese nuclear power plants use independent equipment and redundant deployment.
Lessons to be learned
Already, Chinese nuclear experts are pouring over the Fukushima nuclear accident, hoping to draw lessons from the disaster.
Before Fukushima, there were two significant nuclear accidents in the world: Three Mile Island of the United States in March 1979 and Chernobyl of the former Soviet Union in April 1986.
Pan said after the Three Mile Island accident, the nuclear science circle drew several lessons and made appropriate changes to the nuclear power industry. After the Chernobyl accident, the world learned even more about developing a safer nuclear power culture.
The Chinese nuclear power industry was greatly enhanced after drawing lessons from the Three Mile Island accident, and has improved its technologies to the current level—between second and third generations.
"So far, there hasn't been a single instance ever of death or sickness caused by radiation in China, and the safety record of China's nuclear power industry is sound," Pan said.
But from the Fukushima accident, Pan said, Chinese nuclear power industry should develop a tsunami-resistant strategy. Most Chinese nuclear power plants are in coastal areas with sea walls built around them, which can only resist the waves to a certain breaking point and if a serious tsunami were to hit, the walls would be of little help.
Meanwhile, to balance the relationship of developing nuclear power to cope with the energy crisis and eliminate public worries, Yu said, the government should further improve the safety standards and management level of the industry. The Chinese nuclear power industry faces a bright future, because only nuclear power can replace thermal power on a large scale and reduce emissions of greenhouse gases.
Yu also said people don't need to fear nuclear radiation, using himself as an example. He has been exposed to nuclear radiation for more than 30 years and hasn't fallen ill. In the 1960s and 70s, Yu was even exposed to excessive nuclear radiation several times and only had to take prescribed medicine to rid his body of any radiation.
And as for media reports that say 70 percent of the Fukushima 50 heroes who remained on site will die within two weeks, Yu said this is impossible and such reports are mere assumptions.