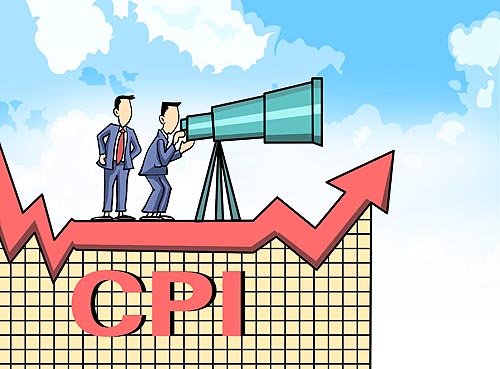 (CFP)
An overwhelming sense of helplessness is sweeping China, from common people to well-off entrepreneurs and everyone in between, as the country's consumer price index (CPI) soars.
Data of the National Bureau of Statistics (NBS) show the country's consumer price index (CPI), a broad measure of inflation, grew 5.3 percent in April, after recording a 32-month-high growth of 5.4 percent in March.
A recently released blue book on the Chinese economy issued by the Chinese Academy of Social Sciences (CASS) estimates that price hikes of international bulk commodities will cause China's CPI to increase by 4.3 percent over the previous year, surpassing the government-set target of 4 percent.
Lives affected
Wang Tao and his wife both work at the International Trade Center in Beijing, where many foreign companies are located. They are both managers of their respective companies and could previously afford to drive two separate cars to work.
Having to pay 2,000 yuan ($307) in parking costs a month, the equivalent of monthly salaries for some people, and even more for gas, have put an end to that luxury. The couple now drives one car to work.
Wang said many people in his office have started bringing their lunch to work instead of dining out. Many people have started car pooling with colleagues to cut down on driving expenses.
Besides changing consuming habits, some people are changing their attitudes toward their savings in the bank, as the higher CPI means the money people have on hand or in the bank will be less valuable.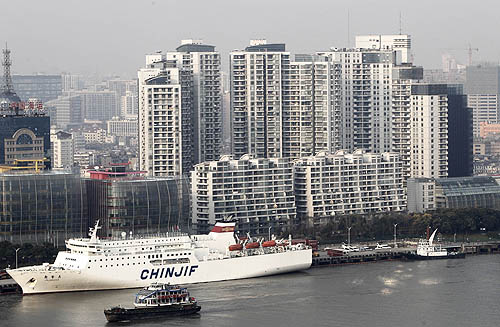 MORE EXPENSIVE HOUSES: A real estate project on the bank of Huangpu River, Shanghai (PEI XIN)
Zhang Hongwei, an employee at Beijing Public Transport Holdings Ltd., recently withdrew all his deposits from the bank and wanted to convert them into real assets.
Earlier this year, Zhang bought gold bars. Now he is planning to buy two curio chairs made of rosewood, whose prices have increased rapidly in recent years.
"Five years ago my wife bought a gold bracelet for 2,000 yuan ($307)," Zhang said. "Now that same bracelet is worth more than 6,000 yuan ($920)."
Sojump.com, a professional online survey and voting platform, recently conducted a survey of more than 100 company employees, corporate managers, service sector employees, students and self-employed persons. The result showed 58 percent changed their consumer habits as inflation becomes an increasing burden; 14 percent reduced the amount of money they put in the bank each month; 8 percent chose to stock up on commodities.
Corporate reactions
To combat inflation, the People's Bank of China, the central bank, has adopted a tight monetary policy. Already the bank has raised the interest rate and the reserve requirement ratio several times this year. Guo Tianyong, a professor at the Central University of Finance and Economics, said the central bank's current policy will put pressure on companies, especially in terms of acquiring loans, and impose financial pressures that will only raise company costs.
As if financial difficulties weren't enough, increasing production costs have also hindered many companies' ambitions to expand or reap greater profits. In the first quarter this year, workers' salaries increased 10-20 percent, and the purchasing prices of raw materials by industrial producers increased 10.2 percent. According to Ministry of Industry and Information Technology figures, prices of some important raw materials have been increasing, supplies of raw materials are scarce and the costs of land, labor and capital are increasing, imposing previously unforeseen burdens on business operations.
Price hikes of raw materials has brought marked changes to corporate behaviors—in some instances companies have been hesitant to accept new orders. In an extreme case, some Chinese exporters have rejected orders from mega store Walmart and other foreign retail chains because their selling prices are too low, as are the Chinese companies' profits in these sales.