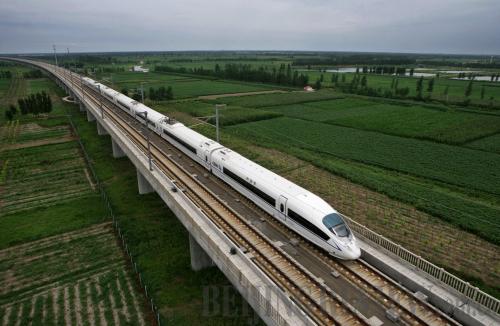 THE FASTEST: A train runs on the Beijing-Tianjin Intercity Railway. Opened in August 2008, the railway cuts the travel time between the two cities to 30 minutes (YUAN RUILUN)
With the Beijing-Shanghai High-Speed Railway to begin operating in June, the world's attention has turned to China for this momentous occasion in rail technology and modern transportation. Aside from being the fastest train in the world, reaching a speed of 486.1 km an hour during trial operations and expected to operate at an average speed of 300 km an hour, the new high-speed corridor will cut travel time between the two cities in half, from 10 hours to about five hours.
At a total length of 1,318 km and with total investment reaching 220.9 billion yuan ($34.09 billion), the Beijing-Shanghai High-Speed Railway, starting at the Beijing South Railway Station and ending at the Shanghai Hongqiao Railway Station, will solve the bottleneck of north-south transportation.
Since December 2010, the railway has undergone non-stop testing to ensure the tracks, bridges and trains pass safety standards. Cutting down on noise pollution caused by passing trains has also been addressed.
Among high-speed railways in the world, the Beijing-Shanghai High-Speed Railway has reached world advanced level in several respects, including track construction, train manufacturing and operational controls.
Development of China's high-speed railway network started in 2004. Today, China boasts three types of high-speed lines: railways that can handle trains traveling 200 km an hour, 300 km an hour and faster than 300 km an hour. The first two have been developed using foreign technology and construction methods. The third is a domestically developed platform using independent designs and innovation, said the China Academy of Railway Sciences.
Precision track
One of the earliest decisions concerning the high-speed link was choosing between magnetic suspension technology or wheel-rail technology. The Ministry of Railways (MOR) decided to adopt wheel-rail technology, even though the former produces less noise, since China's other high-speed lines use the same technology and designs.
Differing from standard tracks running across China, high-speed railways are paved with ballastless tracks, which do not have a layer of gravel under the tracks, to ensure small pieces of gravel are not thrown into train undercarriages as it speeds by. MOR statistics show 1,268 km of the main tracks of the Beijing-Shanghai High-Speed Railway are ballastless tracks, 96.2 percent of the total length. Construction of the ballastless tracks designed for trains traveling at 380 km an hour requires nine major working procedures—including observation and assessment of railway bed subsidence and track laying—and high precision with an error margin of less than 1 millimeter.
Other elements of track design had environmental factors to consider during construction. Concrete pouring for seating plates requires temperatures to be higher than 5 degrees Celsius during the pouring process. Special staff were assigned to measure temperature and make records, ensuring the construction met the requirements.
The new high-speed railway will also allow trains on other routes to temporarily run on this line, maximizing the utilization of railway network resources.