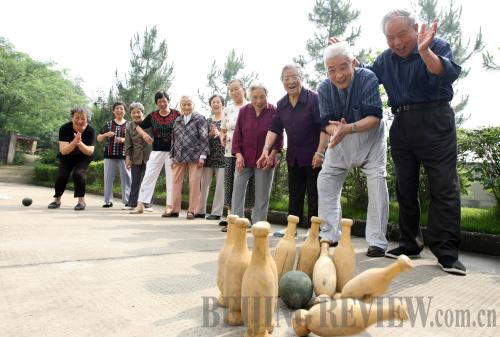 SET THE STANDARD: Elderly residents at the Furan Senior Recreation Center in Zhuji, Zhejiang Province, play games on June 8, 2011. The city rolled out the province's first set of standards for old-age services (GUO BIN)
With an aging population of more than 100 million presenting unforeseen obstacles to ensure benefits for retirees, China recently implemented new measures to cover the last social group in its extensive pension system: unemployed city residents.
The pilot pension program for unemployed urban residents, the State Council's most recent initiative to improve the country's pension system released on June 13, vows to provide better pension insurance for jobless residents in urban areas. As of July 1, unemployed urban residents aged above 16, excluding students, will be covered by the program. Participants will start receiving monthly pensions after turning 60.
Pension milestones
Unemployed urban residents were the last demographic in China without a specific pension insurance system. The Ministry of Human Resources and Social Security (MOHRSS) estimates that this group has at least 50 million people, including around 20 million residents over 60 years old. The State Council said China aims to allow more than 12 million aged urban residents to have some form of pension insurance in 2011—the rest will be covered next year.
"This latest pension program for unemployed urban residents is a solid step for China as it moves toward improving its social safety net," said Zheng Binwen, Director of the Center for International Social Security Studies at the Chinese Academy of Social Sciences (CASS).
The government had been directly responsible for paying retirement wages for employees at public institutions and state-owned enterprises until 1994, when the country started establishing a basic pension system for employees at state-owned enterprises. In 1997, the system was widened to include individual business owners and other flexible employees working in the cities.
By the end of 2010, around 257 million residents in urban areas had been included under the system's umbrella, according to MOHRSS data.
For rural residents, China also launched a rural pension insurance program in 2009. Almost 143 million rural residents had joined the program by the end of 2010.
Foreign employees working in China are also eligible for the pension insurance system for domestic enterprise employees. If they eventually return to their respective home countries, they can apply to terminate their Chinese pension insurance and receive a one-time payment of all pensions in their account.
Funding retirement
Retirement wages for civil servants and public institution employees are paid for by the government. Pensions for enterprise employees come from a social pooling fund and an individual account. Annually, each enterprise pays 20 percent of the employee's salary from the previous year into the pooling fund. Individuals contribute about 8 percent of their salary to their personal accounts. For rural pension program participants, their pensions consist of their own contributions and government subsidies.