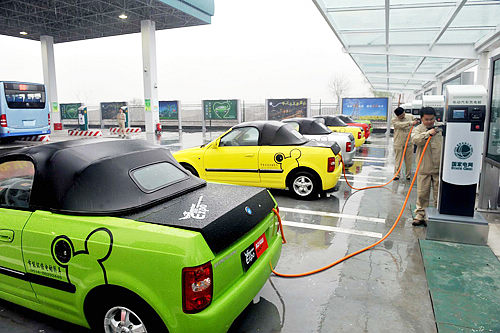 REFILLING FUTURE: Staff workers help recharge electric cars at a charging station, the first in Yangzhou, east China's Jiangsu Province on April 19, 2010 (GUO YIFU)
A national technical standard for electric vehicles (EVs) may be set by year's end, said National Business Daily citing an industry insider from the Society of Automotive Engineers of China on October 12. The issuance of the national technical standard may forcefully promote the commercialization and industrialization of EVs in China.
China already has 46 standards for EVs including hybrid EVs, fuel cell vehicles and pure EVs. According to Wu Zhixin, Deputy Director of China Automotive Technology and Research Center based in Beijing, both government departments and enterprises participated in drafting these standards, referring to international counterparts for frameworks to follow.
One of the major problems with the standards is that China still has not formed a unified industrial standard on the national level. The new standard will be the first national standard for EVs, said Wu.
The completion of national technical standardization of EVs will help promote volume production, pave the way for its market expansion and have an enormous influence on accelerating the development of the EV industry, said Li Shengmao, an analyst with CIConsulting, a Shenzhen-based industry research company.
Like other countries, China has also had a fling with new energy cars, giving priority to the development of green cars. The difference is that the future of EVs will outshine non plug-in hybrids. The Ministry of Industry and Information Technologies (MIIT) and other departments consolidated the categories for new energy vehicles: plug-in hybrids, pure electric and fuel cell vehicles. Conventional hybrids and other fuel-efficient gasoline-powered vehicles fall into the category of energy-saving vehicle.
The country has issued various incentives and preferential policies for the R&D and marketing of new energy vehicles.
China is now working on a national plan for developing energy-saving and new energy vehicles. The draft version of the plan focuses on plug-in hybrids and pure EVs.
The draft plan also said that during the 12th Five-Year Plan (2011-15), China will support pure EVs and plug-in hybrid vehicles. It also vows to increase their accumulative production and sales volume. The plan also targeted three core technologies slowing down the development of plug-in hybrids and pure EVs: batteries, electric motors and electric controls.
The country will fully support plug-in hybrid, pure electric and fuel cell vehicles before 2015 and gradually focus its support on pure EVs after 2015, said Ouyang Minggao, Director of the State Key Laboratory of Automotive Safety and Energy Director at Tsinghua University New Energy Vehicle Center.
Enterprises, scholars and institutions are all striving to be a part of this auto trend that assumes the tag of "going green." But despite their enthusiasm, China still lacks a standard for EVs.
Li said one important problem facing China today in the development of EVs is the lack of nationwide standards for important components.
"In this sense, EV enterprises are not willing to expand their production capacity. As a result, the usage of EVs was limited," Li said.