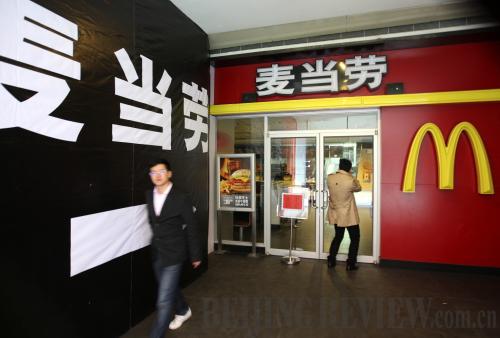 MCDONALD'S CRISIS: The McDonald's restaurant in Beijing's Sanlitun is closed after the CCTV's 315 Evening Gala uncovered it used expired food and didn't follow its own food-processing guidelines (CNSPHOTO)
A once bustling McDonald's franchise restaurant in Beijing suspended its business on March 16, one day after a China Central Television (CCTV) program revealed that it had violated its own food-processing guidelines by selling expired food. This particular restaurant was in Beijing's Sanlitun area, a popular restaurant and entertainment spot in the city's Chaoyang District.
"After watching the CCTV program, I felt disappointed about McDonald's. I think it has lost its integrity by not being able to meet the high standard it set," said Zhou Dingfang, a columnist for L'officiel Hommes, who often went there for dinner. "The high standard for food safety is the reason why we turned to McDonald's rather than random vendors on the street. I think I may have to find an alternative now," she said.
The CCTV program reported that the restaurant sold fried chicken wings 90 minutes after they were cooked although the company's rules set a 30-minute limit. Expired cheese was used on cheeseburgers and workers were caught tampering with desserts' expiry dates or re-packaging them for sale. Worse still, meat patties that were dropped on the floor were being reused instead of disposed.
The program, called the 315 Evening Gala, has aired annually on March 15 since 1991. Every year, dozens of reporters are sent out to investigate accusations of corporate irresponsibility or counterfeiting around China. The gala has become an annual event for exposing misdoings of companies.
Other exposed companies on this year's gala included: Chinese Student Loves the Eye Protect Committee, a Hong Kong-registered company pretending to be an NGO and doing business in the name of charity; a branch of the supermarket chain Carrefour in Zhengzhou, capital of Henan Province, which deceived consumers by selling expired meat and ordinary chicken as free-range chicken at inflated prices; several affiliated companies of China Telecom, which made profits by offering special services for individuals or companies that send spam messages to cellphone users; and Industrial and Commercial Bank of China (ICBC) and China Merchants Bank (CMB), whose employees illegally sold individual information on their clients to alleged criminals or marketing companies.
Falling on the World Consumer Rights Day, the 315 Evening Gala aims to reveal business misconduct and protect consumers' rights. This year's program put the spotlight on building credibility, calling on companies to adhere to their mission statements and promises to customers.
But relying on companies' morality can never be the single solution to companies' misconduct. While consumers need to take action and remain vigilant, the government should shoulder major responsibilities to improve the consumer environment.
In recent years, government watchdogs have become the main force for inspecting corporate misdeeds and substandard products.
Food safety is a major concern for Chinese people as several scandals have been revealed in recent years, starting with the melamine scandal that abashed China's dairy industry in 2008.
In 2011, major victories were won in the war on the production and sale of gutter oil and pork products laced with illegal additives. More than 270 cases involving these two crimes were investigated and 320 people were convicted. Also 202 government employees were given prison sentences for their involvement.
"We can't get lax on ensuring food safety," said Yu Jun, Deputy Director of the Food Safety Commission Office of the State Council.
"In 2012, we will launch more campaigns against illegal food additives, illegally recycled waste cooking oil and the feeding of pigs with illegal chemicals," said Yu.
Inspecting and regulating everyday consumer items were also on the government's radar.
In 2011, the General Administration of Quality Supervision, Inspection and Quarantine (AQSIQ) examined 19,328 clothing companies and 20,965 kinds of their products. The result shows 87.5 percent were qualified. In the first quarter of 2012, it conducted checks on 300 kinds of casual clothes, only 34 of which were found to be substandard, according to AQSIQ spokesman Li Yunpin.
Unfair contracts, often "take it, or leave it" in writing, are another heated area attracting widespread complaints from consumers each year. In 2012, the State Administration for Industry and Commerce (SAIC) will launch a nationwide campaign against these contracts in water supply, electricity supply, telecommunication services, financial services, traveling and restaurants.
"We will propel the implementation of standard and unified contracts in those sectors," said Yang Hongfeng, Deputy Director of the Market Division of SAIC.