Major Consumer Rights Infringement Cases in 2011
- In December, pure milk products of dairy giant Mengniu produced in Meishan, southwest China's Sichuan Province, were found to be tainted with excessive amounts of aflatoxin, a cancer-causing toxin. Mengniu immediately apologized for its actions.
- In November, the group-buying website Gaopeng, Groupon's Chinese joint venture, admitted selling fake watches. Previously, on May 4, Gaopeng announced that people who visit its micro-blogs and forward its posts will have a chance to win an iPhone 4 through a lucky draw. More than 110,000 people participated in the activity, and the winner was found to be an employee of Gaopeng.
- In September, a live hog of Nanjing-based Yurun Food Group Ltd. tested positive for clenbuterol, an illegal additive in pig feed fed to animals to keep their meat lean.
- In July, Shanghai-based furniture retailer Da Vinci Furniture Co. Ltd. was accused of deceiving consumers about the origin of its luxury furniture. The company claimed its products were imported from Italy, but the products were actually manufactured domestically.
- In July, Guangzhou Otis Elevator Co. Ltd. was fined 200,000 yuan ($33,490) for a deadly accident at a subway station in Beijing. The company's malfunctioning escalator left a young boy dead and 30 others injured in the accident.
- In March, Humho Tires Co., a South Korean tire manufacturer and one of the largest tire suppliers in China, was found to be using excessive amount of recycled rubber as raw materials at its factory in north China's Tianjin Municipality.
Recent Efforts to Protect Consumers' Interests
- In 2011, the General Administration of Quality Supervision, Inspection and Quarantine strengthened inspection on consumer products such as garments, food and autos. It regularly published results of surveys and enhanced punishments on producers of substandard products.
- In February 2011, the National Tourism Administration initiated a nationwide drive to regulate the chaotic tourism market. It pledged to heavily punish unlicensed hotels, scenic spots and travel agencies that deceive or overcharge travelers.
- In March 2011, the State Council released a circular, vowing powerful measures to tightly supervise the dairy industry, crack down on substandard cooking oil and prohibit food with excessive additives.
- In December 2011, the State Administration for Industry and Commerce launched a campaign to streamline group-buying websites. It vowed heavy punishments on those selling fake and counterfeit products or engaging in false advertising.
- In recent years, the State Administration for Industry and Commerce has adopted a set of measures to safeguard the intellectual property rights (IPRs), such as improving legal systems, cracking down on patent, copyright and trademark infringement, and strengthening public awareness about IPRs.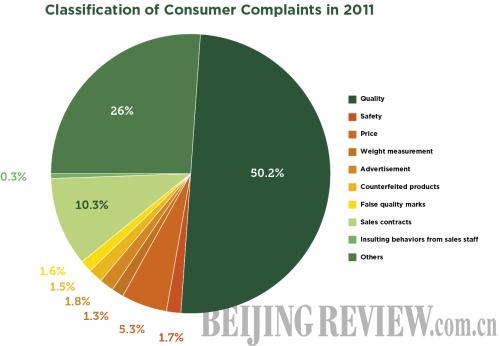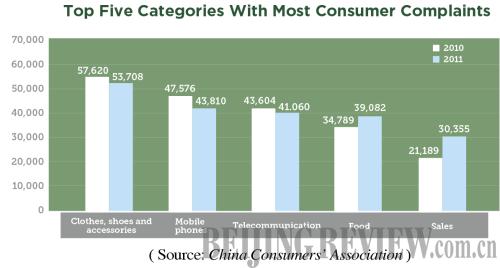 Email us at: zhouxiaoyan@bjreview.com