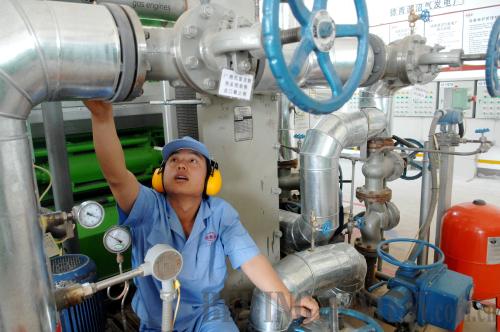 POWER ON: A worker monitors generating sets in a DQY biogas power plant in Yanqing County, Beijing on May 19, 2009 (CFP)
First, after the release of the plan, detailed implementation plans should be formulated by local governments based on their regional conditions. Key areas and projects should be selected by local governments to guide social investment and help avoid investment risks in the sector.
Second, the Central Government will continue its subsidies in key projects involving the circular economy. When local governments formulate and implement investment plans, circular economy projects featuring "reduction, recycle and resources" should be listed as key areas for investment.
Third, the government will abolish unreasonable regulations restricting development of the circular economy, formulate industrial policies and channel social investment into the sector. Also, the technology, equipment and products of circular economy should be further promoted.
Fourth, research on pricing policies will be conducted to steer consumers to energy-saving, water-saving, material-saving and resource-recycled products and make circular economy projects more appealing to social capital.
According to Yang, some highly polluting and energy-depleting industrial sectors have seen successful practices and experiences in the circular economy; others are still in the dark, clueless to the ways of the circular economy. Therefore, more emphasis will be placed on sharing experience amongst industries to form a comprehensive system to recycle all resources in society.
The plan focuses on the whole process including production, logistics and consumption. Taking the shipbuilding industry for instance, foreign shipbuilding companies produce steel according to the shape of the ship they are going to build while Chinese shipbuilding companies purchase steel and re-produce it to fit each ship's design. This increases energy consumption, as well as transportation needs.
"Reducing unnecessary procedures in the industrial chain can demonstrate the principle of reduction," said Zhou.
Compared with previous policies that supported circular production in a single company or low-end, scattered and small-sized resource recycling, the plan covers the whole industrial chain and focuses on high-end, concentrated and large-scale resource recycling.
The NDRC and the People's Bank of China will further perfect financing policies for the development of the circular economy. They will formulate specific measures in industrial planning, investment, industry, price, credit, going public and using FDI.
"From pilot run to comprehensive promotion, China is forming a development pattern for circular economy with distinguished Chinese characteristics during the 12th Five-Year Plan period (2011-15)," said Yang.
Tasks ahead
Scholars and experts were recently sent to China's central, western and coastal regions for inspection tours. They found some severe issues that are harmful to the development of the circular economy.
"With the excuse of an economic slowdown, many regions have given the green light to highly polluting and energy-depleting projects. If things continue like this, it will be difficult to carry out the plan," said Zhou.
How can China effectively make the fledging sector bigger? First, policies should give the circular economy a specific orientation. The most urgent task is to specify a policy system that is conducive to its development, which can channel social capital into this sector, he said.
China's circular economy is at a starting point, which requires more preferential policies in tax, more promotion efforts for its technology, equipment and products, more encouragement to companies for technological innovation and upgrading traditional industries to reduce their energy consumption and emission, said Zhou.
Companies should firmly grasp opportunities during the transformation of China's economic growth pattern. They should implement low-carbon concept in their daily operations; make breakthroughs in the research and development of key technologies in circular economy; expand their industrial chain by strategic cooperation; work full out to enhance utilization rate of resources, he said.
According to Zhou, the government should fully use the price lever to guide more people to choose energy-saving products instead of highly polluting and energy-depleting ones. It should also cultivate the general awareness of energy saving and environmental protection, making it a new fashion in life.
Email us at: lanxinzhen@bjreview.com