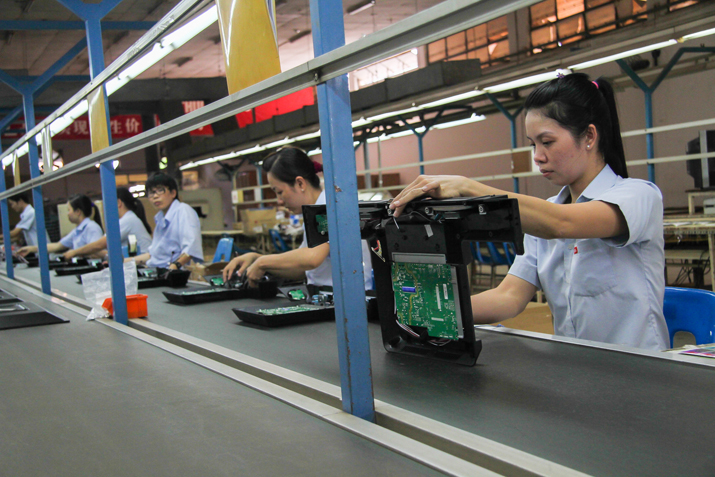 A factory of Chinese home appliances giant TCL in Ho Chi Minh City, Viet Nam (XINHUA)
The sheer size of China's market means that its suffering is the world's suffering. There's no better evidence for the expression than what happened in August--China's stock market rout rattled investors abroad and triggered a global stock sell-off; the Chinese currency depreciation triggered by a market-oriented reform was followed by depreciation of some other currencies and sharp fall of global commodity prices.
In a globalized world where economies are more interlinked than ever, what happens in one country could turn into a global issue, not to mention if the country is the world's second largest economy. It's a moment when the emerging giant's international influence crosses a crucial threshold.
Amid mounting concerns over China's currency depreciation, financial market fluctuations and economic slowdown at large, Chinese Premier Li Keqiang reassured the market on August 25, saying that the fundamentals of China's economy have remained stable, the economy is running within a reasonable range, and positive elements supporting the development of the real economy are accumulating.
"There was still room for further innovation and macro-control, and domestic demand has yet to be increased," Li said.
This will be an important contribution for the recovery of the world economy, Li added.
Li also said there exists no basis for continued depreciation of the Chinese currency, the yuan, and the exchange rate will be kept basically stable at an adaptive and equilibrium level.
Worries are mounting that the deepening slowdown in China may have spread to the global market. However, there is more evidences--including China's strong economic resilience, growing innovative power and fast-increasing outbound investment--pointing to the fact that the country has been the backbone of global growth since the global financial crisis, and it will continue to be so in coming years.
Mei Xinyu, a researcher at the Chinese Academy of International Trade and Economic Cooperation, said the "China miracle" shows no signs of faltering.
"Difficulties faced the country have been exaggerated," Mei told Beijing Review .
"The Chinese Government still has much room to maneuver its macro-control policies to stabilize growth. From the mid- and long-term perspective, China's business environment and competitiveness are better than the world's major economies and emerging markets," Mei said.
"China wants a stable financial market, therefore it has no intention to launch a so-called 'currency war'," Mei said. "It's totally capable of stabilizing its currency exchange rate, not only because of its nearly $4-trillion foreign exchange reserve but also because its gigantic economic and financial asset aggregate can prevent the flee of speculative capital from causing systematic damage to the country," he said.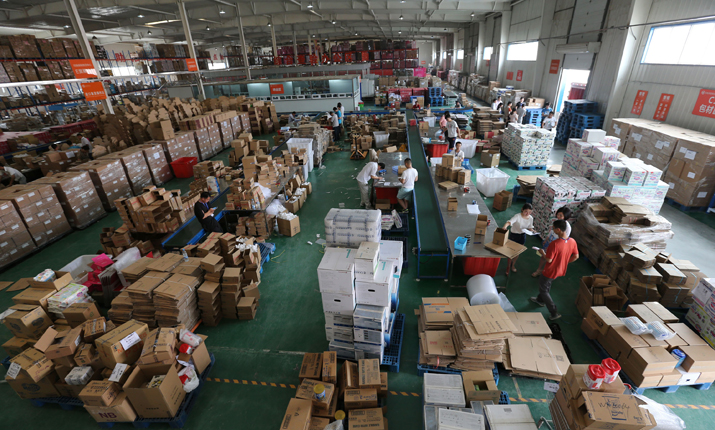 Workers pack commodities according to electronic orders in a Zhengzhou-based cross-border e-commerce supervision center on May 29 (XINHUA)
Resilience in adversity
To promote the country's economic restructuring and stabilize the real economy, the People's Bank of China, the central bank, announced a cut of commercial banks' reserve requirement ratios and reduction of interest rates on August 25. It's the fourth reduction of reserve requirement ratios in nearly seven months and the fifth interest rate cut in nearly nine months.
Economic indicators have been pointing to a slowdown for quite some time. China posted a 7-percent growth in the second quarter of 2015, unchanged from the first quarter and the lowest quarterly growth rate since 2009.
Mei said it's unlikely for China to sustain high-speed growth against the backdrop of sluggish global recovery.
"Growth is slowing, but to levels enviable in any developed country and emerging markets," Mei said.
"The United States has been considered to have achieved 'robust growth' in recent years, with less than 3-percent annual growth. If so, why should China's 7-percent growth be considered as an 'economic crash' or even cause for worry? Is it really an objective comparison?" Mei questioned.
According to Wang Bao'an, Commis-sioner of the National Bureau of Statistics, although China has kissed goodbye to its breakneck expansion over the past decade, the 7-percent growth is a quite remarkable figure compared to both developed countries and other developing countries with similar conditions to China.
"As the world's second largest economy with such a humongous economic aggregate, the 1-percent increase in the GDP now means much more than before," Wang said.
China's contribution to global growth stood at 25.8 percent in 2014, higher than any other country in the world, Wang claimed.
Except for a 7-percent growth rate, China's economic structure is continuously improving, a sign that the country's rebalancing efforts have paid off.
According to the National Bureau of Statistics, the service sector has replaced manufacturing as the biggest driver of growth. In the first half of this year, the service sector contributed 53.4 percent to GDP growth.
In terms of domestic demand, consumption contributed 60 percent to the GDP growth in the first half, 5.7 percentage points higher than that in the same period of last year.
"These changes indicate that China is shifting from a manufacturing- and investment-oriented economy to a service- and consumption-led economy, which is in accordance with the target of its economic restructuring," said Zhu Baoliang, an expert from the State Information Center.
"The 2015 growth target of around 7 percent is achievable. Favorable conditions include huge domestic demand, the expanding services industry and a government determined to deliver on its reform promises," said Zhu.
Nicholas Lardy, senior fellow at the Peterson Institute for International Economics, said he believed the service sector is now the driver of growth in China.
"The fact that industrial growth has slowed down quite a bit does not mean, as it would have meant 10 years ago, that the economy is falling off a cliff," he told Xinhua News Agency. By overstressing industrial performance, people are going off in the wrong direction, misinterpreting what's actually happening in China, he said.
Lin Jianhai, Secretary General of the IMF, said the Chinese economy has strong resilience and is capable of maintaining stable growth. Lin said he is quite confident in China's abilities.
"First, China has accumulated lots of precious experience, which it can use for future development. Second, China has firm determination in bolstering reforms. Third, compared to other countries, China's service sector has enormous growth potential waiting to be tapped. Fourth, although the demographic dividend is decreasing in China, better-quality labor forces brought about by improving education will guarantee stable growth in the future," Lin said.
"In the second half of the year, more support measures will be released by the government, and reforms will be pressed ahead. The Chinese economy is expected to level off and rebound in the second half of the year," Lin forecasted.
"Chinese economy has enough resilience to shake off current difficulties," he said.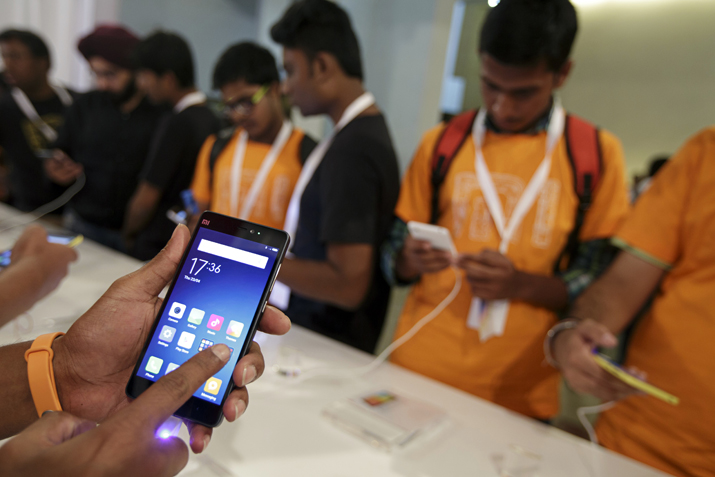 Attendees try out the Xiaomi Corp. Mi 4i smartphone during a launch event in New Delhi, India, on April 23 (CFP)
Innovation hub
China has been making strenuous efforts to give more space to entrepreneurship and ensure that the blood of innovation can filter into the social fabric of the country.
Entrepreneurship and innovation have become buzzwords in China over the past few years. According to data from the Ministry of Science and Technology, the number of hi-tech business incubators exceeded 1,600 in 2014, offering a hand to more than 80,000 hi-tech startups that employ 1.75 million people. The number of national hi-tech industrial development zones amounts to 115, with over 500,000 businesses registered in the regions.
In a report titled The China Effect on Global Innovation, the McKinsey Global Institute applauded China's rising innovative power and its implications for the global economy.
According to the report, China leads the world in innovative capacity--the country spent more than $200 billion on research and development in 2014, the second largest investment by any country in absolute terms (and about 2 percent of GDP). Its universities graduate more than 1.2 million engineers each year--more than the next five countries combined. China also leads in patent applications, with more than 730,000 in 2013.
The report concludes that China does have the potential to become a global innovation leader and will need to accelerate the evolution from innovation sponge to innovation leader, capable of driving more breakthroughs and competing in global markets.
The report also says China is flourishing in industries where innovation is about meeting unmet consumer needs or driving efficiencies in manufacturing--for example, appliances and solar panels. China's massive consumer market and unmatched manufacturing ecosystem give it unique advantages in these sectors. Perhaps the most striking examples of this success are in e-commerce and consumer electronics, where companies such as Alibaba and Xiaomi are rapidly emerging as top global players.
Hsiao-Wuen Hon, Chairman of Microsoft Asia-Pacific R&D Group, said no one would question Chinese people's capability in innovation.
"Who would still question that, with the huge success Baidu, Alibaba and Tencent have achieved?" Hon said.
Such a great number of multinationals, including Microsoft, have set up their R&D centers in China, solid evidence that Chinese scientists and engineers are capable of innovation, Hon said. "The days when people thought Chinese companies were only capable of copying Western technologies and business models are long gone."
According to Hon, China leads the world in some areas--for instance, the country has surpassed the United States in mobile Internet and mobile payment technologies.
"In the mobile payment sector, more innovations will come from China in the future," Hon said. "Even Facebook's founder Mark Zuckerberg is learning from China's Internet giants on mobile payment technology. Silicon Valley giants learning from emerging Chinese Internet companies--nobody would have thought of that several years ago," Hon said.
Investment power
Growing wealth also enables China to pursue its comprehensive global strategy. China has spent the last decade tactically investing around the world.
According to the Ministry of Commerce (MOFCOM), China's outbound direct investment (ODI) increased nearly 40 times over the past decade, from $2.7 billion in 2002 to $107.8 billion in 2013.
In the first seven months of this year, ODI from the Chinese mainland totaled $63.5 billion, surging 20.8 percent year on year, according to the MOFCOM.
"ODI growth will remain at a relatively high level throughout the year, probably at 10-15 percent or even higher," MOFCOM spokesman Shen Danyang forecasted.
Statistics also showed that direct investment stock from China to Africa jumped to $21.23 billion in 2012 from $9.33 billion in 2009, helping the continent build desperately needed roads, rails, and ports.
In Latin America, China has already pledged to invest $250 billion over the coming decade.
China also wants to use its money to improve infrastructural conditions in Asia. To that end, the country has launched the Asian Infrastructure Investment Bank. Given that 57 countries have signed up as founding members, the bank is on its way to reshape the world's financial architecture.
Ding Yifan, a senior researcher with the Development Research Center of the State Council, said outbound investment is one of the biggest contributions from China to global growth.
China has been one of the major capital exporters over the past decade, greatly improving people's lives in countries, including those in the African continent and Southeast Asia, Ding said.
Economic Deployments for the Second Half of 2015
- Paying high attention to downward pressure and the prevention and relief of systematic risks
- Maintaining a proactive fiscal policy to alleviate the burdens of businesses and giving more room to the utilization of private capital
- Keeping the prudent monetary policy and maintaining a reasonable level of liquidity to serve the real economy;
- Pushing forward economic restructuring through reforms, especially the reforms on state-owned enterprises, fiscal and financial systems
- Improving living standards, especially basic living standards of the low-income, unemployed and disabled individuals
(Compiled by Beijing Review )
Copyedited by Kylee McIntyre
Comments to zhouxiaoyan@bjreview.com