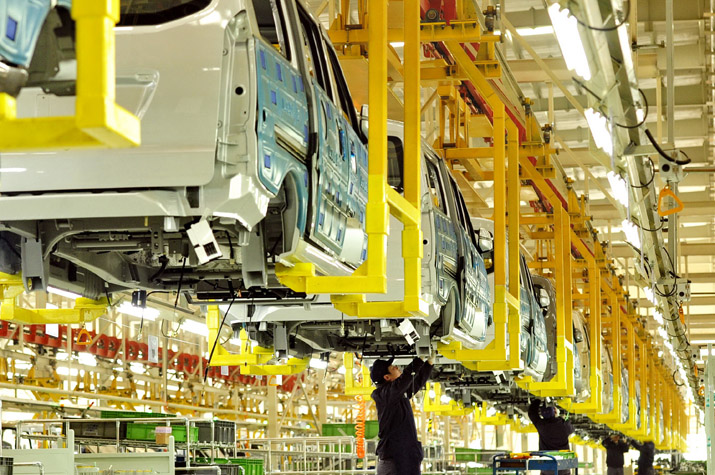 A worker checks a vehicle at an assembly line of BAIC Motor Corp.'s factory in Huanghua, Hebei Province, on March 22 (XINHUA)
Under China's "new normal" economic environment, its growth has decelerated to 6.7 percent in the first quarter. Nonetheless, economic indicators cast an optimistic light on future development.
"The growth is within the [Chinese Government's] targeted range of 6.5-7 percent and is relatively fast compared with both developed countries and other emerging economies," said Sheng Laiyun, spokesman of the National Bureau of Statistics (NBS), at a press conference on April 15.
On April 12, the International Monetary Fund (IMF) increased its 2016 and 2017 GDP growth expectations for China by 0.2 percentage points to 6.5 percent and 6.2 percent respectively. The Deutsche Bank increased its forecast for China's growth in 2016 to 6.7 percent.
What are the factors driving China's growth? For one thing, the Chinese Government has taken actions to push structural reform ahead, and stimulus policies are taking effect, said Zhu Min, Deputy Managing Director of the IMF. Zhu also argued against excessive stimulus, saying that priority should be given to deepen reforms, consolidate the foundation of economic growth and enhance confidence.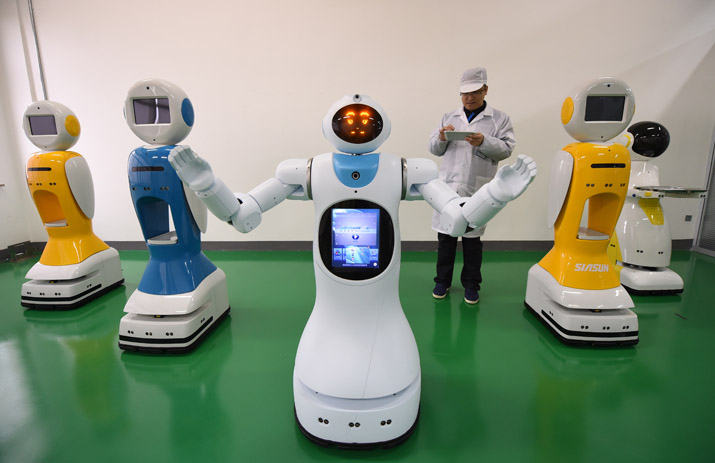 A technician conducts final tests on products at the SIASUN Robot & Automation Co. Ltd. warehouse in Shenyang, northeast China's Liaoning Province, on April 12 (XINHUA)
Stable steps
This year, signs have emerged that China's economy is stabilizing and gaining strength.
To start with, employment is satisfactory. According to statistics from the Ministry of Human Resources and Social Security, 3.18 million people in urban areas entered the workforce in the first quarter, accomplishing 31.8 percent of the full-year target.
Improvements have been made in industrial structures, regional balanced development and energy conservation efforts. In the first quarter, the added value of the service industry accounted for 56.9 percent of the GDP, an increase of 2 percentage points year on year, according to NBS statistics.
Also, the added value of industrial enterprises above a designated size--with principal business revenue of more than 20 million yuan ($3.04 million) a year--in less developed central and western regions grew 7 percent and 7.3 percent, respectively, which are 0.7 percentage points and 1 percentage point faster than that of east China.
Continuing the growth trend, investment in fixed assets in central and west China increased by 13.3 percent and 13.2 percent, respectively, 2.3 and 2.2 percentage points faster than in the east. Moreover, energy consumption per unit of GDP went down by 5.3 percent in the first quarter.
New economy and growth forces are also picking up. In the first quarter, the number of domestically granted patents for inventions soared 55.3 percent. Also, the added value of hi-tech and equipment manufacturing industries increased 9.2 percent and 7.5 percent, respectively, 3.4 percentage points and 1.7 percentage points faster than that of industrial enterprises above a designated size. Online retail sales surged 27.8 percent. Electric vehicles, medical devices and instruments, and intelligent electronic products all maintained relatively rapid growth.
"In the past, China fixed its eyes on GDP growth because wealth accumulation was the top priority in the initial stage of its industrialization. Now, it's far from enough to focus on speed. Emphasis should be laid on structural adjustment and coordination and the quality of economic growth," Sheng said.
Aside from that, people are tending to spend more on housing, travel, education, insurance, healthcare and travel, indicating that an upgrade in consumption is underway, according to Sheng.
In terms of price levels, the consumer price index (CPI) has shaken off deflation pressures and entered a more satisfactory range, said Xu Hongcai, Director of the Economic Research Department at the China Center for International Economic Exchanges.
According to statistics from the NBS, the CPI averaged 2.1 percent in the first quarter, a 0.7-percentage-point increase from the level of 2015. At the same time, the decline of the producer price index (PPI) has been addressed, and the negative growth of the PPI in the first three months has kept narrowing. In March, the PPI declined by 4.3 percent, marking a month-to-month increase of 0.5 percent, the first monthly growth since 2014.
Supply-side reform has set out to tackle existing structural problems and has achieved some results, said Sheng. In cutting excess capacity, crude steel and raw coal output went down by 3.2 percent and 5.3 percent, respectively.
In an effort to reduce real estate stock, sales of commercial housing soared 33.1 percent, with areas for sale reduced by 4.15 million square meters in March.
In terms of deleveraging, the asset-liability ratio of industrial enterprises above a designated size was lowered by 0.1 percentage point year on year at the end of February. As for attempts to reduce taxes and fees, in January and February, average production costs--including taxes--were slightly lower than last year's figures.
To shore up weak growth areas, the government has intensified investment in infrastructure construction, with growth soaring to 19.6 percent in the first quarter, according to Sheng.
Prospect
The potential for China's economy to grow is being unleashed by ongoing reforms and supportive policies, creating good reasons to believe that the country will remain on a stable and positive trend for the next two quarters, said Lian Ping, chief economist of the Bank of Communications.
China's economy has the capacity to sustain mid- and high-speed growth in the long term, said Sheng. First, industrialization and urbanization is still underway. In 2015, the urbanization rate was 56.1 percent, far lower than the average level of developed countries, which is above 80 percent. Second, central and western regions lag at least five years and 10 years, respectively, behind east China in terms of infrastructure and living standards. Third, China is experiencing an upgrade in its consumption methods, which increasingly include leisure spending on travel, healthcare, insurance, culture and education.
"That's to say, there is still huge potential to explore," said Sheng, who also stressed China's lead in terms of talent accumulation and institutional reform.
According to the 2016 Asian Development Outlook published by the Asian Development Bank, though affected by weak external demand and overcapacity in some sectors, the world's second largest economy will achieve its growth goals.
Growth in fixed assets investment experienced a year-long decline last year but rebounded to 10.7 percent in the first quarter, providing strong support to economic growth. Investment in the service industry grew 12.6 percent, 2 percentage points higher than last year. The investment structure is optimizing, implying an ongoing shift in economic engines, Xu said.
Zhang Liqun, a research fellow at the Development Research Center of the State Council, believes that China's economy has shown a tendency of bottoming out and heading for stable growth. However, uncertainties still persist.
The slowdown in income is a delayed result of decreases in business profits. However, in the first two months, the profits of industrial enterprises above a designated size reversed the declining trend registered last year, said Pan Jiancheng, Deputy Director of China Economic Monitoring and Analysis Center of the NBS.
In the first quarter, disposable income per capita grew 6.5 percent in real terms, slower than its growth in GDP. Private fixed-asset investment saw a nominal growth of 5.7 percent, a slowdown of 1.2 percentage points from the January and February period, and 7.9 percentage points down from the same period last year.
As for the consecutive decline of private fixed-asset investment growth, Pan believes it's an indication of inadequate internal vitality.
"Currently, investment is primarily driven by government-led infrastructure construction projects, and private capital has not yet found good opportunities to make investments," said Pan. "Mobilizing private capital and strengthening internal vitality should depend on the supply-side structural reform, which can help create an open and fair business environment."
Chinese businesses also face difficulties in operation and production, with pending payments and cash flow tightening. Market demand and supply has not yet been fully coordinated, and once enterprises that suspended production resume or increase production, prices in some sector will decrease, said Ning Jizhe, Commissioner of the NBS.
At the same time, risks in employment and finance can't be ignored, Ning added. Specifically speaking, unemployment may rise amidst regional structural adjustments, and traditional industries, those facing excess production capacity in particular, may experience a plunge in jobs and revenue. On the other hand, credit defaults caused by chain debt and mutual insurance are deteriorating, with non-performing bank loans mounting up.
China's economy is now confronted with a series of uncertainties and potential risks. The government should therefore draft targeted and accurate measures and policies to deal with them, Lian said.
Next, efforts should be made in promoting supply-side reform, unearthing domestic demand potential, pursuing opening-up policies, stabilizing foreign trade and maintaining the agricultural sector and rural areas' growth momentum, Ning said.

Q1 Macroeconomic Indicators
Value-added output of industrial enterprises above a designated size--principal business revenue of more than 20 million yuan ($3.04 million) a year--grew 5.8 percent.
Fixed assets investment totaled 8.58 trillion yuan ($1.32 trillion), up 13.8 percent.* Investment in the property sector reached 1.77 trillion yuan ($273 billion), up 9.1 percent.*
Retail sales of consumer goods totaled 7.8 trillion yuan ($1.2 trillion), up 9.7 percent.* Online retail sales amounted to 1.03 trillion yuan ($159 billion), up 27.8 percent.
Foreign trade decreased 5.9 percent to 5.21 trillion yuan ($805 billion). Exports decreased 4.2 percent to 3.01 trillion yuan ($465 billion), while imports dropped 8.2 percent to 2.2 trillion yuan ($340 billion).
Non-financial foreign direct investment stood at 224.21 billion yuan ($35.42 billion), up 4.5 percent.
China's non-financial outward direct investment amounted to 261.74 billion yuan ($40.09 billion), up 55.4 percent.
The consumer price index, a main gauge of inflation, rose 2.1 percent. The producer price index, which measures inflation at the wholesale level, contracted 4.8 percent.
The per-capita disposable income of urban residents stood at 9,255 yuan ($1,429), up 5.8 percent.* The per-capita cash income of rural residents stood at 3,578 yuan ($552), up 7 percent.*
The number of newly registered market entities reached 3.01 million, up 10.7 percent.
The number of newly registered enterprises reached 1.06 million, up 25.9 percent, with 11,700 enterprises getting registered every day.
The number of newly registered private companies reached 1 million, up 25.5 percent.
The amount of registered capital totaled 8.8 trillion yuan ($1.36 trillion), up 68.9 percent.
Roughly 71.4 percent of small and micro-sized enterprises were in operation, and 84.6 percent of them were established by first-time entrepreneurs.
Note: * The growth rate has been adjusted for inflation. All growth rates are on a year-on-year basis.
(Sources: National Bureau of Statistics, Ministry of Commerce, and State Administration for Industry and Commerce)
Copyedited by Bryan Michael Galvan
Comments to dengyaqing@bjreview.com