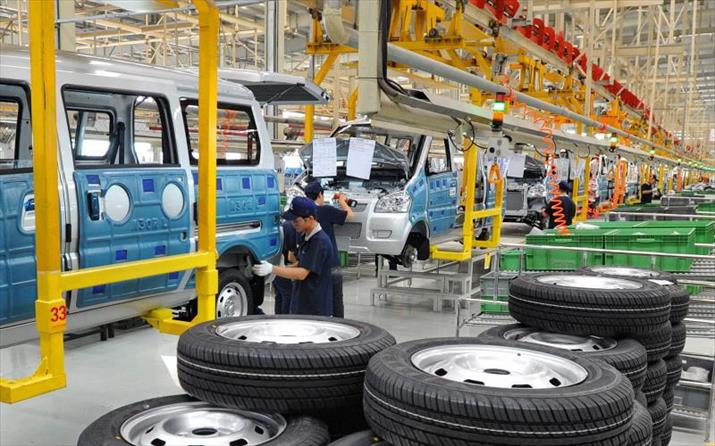 A production line in the Huanghua branch of carmaker BAIC Group in Shijiazhuang, capital of Hebei Province (XINHUA)
During his 16-year career as a steel worker in Handan, north China's Hebei Province, Yuan Haixin never imagined that he would later become a nanomaterial production inspector. After the steel mill where he was working was shut down due to poor performance, Yuan was given a chance to work on a production line for the Yinlong Group's Wu'an New Energy Industrial Park (WNEIP).
Two thirds of WNEIP's 4,000 employees are laid-off workers from nearby closed steel mills. The industrial park has become a sign of Hebei's growing manufacturing industry.
"Value-added output from equipment manufacturing—outpacing that of the steelmaking industry for the first time—became the No.1 pillar industry of Hebei in 2016," said Zhao Kezhi, Secretary of the Hebei Provincial Committee of the Communist Party of China (CPC). Zhao was speaking at a plenary meeting of Hebei deputies during the Fifth Session of the 12th National People's Congress (NPC), China's top legislature, in Beijing on March 7.
Hebei is exploring new economic drivers, including equipment manufacturing, new and green energy, information technology and tourism. "We aim to upgrade and change Hebei's economic engines through innovation and supply-side optimization," Zhao said.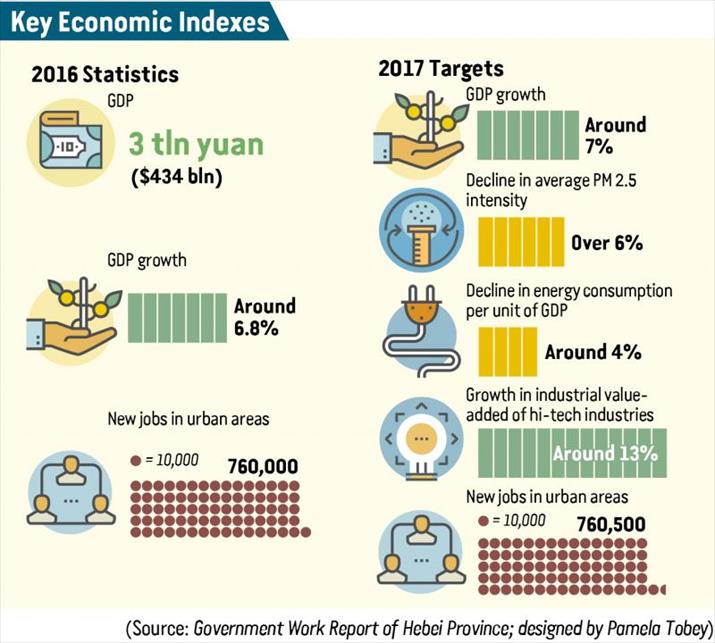 Thriving new industries
Therefore equipment manufacturing, an industry which consumes large quantities of steel, was a natural choice for Hebei, China's largest steel-producing province. As early as March 2015, Hebei released a plan to accelerate its equipment manufacturing development, which mainly focuses on cars and accessories, mega vehicles production and energy-generating equipment.
According to the Hebei Provincial Bureau of Statistics, equipment manufacturers generated a total profit of 46.03 billion yuan ($6.65 billion) in the first eight months of 2016, up 10.4 percent year on year. The growth rate beats all other major industries in the province and is 9.1 percentage points higher than the figure calculated for the steel sector.
"My monthly income sometimes amounts to 4,000-5,000 yuan ($578-722), one third higher than that at my last job," Liu Liang, a steel worker-turned staff member in WNEIP told Hebei Star TV in a recent interview.
Technological innovation is the driving force behind Hebei's burgeoning equipment manufacturing. "Creating new industries is a process requiring innovation which cannot be accomplished in one day," said Liu Baosheng, an NPC deputy from Hebei at a meeting during the Fifth Session of the 12th NPC.
A total of 882 billion yuan ($127.5 billion) was invested in upgrading technology in Hebei in the first 11 months of 2016, increasing by 5.5 percent year on year, ranking third in China, according to the Hebei Provincial Bureau of Statistics.
Intelligent manufacturing is the key to success for CITIC Dicastal Co. Ltd., a leading aluminum alloy wheel manufacturer based in Hebei's Qinhuangdao City. It invested over 10 million yuan ($1.45 million) to introduce a digital manufacturing system in its workshops. The system helped double labor efficiency and cut production cost by 46 percentage points. And thanks to the digital system, CITIC Dicastal's seven overseas plants are all monitored by the Qinhuangdao headquarters in real time, said Xu Zuo, President of CITIC Dicastal, in January.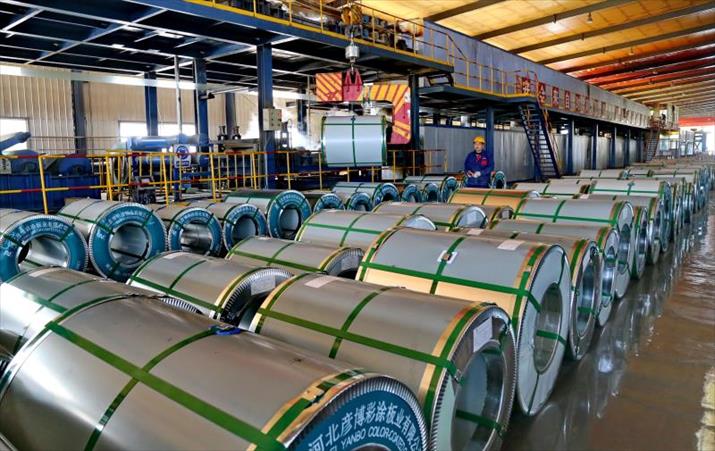 Color-coated steel sheets at a deep-processing steel enterprise in Qian'an, Hebei Province (XINHUA)
Shrinking old mills
Hebei has also ramped up efforts to upgrade its traditional industries.
With 104 steel mills, it is the biggest iron and steel producer in China. Value-added output from the sector had topped the province's industrial enterprises for over a decade.
But things changed in 2016 when value-added output of the equipment-manufacturing sector amounted to 302.9 billion yuan ($43.79 billion), surging by 10.2 percent year on year. It accounted for 26 percent of the province's total output, 0.5 percentage points higher than that of steelmakers. "The steelmakers' dominance in Hebei is expected to change dramatically," said Zhao.
China's supply-side structural reform, initiated in 2015 and aiming to cut excess capacity, destock, deleverage, lower corporate costs and improve weak economic links, helps explain the shift. In February 2016, the Central Government rolled out a guideline to slash 100-150 million tons of crude steel in the upcoming five years to reshuffle the sector and optimize iron and steel products.
According to the latest data released by the National Development and Reform Commission on March 6, China's overall production capacity for iron and steel in 2016 was 1.1 billion tons, of which 72.7 percent was consumed. It means that 300 million tons of iron and steel production capacity needed to be cut. And in 2016, China cut 65 million tons of it, over half of which were from Hebei.
"We slashed 16.24 million tons of steel and 17.61 million tons of iron last year," said Zhao, adding that overcapacity in the iron and steel sector was the most difficult part of Hebei's supply-side structural reform.
As China's iron and steelmaking hub, Hebei's iron and steel output has far outnumbered that of other provinces and regions for years. Figures from the Hebei Metallurgical Industry Association show that Hebei in the first half of 2016 generated 323.5 million tons of crude steel, rolled steel and pig iron, taking up 24.8 percent of the country's total output.
Hebei has taken multi-pronged measures to tackle the issue, closing down steel mills and poor-performing enterprises, optimizing product categories and relocating steelmakers to cap its excess production capacity, said Zhang Qingwei, Governor of Hebei, at the March 7 meeting.
"Three underperforming steel mills were closed down in Hebei last year," said Zhang, adding that eight more steelmakers are to be terminated by the end of 2018. "We aim to create 10 competitive steel mills with unique products by 2020."
"Hebei's steel sector is huge but not competitive, as most of its products are low-end ones," said Li Xinchuang, President of the China Metallurgical Industry Planning and Research Institute, at a forum held in Shijiazhuang, capital of Hebei, at the end of 2016. According to Li, only 17.2 percent of Hebei's key steelmakers' output was composed of medium- and high-end products, far lower than the national average of 33.5 percent.
Li suggested that Hebei's steelmakers should produce high-quality steel for cars, boats and household appliances. In fact, some local players have started developing high-end products and have gained momentum.
Hebei-based HBIS Group Co. Ltd., China's largest steelmaker, began to offer tailored products for household appliance titans like Haier and Siemens in recent years.
HBIS' products have been dramatically optimized over the past three years, with the proportion of high-end products increasing from 29 percent to 54 percent during the period. In 2016, HBIS' high-end products grew by 120 percent, and 12 million tons were sold. The average price was propped up by 145 yuan ($20.96) per ton year on year.
"The supply-side structural reform is a significant opportunity for HBIS. The capacity cut will not cripple HBIS. Instead, it will help upgrade HBIS' industrial structure, products and competitiveness," Yu Yong, President of HBIS, told Beijing Review.
Hebei also plans to relocate some of its steel factories. "Ten out of Hebei's 11 cities are dotted with steel plants. It's not good for the province's development," said Zhang, adding that steel mills in three cities including Zhangjiakou, one of the host cities for the 2022 Winter Olympics, will be moved out by 2020.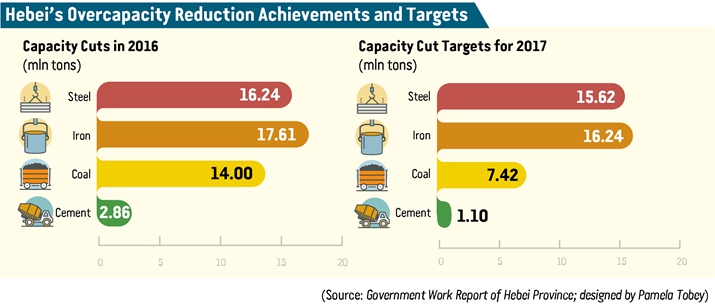 Challenges
This year Hebei plans to cut 31.86 million tons of iron and steel production capacity, accounting for 63.7 percent of China's total target. "It's a difficult task which requires great efforts to accomplish," admitted Zhang.
Some commentators believe that reemployment of the laid-off workers and the resurgence of underperforming steel mills are two issues that local governments are facing.
When production capacity is capped, jobs will be cut too. Take Hebei's Handan City for example. Last year, Handan cut 108.85 million tons of iron, steel and coal, slashing 14,000 jobs, said Gao Hongzhi, Secretary of the CPC Handan Municipal Committee, at the March 7 meeting. To put them back to work, the local government offered free training and either helped them to start their own businesses or introduced them to emerging companies, like WNEIP. By the end of 2016, 12,800 laid-off steel workers had been put back to work, said Gao.
Data from the Hebei Provincial Bureau of Statistics show that the equipment manufacturing sector offered 959,000 jobs in the first eight months of 2016, taking up 27.8 percent of the total jobs offered by Hebei's major enterprises, 9 percentage points higher than that of the steelmaking sector.
"It's good to see that when poor-performing enterprises are reduced, their labor force floods well-performing companies. Human resources will be better relocated," Zhang Yansheng, chief economist with the China Center for International Economic Exchanges, told Beijing Review.
Resurgence of backward mills is another problem. At the end of last year, some steel mills like Anfeng Iron and Steel in Hebei and Huada Iron and Steel in Jiangsu were punished because they violated capacity reduction efforts.
"When backward capacity is closed down, the equipment should be removed, too. Otherwise, they may resume production when the market changes," said Zhang Yansheng, adding that more resolve is needed when deepening supply-side structural reform.
Copyedited by Bryan Michael Galvan
Comments to linan@bjreview.com