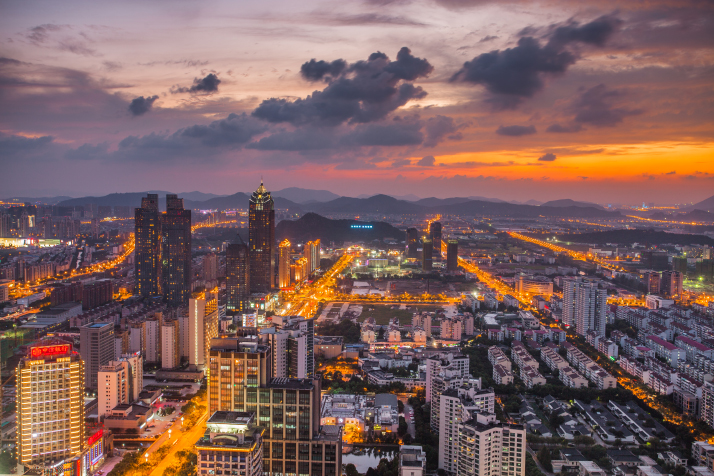 An aerial view of Suzhou New District in Suzhou, east China's Jiangsu Province (COURTESY PHOTO)
At the end of the 20th century, when Japan's Fujifilm and the United States' Kodak were competing for China's film market, the head office of Fujifilm forecast the market would slump and began to explore other options. They launched a branch in Suzhou, a vibrant city in east China's Jiangsu Province, and Ji Ruikang, who had been working for Fujifilm in Japan, was assigned to the subsidiary.
"The purpose was to develop the digital camera business," said Ji, now vice president of Fujifilm (Suzhou).
Witness to change
The branch, Fujifilm Imaging Systems (Suzhou) Co. Ltd., is located in Suzhou New District (SND), an economic development district for hi-tech industries established in 1990. It has witnessed the different stages of the development of the new district. Keenly following the changes in the Chinese market and the global economic environment, the company tweaked its strategy, switching from selling film to digital photoelectric equipment. From 2010, the subsidiary began to explore the medical device sector. Eight years later, the business stood on three pillars: digital cameras and lenses, including CCTV and other professional lenses, accounting for 45 percent of the total output value; instant cameras; and medical devices. The efforts of Ji and his colleagues in Suzhou have contributed to the Japanese giant's flourishing business.
The transformation dovetails with SND's development plan. When SND was founded 28 years ago, it had only a 25-square-km area, then expanded to 52 square km. It was approved as a state-level hi-tech industrial development zone by the State Council, China's cabinet, in November 1992. In 2002, the district was adjusted to 332 square km (including the 109-square-km Taihu Lake).
"SND started from scratch in the first decade since its inception and grew fast in the next decade," said Zhu Huifang, an official from the SND administration. "Today it has entered the third decade … and taken a great leap from the pursuit of quantity to quality." In the third decade of its development, the thrust is on new-generation information technology, new resources and medical devices.
Ji said that industries like medical equipment and medical bio-engineering have wide and long-term prospects in China. "Fujifilm has ambitions for this market, so there is greater research on products like ultrasound diagnostics equipment and endoscopes," he said.
While some foreign companies regard China only as a huge factory with plenty of cheap labor, Ji said Fujifilm considers it to be a massive market and a great platform for technical cooperation. "The further opening up of China offers an opportunity for Fujifilm to show its potential in the field of medical equipment and medical bio-engineering," he said. In September, the Japanese company established a research and development (R&D) department for medical devices in Suzhou to enhance R&D capacity in China.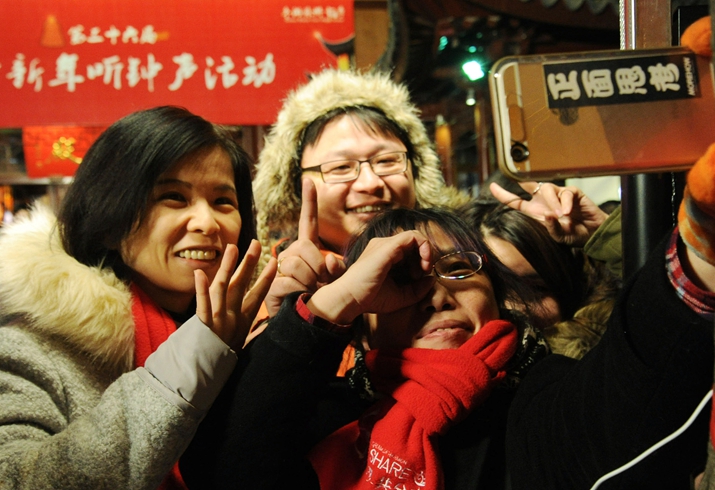 Japanese people take a selfie as they participate in the New Year's bell countdown at the Hanshan Temple in Suzhou on January 1, 2015 (VCG)
Investment magnet
At the end of 2017, there were over 1,700 foreign-funded enterprises in SND, of which over 500 were Japanese-funded. These include Fortune 500 companies and other multinationals, like Epson, Fujitsu, Sony, Panasonic and Canon. The output value of these enterprises accounted for 16.6 percent of the total in SND and their import and export volume accounted for 28 percent. They contributed 15 percent to the total tax revenue of the district.
How did SND become the choice of these enterprises? Hideya Hatamochi, Chairman of the Board of Canon (Suzhou) Inc., ticked off the reasons. Since the Canon copiers are intricate, the firm needs science and engineering talents. Suzhou and its surrounding areas boast many science and engineering universities, which provide a steady flow of outstanding individuals. The second reason is the sophisticated supply chain. Except some components that are produced only in Japan, the rest of the components are manufactured locally.
Apart from these two advantages, the excellent services provided by the SND administration has contributed to many companies choosing Suzhou. Hatamochi said the services have been consistently helpful from the investment promotion period till today.
Ji with Fujifilm echoed him. He said the "scientific concepts and good attitude" of the SND administration have contributed to making the services professional with high efficiency.
"Last year, we invested 100 million yuan ($14 million) to upgrade firefighting equipment and environmental protection measures. The approval procedures for these steps were supposed to be complicated. Knowing our worries that production might be hampered by a long process, the SND administration finished the approval work as fast as they could," he added.
Suzhou's rich cultural heritage is also an attraction for the Japanese. A city with a history of more than 2,500 years, it is famous for its gardens, silk industry and embroidery. There are many places where Japanese culture blends with the local culture. For example, China's Kesi, a silk tapestry weaving technique, has reflections in the Japanese kimono. The garment used to be called wufu, and its belt is mostly made of Kesi.
Tang Dynasty (618-907) poet Zhang Ji's poem Mooring by Maple Bridge at Night can be found in textbooks in Japan. Japanese folktales mention Chinese monk Shi De heading for Japan from the Hanshan Temple in Suzhou. In Japan, he built a temple, which is considered the sister temple of Hanshan.
The tradition of ringing the bell at a temple 108 times was also brought to Japan from China. Hence on the New Year Eve, Japanese-funded enterprises in SND are often invited to listen to the bell ringing in the Hanshan Temple and welcome the New Year.
Site for sore eyes
People often think that if a place is hi-tech, it must be full of factories and utterly drab. However, SND is a very livable place with convenient transportation, prosperous businesses and a harmonious environment. There are beautiful schools, modern libraries, magnificent international hospitals and busy Japanese food courts.
This attractive environment is the result of the development strategy in recent years that has undertaken industrial and urban integration and made the Japanese who work in SND feel at home. About 4,000 Japanese live and work in the park, according to Zhu.
"To promote the development of Japanese enterprises and build a good investment environment, we have taken six important measures," he said. "Establishing Japanese schools, introducing Japanese-funded banks, Japanese-funded shopping malls and the Morishige Clinic, setting up an office in Tokyo, and renovating the commercial street where Japanese shops and restaurants are located."
The education system in Japan is different from other countries, so their children's education is a big problem for the Japanese who go abroad to further their career. To address this issue, a school for Japanese students was built in Suzhou in 2005. It can accommodate 750 students, from primary school first graders to junior school third graders.
The curriculum is the same as in Japan, and the majority of teachers are appointed by Japan's Ministry of Education, Culture, Sports, Science and Technology. There are also cooking, sewing and labor skill classes and other extracurricular clubs to nurture all-round abilities of children, such as survival skills. The only difference is at the language level. Chinese is included in the course and the time for English lessons has been extended, compared to schools in Japan. Remarkably, when the students return to Japan and take the national exams, their average score is much higher than that of their peers who study in Japan.
The Morishige Clinic, which offers medicine, pediatrics, gynecology and traditional Chinese medicine, has an investment of over 6 million yuan ($868,000). Japanese people with overseas travel insurance can see a doctor here directly. The Japanese who came for consultation told Beijing Review that getting medical treatment in a familiar environment puts them at ease.
If a patient is diagnosed with a serious disease, he or she will be directly transferred to any of the top three hospitals or specialized hospitals in Suzhou through the clinic's green channel.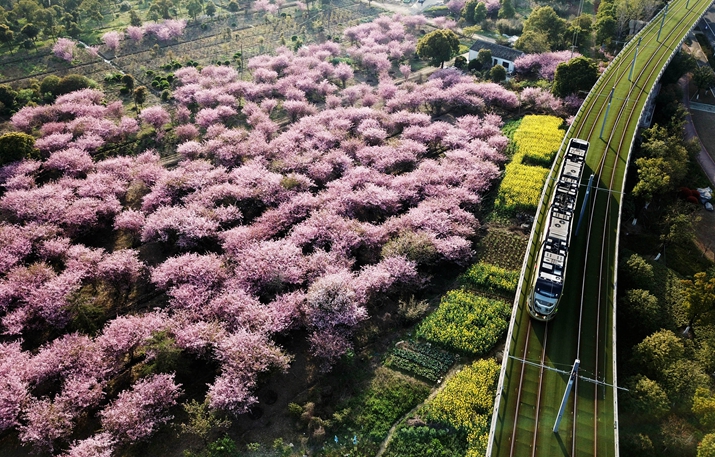 A tram runs through Suzhou New District on March 28 (XINHUA)
Enhancing cooperation
"The global innovation landscape is based on a new round of scientific and technological revolution and industrial transformation. SND will further promote opening up and innovation, utilize export-oriented economic development, and gather high-end innovative resources on a global scale," said Tao Guanhong, Deputy Director of the SND administration. Japan is a vital part of its overseas growth plans, Tao added.
Talent is an integral part of high-end innovation resources. In August, SND signed a strategic cooperation agreement with the Japan-China Innovation Center and an office for high-level Japanese talent was opened in Tokyo. Its work is to build a comprehensive service platform for talent introduction, business incubation and policy support. It will strengthen high-level talent exchanges with Japan, promote large innovative scientific and technological projects, and better serve entrepreneurs.
SND also plans to build a Japanese offshore innovation and business incubation base. Against the background of China's continued opening up and economic transformation and upgrading, it is expected that SND will boost the development of scientifically and technologically innovative Sino-Japanese enterprises in the industrial park and consolidate economic cooperation between the two countries.
(Reporting from Suzhou, Jiangsu Province)
Copyedited by Sudeshna Sarkar
Comments to liqing@bjreview.com