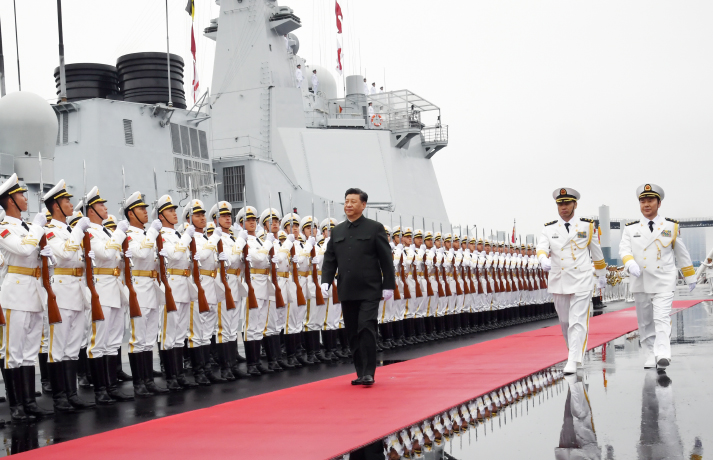 Chinese President Xi Jinping, also General Secretary of the Communist Party of China Central Committee and Chairman of the Central Military Commission, inspects the honor guards of the Chinese People's Liberation Army Navy in Qingdao, east China's Shandong Province, on April 23 (XINHUA)
Baimamiao, a small town situated less than 20 km north of the Yangtze River, does not lie on the coast, yet it is credited as the birthplace of the Chinese People's Liberation Army Navy (PLA Navy).
The PLA Navy was established in this township on April 23, 1949, and four decades later, the date was designated as the PLA Navy's founding, officially commemorated ever since. This year, to mark the 70th anniversary of the PLA Navy, multinational naval events were held in Qingdao, east China's Shandong Province, on April 22-25.
Naval delegations from more than 60 countries and nearly 20 warships from over 10 countries attended the activities, which included a naval parade, seminars, and cultural and sports exchanges.
Chinese President Xi Jinping, also General Secretary of the Communist Party of China Central Committee and Chairman of the Central Military Commission, reviewed the parade onboard a destroyer. While meeting foreign guests before the parade, Xi stressed that China is committed to peaceful development, calling for joint efforts to address common threats and challenges in the world's oceans and build a maritime community with a shared future.
"The blue planet humans inhabit is not divided into islands by the oceans, but is connected by the oceans to form a community with a shared future, where people of all countries share weal and woe," he said.
China pursues a national defense policy that is defensive in nature, Xi said, noting that the Chinese PLA Navy will actively shoulder its international responsibilities, safeguard the security of international waterways and provide more public goods for maritime security.
Setting sail
"At the inception of the PLA Navy, it only had 13 members—five officers and eight soldiers—making it probably the smallest navy in the world," 93-year-old Huang Shengtian, one of the initial members, told the media shortly before the navy's 70th anniversary.
Huang said he believes that having a strong navy is very important for the country. Official statistics show that China suffered some 470 invasions by foreign powers from sea between 1840 and 1949. Imperialist invasions from sea had inflicted tremendous hardship on the Chinese nation, he said. "Only with a strong navy can our people and country enjoy lasting peace and stability."
A museum in Baimamiao exhibits photos, written materials and other items documenting the birth and growth of the PLA Navy.
In the beginning, "there was literally nothing. There was a dearth of talented people, warships and guns," said Xu Jin, the museum's curator.
"We managed to overcome the lack of talented people, warships and guns in a year," Huang said, explaining that for a country that was so technically backward that it couldn't even produce enough bicycles, this was a miracle.
On August 15, 1949, a naval academy was set up in Nanjing, east China's Jiangsu Province, and after the first batch of over 3,500 cadets graduated, they began to serve onboard warships, becoming the backbone of the PLA Navy. By the end of 1950, the navy had repaired and refitted approximately 100 warships.
In recent decades, the PLA Navy has grown with China's development. In particular, the speed of the navy's equipment development in the past 10 years has picked up and surpassed that of the previous half century. From 2009 to 2019, the number of main warships had increased by tenfold.
The rise in the number of China's warships also provided Hu Jie, a naval officer in his early 40s, with many opportunities. Hu was born into an ordinary family on Zhoushan Islands in east China's Zhejiang Province, China's largest archipelago. In his childhood, to him the world was not much bigger than the small island he lived on, which covers an area of about 10 square km.
He saw innumerable fishing boats pass his home, which faced the sea, yet he could never have imagined back then that he would grow up to be the captain of one of the most advanced guided missile destroyers in China, the Changchun.
After finishing middle school, Hu followed the advice of his father, a shipyard worker, and applied to and was admitted into the PLA Dalian Naval Academy in 1997. After graduation, he was assigned to the most advanced missile frigate in China at the time. He became the intern captain of the Changchun in 2014 and eventually its captain.
He has navigated in the vast oceans on the ship and seen a bigger world, sailing to the Gulf of Aden to participate in escort missions in 2014, traveling to the Western Pacific Ocean in 2015, and visiting several countries in Asia, Africa and Europe in 2017.
Speaking about the visit of a Chinese naval fleet to the Philippines in May 2017, he told the Beijing-based PLA Daily that he is proud that as a captain, he can represent his battleship and country.
On April 23, the Changchun was reviewed, among other vessels, by Xi during the naval parade.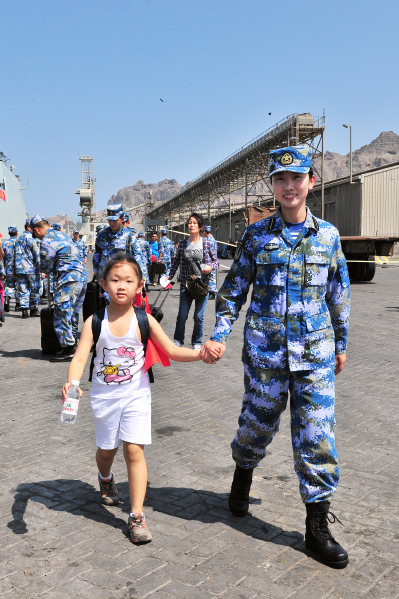 The 19th batch of a Chinese naval escort taskforce arrives at the Port of Aden, Yemen. Guo Yan, a crew member, led an evacuated girl to board a Chinese navy ship on March 29, 2015 (XINHUA)
Modern force
Since its birth 70 years ago, the PLA Navy has gradually grown into a powerful modern force capable of effectively safeguarding national sovereignty, security and development interests and carrying out diversified military operations, said Qiu Yanpeng, PLA Navy Deputy Commander.
During the naval parade in Qingdao on April 23, a wide range of equipment was displayed, including China's first aircraft carrier, the Liaoning, and the latest nuclear submarines, destroyers and fighter jets, as well as landing and auxiliary ships.
Huang Xuhua, 93, contributed to the navy's modernization as the chief designer of China's first nuclear-powered submarine.
In 1958, China started to develop nuclear-powered submarines. With a university degree in shipbuilding and work experience in developing Soviet-style conventional submarines, Huang Xuhua was selected for the project team. He devoted more than 30 years to nuclear submarine research.
Huang Xuhua recalled that research conditions were very poor and that researchers had to calculate large numbers using abacuses and slide rules. To ensure accuracy, they were divided into several groups, performing the same calculation and then comparing results. If they differed, the teams would have to redo the calculation until the results were identical.
Due to their efforts, on December 26, 1970, the PLA Navy's first nuclear submarine was launched into water, making China the fifth country to develop a nuclear submarine. Four years later, the submarine was named Long March 1 and was commissioned into the PLA Navy.
In the last 10 years, the navy has made breakthroughs in developing new types of vessels such as aircraft carriers and Type 055 and Type 052D destroyers, which feature larger tonnage, advanced information technology and high combat capability, said Li Jie, a researcher with a naval research institute.
In September 2012, the Liaoning aircraft carrier was commissioned into the PLA Navy. When the news broke, Huang Shengtian was very excited to hear that the nation's longtime dream had finally come true.
In 2013, China began to independently construct its second aircraft carrier. On April 26, 2017, it was transferred from dry dock into water at a launch ceremony in the Dalian shipyard of the China Shipbuilding Industry Corp.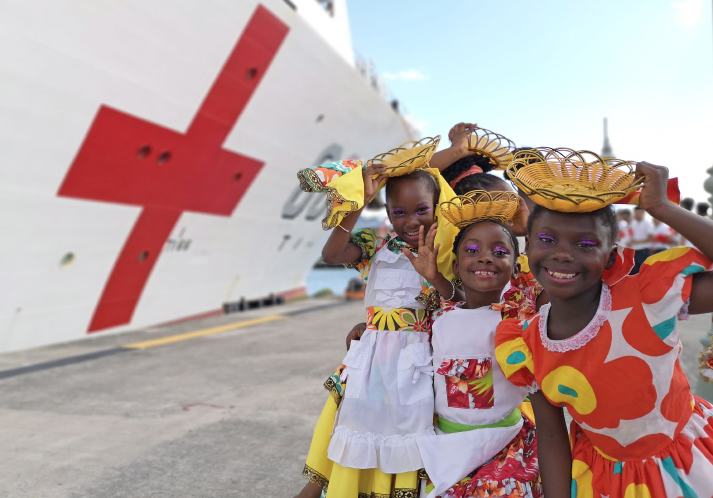 Children in St. John's, Antigua and Barbuda dressed in traditional costumes welcome the Chinese naval hospital vessel Peace Ark on October 22, 2018 (XINHUA)
Force for peace
The PLA Navy has always been a force for peace and will never pose a threat to any other country, Qiu said.
"With its growth, the PLA Navy has provided the world with more security," he added.
Since 2008, the navy has sent fleets to the Gulf of Aden and the waters off Somalia in accordance with relevant United Nations Security Council resolutions and with the consent of the Somali Government.
To date, 32 fleets and over 27,000 officers and soldiers of the PLA Navy have escorted over 6,600 vessels, more than half of which were foreign ships, Qiu said.
In December 2016, Song Xi, then a Chinese marine corps soldier, sailed to the Gulf of Aden to participate in escort missions. Before joining the navy, Song was a junior at Peking University, and after retiring from the navy, she returned to school to continue her studies.
She remembered when a Tuvalu cargo ship was hijacked by pirates in the Gulf of Aden in April 2017, putting 19 Syrian crew members on board in jeopardy. Chinese naval vessel Yulin quickly rescued all its crew members.
In addition to providing escort services, the PLA naval escort fleets have also provided other international services.
After the Malaysian Airlines Flight 370 disappeared in 2014, 10 Chinese vessels participated in the joint search and rescue mission.
That same year, a Chinese navy vessel provided emergency freshwater to the Maldives. On December 4, 2014, the only desalination plant in Male City, capital of the Maldives, caught fire and the equipment was damaged, leaving the city with a freshwater shortage crisis. The next day, a Chinese navy vessel cruising in the Indian Ocean received orders to supply freshwater to the city. It raced for about 50 hours and supplied more than 600 tons of freshwater when it arrived, and then continued to supply over 150 tons of additional freshwater until the damaged equipment was repaired on December 14.
In addition, a Chinese naval fleet managed to evacuate 621 Chinese citizens as well as 276 citizens from 15 other countries out of Yemen after a civil war broke out in 2015.
Since 2010, the Chinese naval hospital vessel, the Peace Ark, has traveled to 43 countries and regions and delivered free medical services to over 230,000 people.
The Peace Ark has paid visits to countries in Asia, Africa, the Americas and Oceania. On November 26, 2017, Tanzanian President John Magufuli visited the ship and thanked Chinese doctors for treating more than 6,000 patients during the ship's eight-day stay in the country.
In 2018, the Peace Ark made port calls to countries such as Papua New Guinea, Vanuatu, Fiji, Tonga, Venezuela and Ecuador and provided medical services to local residents until it concluded its 205-day voyage in January 2019.
The Chinese navy strives to be a builder of world peace, a contributor to global development and a defender of the international order, Qiu said. "We will make new and greater contributions to safeguarding the peace and stability of the region and the world, and promote the building of a community with a shared future."
Copyedited by Rebeca Toledo
Comments to wanghairong@bjreview.com