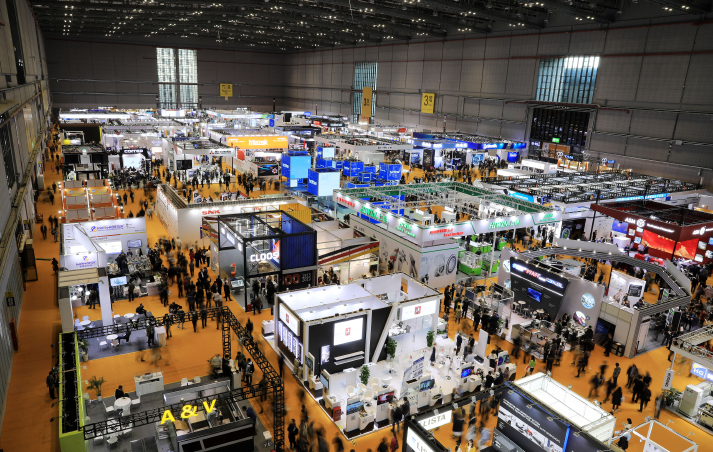 The equipment exhibition area of the Second China International Import Expo (CIIE) in Shanghai on November 6 (XINHUA)
Last year, Nachi-Fujikoshi, a Japanese corporation known for its industrial robots, was the first to sign up to take part in the First China International Import Expo (CIIE) in Shanghai. It was an early bird for this year's expo as well, registering as early as August 8 last year, more than 400 days before the event that opened on November 5.
The First CIIE brought great benefits to the company as it showcased industrial robots used for welding cars with the fastest speed in the industry. During the six-day event, it received orders exceeding 500 million yuan ($71 million).
Earlier this year, Nachi-Fujikoshi established a subsidiary in Shanghai. At the Second CIIE, it displayed more products such as mini robots used for producing mobile phone components and larger ones that can copy human movements and are used in unspecified industrial production. The company said its clients in China include the Geely Auto Group as well as tech companies Huawei and Xiaomi.
Held in a flood of global attention from November 5 to 10, the Second CIIE drew more participants, establishing itself as a platform to boost domestic demand and quality development, and open up the vast Chinese market wider despite external challenges.
At the inaugural ceremony, President Xi Jinping affirmed that China will continue to expand and improve its opening up, optimize the domestic business environment, deepen multilateral and bilateral cooperation, and further cooperation with other countries participating in the Belt and Road Initiative.
New measures will be taken to ease market access for foreign investors, shorten the negative list that specifies the industries out of bounds for foreign investors, and promote import trade, he said.
One reason for foreign participants' enthusiasm for this year's CIIE was the rising interest in the Chinese market, which is becoming increasingly accessible due to new policies. Xi also said China has the largest middle-income population in the world. Therefore, the huge Chinese market has unlimited potential.
"China's move of widening opening up is encouraging. It has seen steady development with a huge market, and we look forward to being part of its growth," Kazuyuki Tawara, President of Nachi-Fujikoshi (China) Co., told Beijing Review.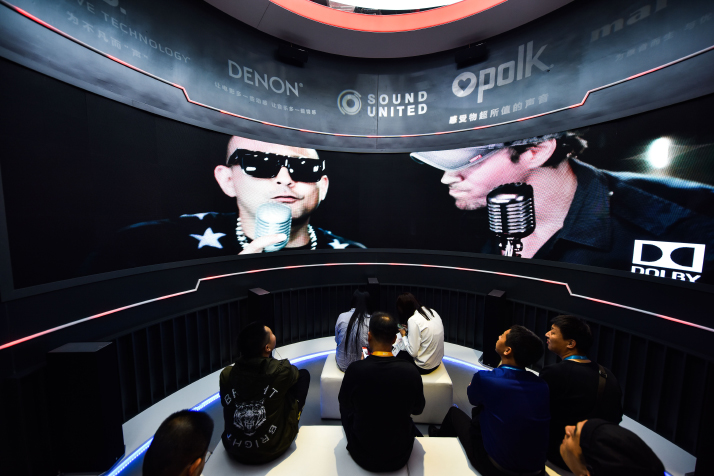 Visitors watch a short music video in the 360-degree immersive soundscape zone of U.S. company Sound United at the Second CIIE on November 6 (WEI YAO)
Larger and better
The CIIE is the world's first import-themed national-level exhibition. Themed New Era, Shared Future, the Second CIIE hosted nearly 4,000 enterprises from 155 countries and regions, with more Fortune Global 500 companies than in the first expo. Sixty-four countries hosted country exhibitions, including 24 countries doing so for the first time. Representatives of 26 international organizations also showed up for the event.
A total of 192 U.S. companies attended this time, an 18-percent increase over last year. French firms also had a strong presence as France was one of the 15 guest countries of honor. They included luxury goods giant Louis Vuitton and industrial gas and service provider Air Liquide.
The exhibition space increased from 300,000 to 360,000 square meters, allowing more exhibitors to present items for sale with reduced tariffs and access the extensive Chinese market. Ranging from high-end equipment to accessories, the products were as diverse as the smallest item on display, a 3-mm needle for insulinum injections produced in Japan, and the largest, a 20-meter-long high-speed patrol boat, the Ferretti FSD195, manufactured by Italian shipbuilder Ferretti Security and Defense.
While bedazzling visitors with high-end objects like a diamond and gold-encrusted glittering guitar with an estimated value of $2 million, it also offered down-to-earth exhibits such as Spanish hams.
Hi-tech facilities and exhibits were one of the highlights of the expo. The National Exhibition and Convention Center, the main venue, was fully covered by 5G network. The organizers used guide robots for navigating the sprawling fair. Robots were also deployed to sort out waste. The expo employed vehicles equipped with an intelligent system that recognized emotions and gestures.
With the CIIE promoting domestic buyers' exposure to high-quality products from the four corners of the globe, Xu Hongcai, Deputy Director of the Economic Policy Commission, China Association of Policy Science, said the introduction of quality international products would squeeze substandard products out of the domestic market, benefiting Chinese consumers.
"Through complementary cooperation, China can sharpen its edge in international competition and move up toward the higher end of the global industrial chain," Xu told Beijing Review.
"Though improved imports may make domestic enterprises feel some pressure, they meet the demands of consumption upgrade and can drive China's industrial restructuring," Liang Ming, Director of the Foreign Trade Institute with the Chinese Academy of International Trade and Economic Cooperation, told Beijing Review.
Growing with China
Since the First CIIE, China has introduced new opening-up policies, with the initiatives announced last year implemented across the board.
The domestic market has opened up wider by adding new pilot free trade zones. The country's first Foreign Investment Law will come into effect in January 2020, improving investor confidence. A foreign investment management system combining pre-establishment national treatment and a negative list has been put in place nationwide. Customs clearance has been facilitated. The threshold has been lowered for foreign banks and insurance companies to enter China. The Shanghai Stock Exchange launched a science and technology innovation board in July for better trade in hi-tech stocks.
As recently as in October, the State Council, the cabinet, issued a regulation to optimize the business environment and protect market entities' legitimate rights and interests.
These measures have made China an ideal destination for foreign investment. According to the Doing Business 2020 study released by the World Bank in October, China ranks 31st in the ease of doing business index out of 190 economies, up 15 places from last year's ranking.
The Organisation for Economic Co-operation and Development said on October 28 that foreign direct investment in China grew 4 percent year on year to $73 billion during the first six months of the year.
"The higher-level opening-up measures, especially further opening up, cutting tariffs and institutional costs, and improving the business environment and facilitating investment have boosted our confidence in the Chinese market," Anna Pawlak-Kuliga, CEO and Chief Sustainability Officer at IKEA China, told China Daily.
According to many international exhibitors, the CIIE is a signal of opportunities. Charles Bronson, CEO of U.S. antique car dealer Bund on the Boulevard, said he decided to attend the Second CIIE after hearing of the success of its debut version.
"The platform shows the world that China is open to business. We are very interested in being a friend of it and doing business with people here," he said.
While Bund on the Boulevard is a newcomer, Linde Hydraulics of Germany and French company Atermes from the defense and security sector have been tapping into the Chinese market for years. According to Janfried A. Tirre, Executive Vice President of Linde Hydraulics, his company came to China in 2012. Through working hand-in-hand with Chinese partners, its competitiveness has been sharpened greatly.
"The market here is growing fast owing to the stable and open economy, as well as the improved business climate. The CIIE is a very important platform. It also sends a strong signal to the world that China is very important in the manufacturing industry," he told China Today, a Beijing-based magazine.
For Lionel Thomas, Deputy General Manager and Sales Executive Manager of Atermes, the Chinese market is familiar since his company has been cooperating with a firm in Chengdu in southwest China's Sichuan Province for about 16 years.
"This expo is a great opportunity for all foreign companies, especially for us as we have built a very strong connection with an institute in Chengdu to create a technical solution for border surveillance," he said.
According to Thomas, sharing their technology with a major country like China provides an opportunity for them to do business both in and outside the country, such as in other Asian countries as well as those participating in the Belt and Road Initiative.
Foreign traders are also eyeing China's e-commerce channels. As Italian Minister of Foreign Affairs Luigi di Maio told the Hongqiao International Economic Forum held on the sidelines of the expo, his country is looking to hook up its small and medium-sized enterprises with major Chinese e-commerce platforms, hoping to ride China's consumption and e-commerce boom.
"Foreign producers and sellers can cooperate with Chinese e-commerce retailers, localize their products to meet Chinese consumers' demands and improve post-sales services," Xu said.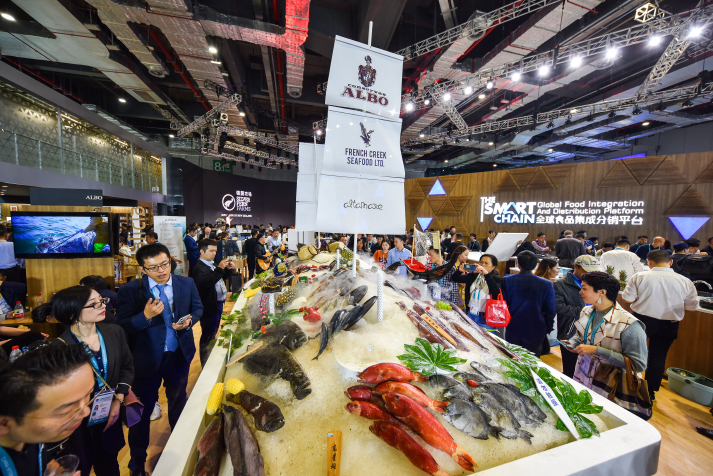 Food from various countries is showcased at the Global Food Integration and Distribution Platform of the Second CIIE on November 6 (WEI YAO)
Room for growth
With its influence growing, the CIIE has become more than a platform for trading, it is now an important event for economic exchanges. "The expo has enabled China to interact with the rest of the world and promote economic globalization," Sang Baichuan, a professor at the University of International Business and Economics in Beijing, told Beijing Review.
At the inauguration of the Second CIIE, French President Emmanuel Macron said China has not only benefited from economic globalization but also contributed to it. Highlighting that unilateralism and protectionism cannot address unbalanced development, he urged for multilateralism and free trade to be maintained.
"Many bilateral tensions or challenges some countries are facing today require a multilateral response, and the reform of the World Trade Organization (WTO) is definitely needed, especially in the areas of trade and investment," Xue Rongjiu, Deputy Director of the Beijing-based China Society for WTO Studies, told the forum.
In his keynote speech at the inaugural ceremony, Xi said China, a champion of international cooperation and a supporter of multilateralism, looks forward to candid exchanges that will lead to joint actions to improve global economic governance.
However, China needs to address external risks, which have added to the pressure on the Chinese economy, experts said. Data from the National Bureau of Statistics shows that Chinese imports dropped 0.1 percent on an annual basis in the first three quarters of the year.
Liang attributed it to the slowdown of the global economic growth. He said institutional constraints need to be further removed to avoid local protectionism and expand imports.
"To drive up imports, China also needs to further lower import tariffs, enhance financial services to achieve the full convertibility of the yuan, and improve payment methods and logistics," Xu said.
(With additional reporting by Li Yifan from Shanghai)
Copyedited by Sudeshna Sarkar
Comments to lixiaoyang@bjreview.com