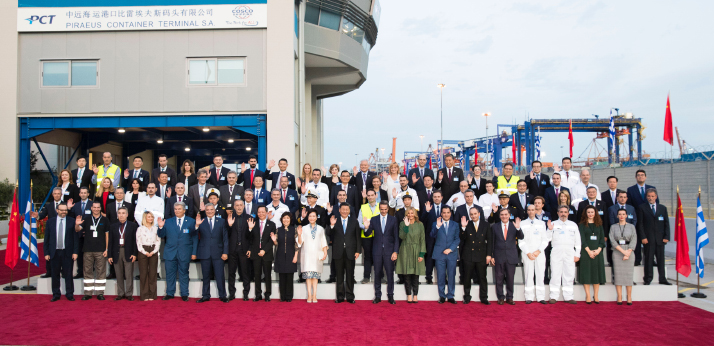 Chinese President Xi Jinping and his wife Peng Liyuan and Greek Prime Minister Kyriakos Mitsotakis and his wife Mareva Grabowski-Mitsotakis pose for a group photo with staff members of China Ocean Shipping Co., the majority shareholder in the Port of Piraeus, during their visit to the Greek port on November 11 (XINHUA)
When Chinese President Xi Jinping visited the Port of Piraeus, a 30-minute drive from downtown Athens, on November 11 during his recent state visit to Greece, the port was the picture of hustle and bustle.
One of Europe's busiest ports, its terminals were packed with containers from all over the world. Ships docked in at regular intervals and the cranes remained busy loading and unloading the cargo. Rows of trucks shuttled back and forth.
And it's not only sea-faring vessels that the port serves. Some of the goods stored there are destined to be shipped by land. They will be carted off along the rail routes of the China-Europe Land-Sea Express that link the port to Hungary, Austria, the Czech Republic and other parts of Europe.
But 11 years ago, the picture was entirely different. Hit by the global financial crisis, mismanagement and other factors, Piraeus suffered heavy losses and declined into a lethargic port with its equipment rusting. Then in 2009, a subsidiary of China Ocean Shipping Co. (COSCO) started to manage two terminals under a bid it won a year earlier and the old port got a new lease on life. In 2016, the Chinese company acquired a 67-percent stake in the Piraeus Port Authority, the port's operator, and took over the management and operation of the entire port.
When COSCO took over Piraeus, the port ranked 93rd worldwide. Today, it is 32nd, overtaking Spain's Port of Valencia as the biggest port in the Mediterranean. Last year, its container throughput jumped to nearly six times that of 2010. It provides jobs to over 10,000 local people directly and indirectly, contributing 300 million euro ($330.6 million) annually to the local economy.
Xi said the scene showed that the Belt and Road Initiative was not an idle slogan but a successful practice. This is evidenced by the rejuvenation of the port as well as the land-sea routes. Greece is willing to join China to further expand and strengthen the port project, Greek Prime Minister Kyriakos Mitsotakis said.
According to Song Xiaomin, a researcher with the Institute of European Studies, Chinese Academy of Social Sciences, Piraeus exemplifies the broad prospects of economic and trade collaboration between China and Greece.
"COSCO's investment in the port project has not only benefited the local economy, local people and even entire Greece, but also increased the confidence of the international community in the Greek market and attracted more multinational companies to Greece," she said.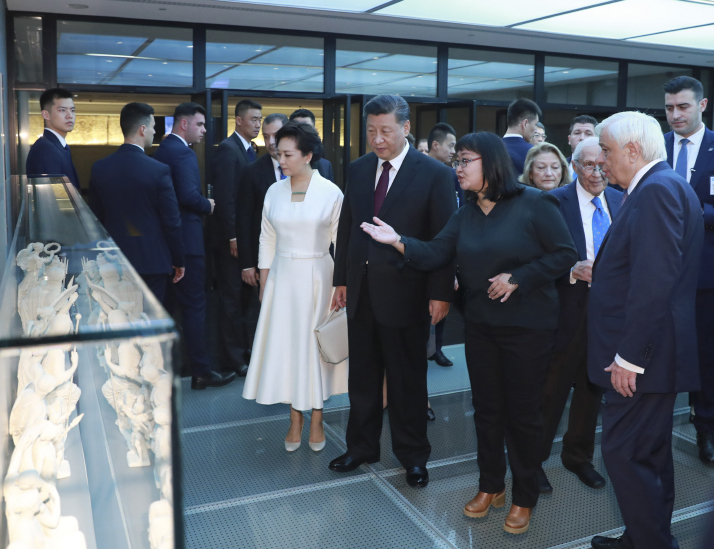 Chinese President Xi Jinping visits the Acropolis Museum with Greek President Prokopis Pavlopoulos in Athens on November 12 (XINHUA)
Stronger ties
Xi's Greece visit, the first by a Chinese head of state in 11 years, came after the Second China International Import Expo (CIIE) in Shanghai, where Greece was one of the guest countries of honor. Mitsotakis led the Greek delegation to the expo, calling it an excellent opportunity to showcase the strong bilateral relationship despite global uncertainties. The Greek companies more than doubled their turnover at the Second CIIE.
China and Greece share a long history. Their exchanges have increased and cooperation has become closer since the establishment of diplomatic ties 47 years ago.
The bilateral ties are based on mutual respect, equality and mutual benefit. In 2006, they established a comprehensive strategic partnership. In 2018, Greece was the first developed European country to sign a memorandum of understanding to join the Belt and Road Initiative, becoming an important bridge between China and the EU.
According to China's General Administration of Customs, China-Greece trade was worth $7.06 billion in 2018, up 36.3 percent year on year. Greece's exports to China increased by 31.2 percent.
The two countries have a complementary trade structure, Ding Chun, Director of the Center for European Studies at Fudan University in Shanghai, said. While China is an exporter of labor- and capital-intensive products, Greece is an exporter of resource-intensive and intermediate products. Their cooperation serves the best interests of both countries.
China is Greece's largest source of imports of machinery, electronic products and other light industrial products, according to Eurostat, the statistical office of the EU.
During his visit, Xi proposed expanding two-way trade and investment and enhancing cooperation in areas such as electricity, telecommunications, manufacturing and finance. China is willing to import more high-quality Greek agricultural products and encourages more Chinese companies to invest and start businesses in Greece.
It will undoubtedly bring greater opportunities to Greece, which is recovering from a debt crisis, and give a strong boost to the local economy, Jiang Shixue, a professor at Shanghai University, told Beijing Review. From January to June, bilateral trade reached $4.14 billion, up 21.4 percent compared to the volume in the same period last year.
During a business forum on the sidelines of the Second CIIE on November 4, the Greek prime minister stressed that his government is ready to strengthen collaboration in diverse areas to realize more win-win results. They range from tourism and agriculture to logistics, medical care and renewable energy.
Belt and Road partners
As an important meeting point of the ancient land and maritime Silk Roads, Greece is a natural partner for China when it comes to the construction of the Belt and Road, which consists of the Silk Road Economic Belt and the 21st-Century Maritime Silk Road.
Due to the debt crisis, Greece's infrastructure is facing insufficient investment. China, which has an advantage in both construction and investment, has stepped into this breach to increase investment in Greece and promote infrastructure connectivity, as advocated in the Belt and Road Initiative, Jiang said.
At the Port of Piraeus, Xi said he believes the joint pursuit of the Belt and Road will help Greece achieve the goal of becoming a regional transport and logistics hub, and give strong momentum to the cooperation between China and the Central and Eastern European countries (CEEC).
Greek President Prokopis Pavlopoulos said Greeks have a natural affinity with the Chinese people as both China and Greece are countries with time-honored civilizations. Xi also said he felt the impact of history and realized that China and Greece have much in common after visiting the Acropolis Museum, accompanied by Pavlopoulos.
China and Greece are the inheritors of ancient Eastern and Western civilizations, respectively. So with major changes occurring in the world, unseen in a century, they have the historical mission of using their wisdom to help address problems and build a community with a shared future for humanity, Song said.
"The mutual understanding, amity and mutual respect between the two civilizations have enabled China and Greece to transcend differences in culture, institutions, and the stages and patterns of social development, and become a model of peaceful coexistence and win-win cooperation between different countries," she added.
In recent years, China and Greece have built a bridge of interactions through cultural activities, educational exchanges and tourism, which have helped enhance people-to-people ties. The Business Confucius Institute set up in Athens in 2009 and the China Cultural Center have become important platforms for cultural exchanges.
The China-Greece Action Plan (2020-22) signed earlier this year outlines priority areas for collaboration such as transportation, energy, telecommunications, financial services, processing, and research and development.
In an article published in Greek newspaper Kathimerini on November 10, Xi said, "We need to step up Belt and Road cooperation with down-to-earth efforts, make the most of the location and shipping capacity of Greece, seize the opportunities brought about by Greece's joining the China-CEEC cooperation, actively advance practical projects under the China-Europe Land-Sea Express Line, and contribute to the China-EU Connectivity Platform."
The China-EU Connectivity Platform, proposed during the 17th China-EU Summit in 2015, aims to improve infrastructure links between the two sides and better synergize the Belt and Road Initiative with the Investment Plan for Europe that seeks to mobilize private investment.
17+1 model
In April, Greece joined the cooperation mechanism between China and the CEEC, turning the 16+1 bloc into a 17+1 model.
The former 16+1 cooperation between China, 11 EU member states and five Balkan countries was a supplement to China-EU cooperation. Despite the downward global trend, trade between China and the CEEC grew by 21 percent in 2018, hitting a record high, while the CEEC's exports to China have increased about five times over the past decade.
However, there are still some differences. For instance, growing global challenges such as recession, the refugee problem and rising populism have raised the EU's concerns over China expanding cooperation with EU members, Ding said.
But collaboration and communication far exceed competition between China and the EU, and Greece's officially joining the mechanism is testimony to that, Jiang said, adding that the mechanism has become more attractive with Greece's presence.
Song agreed, saying as a member of the EU and the euro zone, Greece can play an important role in promoting China-EU relations. The success of projects run by Chinese companies in Greece will also help address the doubts of some European countries about Chinese investment in Europe.
China will further open up its economy and resolve its economic differences with the EU through dialogue, including negotiations on the China-EU Investment Agreement, Ding said. The comprehensive agreement is scheduled to be concluded in 2020.
Copyedited by Sudeshna Sarkar
Comments to mamm@bjreview.com