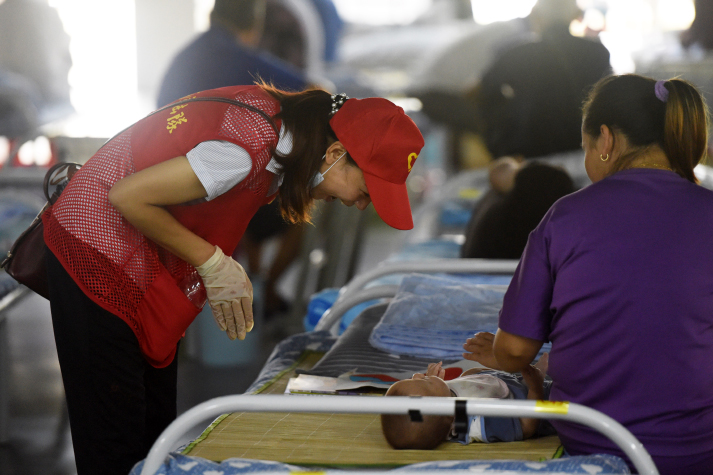 A volunteer interacts with a child at a temporary shelter for flood-affected villagers in Hefei, Anhui Province in east China, on July 29 (XINHUA)
The rainy season arrived in China with a roar. Continuous downpours have lashed large parts of south China since June and many rivers have exceeded alert levels.
In late July, the main rain belt began to move north from the Yangtze River basin to the Huaihe River basin. The Huaihe, one of China's major waterways, runs through the east between the Yangtze and Yellow rivers. According to the Huaihe River Commission under the Ministry of Water Resources (MWR), the water level at the Wangjiaba hydrological station on the main course of the river rose to 29.66 meters on July 20, exceeding the upper safety limit.
The highest level of emergency flood control response along the Huaihe was activated and to relieve pressure on downstream areas, floodwater was diverted through the Wangjiaba sluice gates into the Mengwa Flood Detention Area in Funan County, Anhui Province in east China, on the same day.
The upper reaches of the Huaihe have a large drop, while the middle and lower reaches are flat. The Wangjiaba sluice gates at the junction of the upper and middle reaches are significant for flood control since they help reduce the water level in the lower reaches.
The Mengwa basin, with an area of 180 square km, can hold nearly 750 million cubic meters of water and is home to more than 190,000 people. They live on natural low hills and artificially created mounds, which provide safety during flooding, so mass evacuations are no longer necessary. For most people living in Mengwa, life continued normally in their small villages on top of these mounds.
"About 2,000 people in dangerous areas have been evacuated to safe places," Lu Haitao, an official at the Anhui Department of Water Resources, told Guangming Daily. In Funan, residents in four towns were evacuated before the floodwater release, while the government took steps to ensure the supply of daily necessities, he added.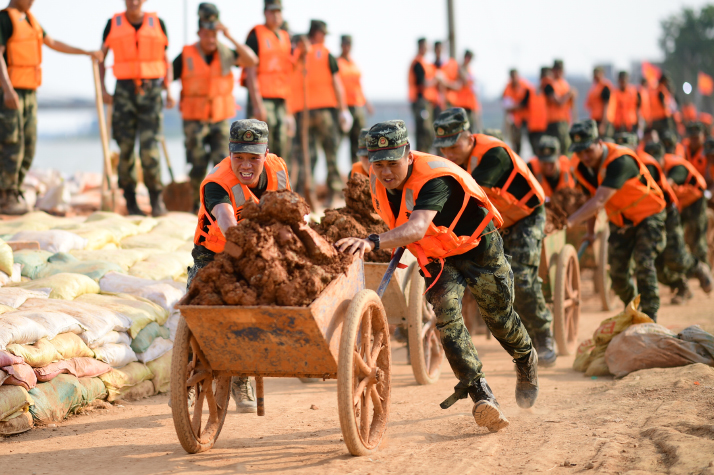 Officers of a detachment of the armed police force transport soil to an open space in Poyang County, Jiangxi Province in east China, on July 17 (XINHUA)
Improved capability
More than 54.81 million people in China had been affected since the rainy season started on June 1, according to the Ministry of Emergency Management (MEM) on July 28. The ministry's statistics show that the number of people who died or are missing due to the floods since June was 158, 53.9 percent lower than the average for the same period over the past five years. The number of collapsed houses dropped 68.4 percent although direct economic losses rose 13.8 percent. Zheng Guoguang, the Vice Minister of Emergency Management, said despite the severity of the flooding, the decrease in the loss of life and houses can be attributed to the improvement of China's capability in flood control and disaster relief.
Meanwhile, the heaviest average rainfall in decades brought floods to the Yangtze River basin, with Jiangxi Province in east China among the most affected. The Three Gorges Dam in Hubei Province, central China, the largest water control system along the Yangtze, has been activated to ease the pressure at the middle and lower reaches of the river's main course. The outbound flow of water has been reduced by almost half to 19,000 cubic meters per second since July 7, holding back much of the floodwater in the reservoir, according to the Changjiang Water Resources Commission under MWR.
On July 28, 36.7 percent of the peak floodwater of the Yangtze's third flood of the year was retained by the Three Gorges Reservoir, mitigating the impact on the river's lower reaches. Li Na, head of the flood control and assessment department with the China Institute of Water Resources and Hydropower Research under MWR, told Global Times that the Yangtze's capacity to resist flooding has greatly improved in the past two decades thanks in part to the Three Gorges Dam, which has flood control storage of 22 billion cubic meters.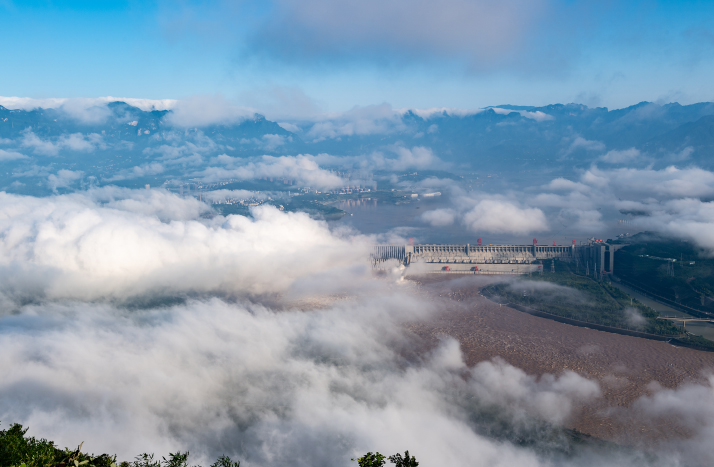 The Three Gorges Reservoir on July 27. It has mitigated the impact of floods on the lower reaches of the Yangtze River (XINHUA)
China has invested heavily in water resource projects to enhance its capability to withstand both droughts and flooding. In 2019, a record 726 billion yuan ($103.7 billion) was spent on flood control projects, according to MWR. So far, 121,000 hydrological stations have been set up, about 312,000 km of river embankments have been built, and 98,800 reservoirs and 98 flood detention areas have been put into use to better resist floods.
Hydrological stations keep timely records of rainfall, its flow, velocity and other data for flood control and disaster relief work. They cover more than 5,000 small and medium-sized rivers in China.
According to the National Development and Reform Commission, another 150 major infrastructure projects will be launched in the next two years, with a total investment of 1.29 trillion yuan ($184 billion) to enhance flood and drought relief capabilities. These projects will increase reservoir storage capacity by 9 billion cubic meters, Su Wei, Deputy Secretary General of the commission, said at a press conference on July 13. In addition, reinforcement work will be carried out on 2,950 km of river embankments, he said.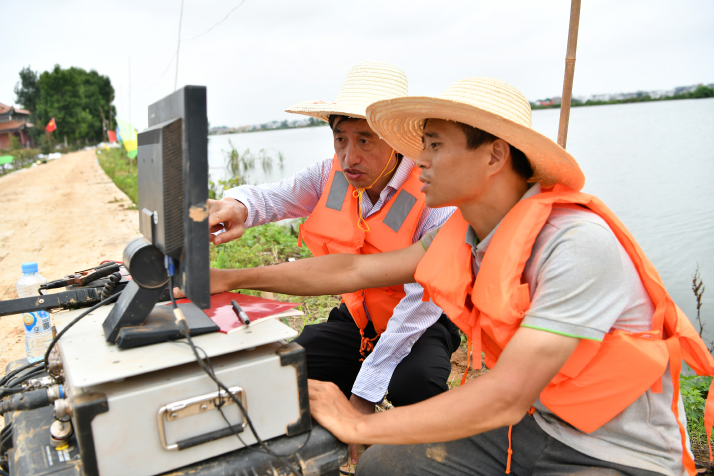 Professor Deng Juzhi (rear) and researcher Zhou Feng of East China University of Technology in Jiangxi Province in east China analyze data after scanning a dam with the equipment they developed, on July 21 (XINHUA)
Harnessing technologies
Many provinces have given priority to embankment patrolling, beefing up inspection in flood-prone areas. Unmanned aerial vehicles have been introduced for embankment inspection, especially for culverts along embankments that are too small for humans. Micro-robots can help examine whether there is any leakage or blocking.
More use of hi-tech equipment like automatic alarm devices, real-time virtual reality observation and mobile flood fighting walls has helped monitoring, forecasting and coordination of flood control and raised the efficiency and accuracy of relief work in flood-prone regions.
For example, dams, rivers and reservoirs appear on an electronic screen at the command center of the Anhui provincial water resources department in different colors, representing different water levels. The electronic map integrates real-time data such as precipitation and water levels from over 8,000 automatic information-collecting stations in the province, Hu Weiquan, a local official, told Xinhua News Agency.
During massive floods in 1998, it took two hours to collect information from the 3,300 hydrological stations. Now, it takes only 10-15 minutes to collect real-time information from over 120,000 stations, Liu Zhiyu, an official with MWR, told Economic Daily.
"Our forecasting system has played an important role in preventing floods along the Yangtze and Taihu Lake," he said. Authorities had made accurate predictions about the Yangtze's first flood of the year on July 2 two days in advance, providing important alerts for flood control.
"In 1998, flood control relied heavily on human efforts, but now, it is supported by modern machines and advanced technologies," Cheng Jianyi, a member of the expert group at the flood control and drought relief headquarters in Poyang County in Jiangxi, told Xinhua.
China Anneng Group Second Engineering Bureau Co. Ltd., a construction company that participated in embankment repair in Poyang, said on July 8 that it used modern technology to stem the dike breach, using a radar to test water velocity and a GPS device to measure water levels.
Advanced satellites are also being used in flood monitoring and assisting, according to a Sina.com report on July 16. Responding to a request from MEM, the China Center for Resources Satellite Data and Applications affiliated with China Aerospace Science and Technology Corporation has been carrying out observations in flood-stricken areas, especially the hardest hit regions in south China.
As of July 13, the center had used five satellites, taking 73 sets of photos and sharing 248 valid data images. After being processed, the data is sent to related departments and local governments in affected areas. The center takes emergency photos of these areas at least twice a day.
Moreover, seven Fengyun meteorological satellites are running 24 hours a day to monitor weather conditions, Yang Jun, Director General of the National Satellite Meteorological Center, told The Beijing News. The satellites monitor all major river basins and lakes in China four times a day. If a flood occurs, the monitoring results will be forwarded to the government and the public.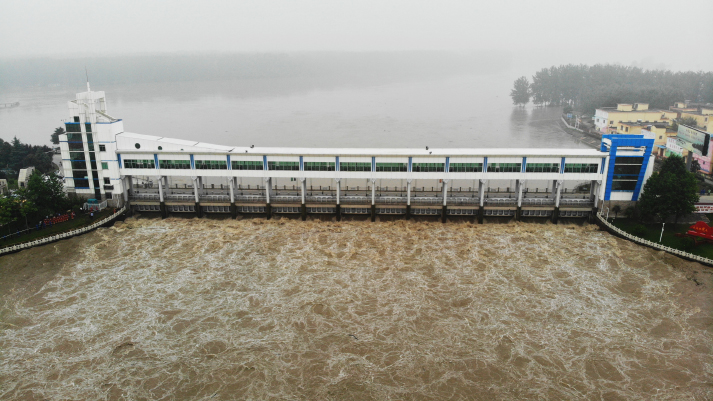 Floodwater from the Huaihe River is diverted into the Mengwa Flood Detention Area in Funan County, Anhui Province in east China on July 20 (XINHUA)
Stronger responses
While infrastructure, technology and flood diversion areas all play a crucial role in preventing and controlling flood, more intensive attention has been paid to flood prevention and control this year.
On July 12, President Xi Jinping urged related departments to take more effective flood control measures and called for officials at all levels to go to the frontline to guide flood control work. He said local authorities should carefully plan reconstruction to restore production and help people return to normal life as soon as possible.
On that day, the government raised the emergency response for flood control along the Yangtze to Level II, the second highest level. The level was maintained as of July 30.
The Central Government has supported local efforts to harness the flood. MEM, following the principle of putting people's life first, dispatched firefighting and rescue teams to carry out emergency rescue and relief along with local cadres and military personnel in flood-stricken areas. A large number of people in danger have been evacuated, effectively reducing the number of deaths and people missing, MEM official Yang Xiaodong said. He pointed out that the significant decline in the number of collapsed buildings shows that greater importance has been given to infrastructure construction, especially higher standard housing, and the enhancement of national disaster prevention and resistance capacity.
Emergency supplies have been allocated to provinces such as Hunan in central China, Anhui and Jiangxi to support local flood control and disaster relief work, MEM said. Disaster relief items, including blankets and folding beds, were sent to Anhui and Jiangxi on July 24.
A sum of 830 million yuan ($119 million) has been channeled from the central budget to restore water conservancy and agricultural production facilities in flood-hit areas, according to the Ministry of Finance on July 20. The money was allocated to 12 provincial regions, including Jiangxi and Hubei, for post-disaster recovery and restoration of normal production and daily life. Since May, 1.29 billion yuan ($184.3 million) has been earmarked for use in flood-prone areas across China.
(Printed Edition Title: Rising to the Challenge)
Copyedited by Rebeca Toledo
Comments to mamm@bjreview.com