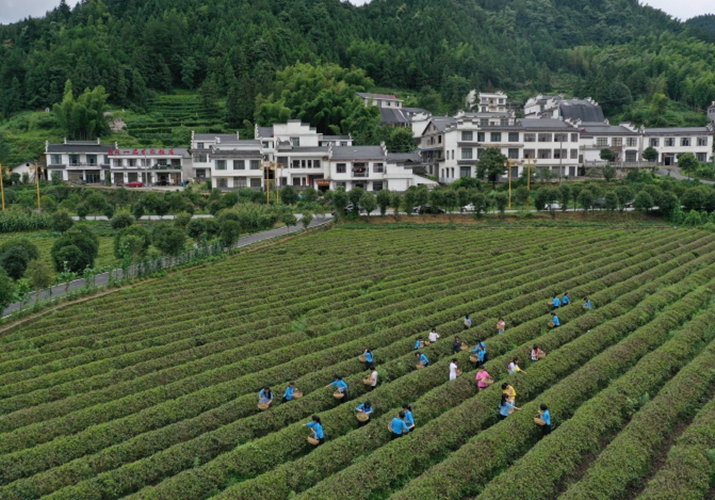 A tea farm in Ningxiang, Hunan Province in central China, on July 9, 2020(XINHUA)
The novel coronavirus pandemic that began haunting the world in 2020 and unleashed suffering has also sounded a bell, reminding us that all human beings have a common and deeply connected destiny.
Chinese President Xi Jinping has repeatedly called for global efforts to build a community with a shared future for humanity. The world is undergoing major developments, transformations and adjustments unseen in a century. While the appeal for peace, development and win-win cooperation is becoming stronger, the number and complexity of global problems are also unprecedented.
China's proposal offers a feasible approach to resolving global problems. The vision of a community with a shared future for humanity is a testament to China shouldering its responsibility as a major developing country and fits the development trend of our era and the direction of the progress of human civilization.
In the process of turning the vision into reality, all stakeholders in global governance, such as governments and civil society organizations, must share responsibilities and benefits. With economic globalization encountering headwinds, unilateralism, protectionism and hegemony pose threats to peace and development. Therefore, all members of the international community need to participate in global governance by following the principle of achieving shared benefits through extensive consultation and joint contribution.
Building a community with a shared future for humanity consists of efforts in two spheres. The first is the relationship between human beings and nature. We should respect nature and protect it. Any harm inflicted on nature will eventually return to haunt us. This is a reality we have to face.
Harmony between humans and nature and sustainable growth are imperative to preserve ecological integrity. Therefore, all countries should jointly assume the responsibility of environmental preservation and pollution treatment. Since the Industrial Revolution, Western countries, with their developed technology, economic strength and military force, have been grabbing and consuming large amounts of resources. So it is only fair that they shoulder greater responsibility in environmental preservation.
Moreover, a sound framework for international cooperation to promote sustainable development should be established. Scrambling for resources, which are limited, has led to strife and large-scale war. To accomplish harmony between human beings and nature, a precondition is to end conflict and vicious competition among countries and nationalities. All countries should realize that all human beings are part of a community with the same destiny. To achieve shared responsibility and win-win cooperation it is essential to improve global governance and defuse risks.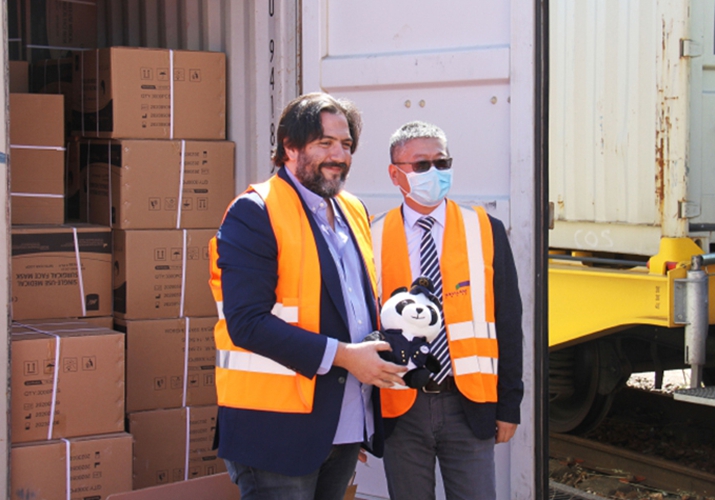 The manager of a branch of Chinese shipping company COSCO delivers personal protective equipment from China to a representative of the ordering company in Paris, France, on July 23, 2020
(XINHUA)
Joint response
Global threats and challenges call for a collective response. No country alone can address the many problems facing humanity; and no country can afford to retreat into self-isolation. To pursue a beggar-thy-neighbor policy or watch from a safe distance when others are in danger will eventually land one in the same danger.
Building a community with a shared future requires countries to abide by international rules and uphold moral codes. They should assume their responsibilities based on equal rights and obligations in response to natural disasters and epidemic outbreaks and safeguard the economic order, political security and the environment.
China has acted in strict accordance with these principles. It proposed the Belt and Road Initiative in 2013 and is advancing mutually beneficial cooperation with other participating countries to build a trade and infrastructure network connecting Asia with Europe and Africa along and beyond the ancient Silk Road trade routes. It is also providing more public goods to the international society.
However, some Western countries are less willing to join the global fight against mankind's common enemies. For example, the U.S. has been shirking its responsibility in addressing global environmental challenges. It withdrew from the Paris Agreement on climate change in 2020, and refused to ratify three major international agreements. It has rejected its carbon dioxide emission reduction responsibility, and at the same time is transferring large amounts of domestic waste to developing countries, jeopardizing the local as well as global environment.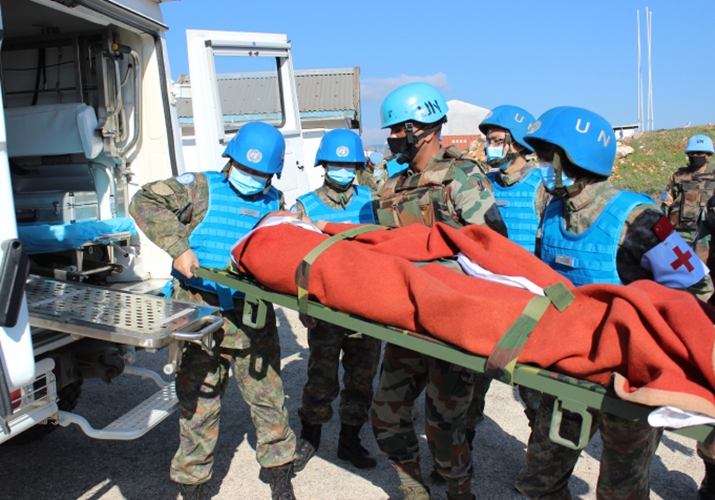 Chinese peacekeepers participate in a coordinated emergency medical rescue exercise in Lebanon on December 30, 2020
(XINHUA)
Global governance
In the 21st century, the rise of developing countries and emerging economies has accelerated the transition to a multipolar global governance system. Currently, the bloc accounts for nearly 40 percent of world GDP and contributes 80 percent of the global economic growth.
The major shift in international power has made the political landscape more balanced, which is conducive to maintaining peace and promoting common development. All sovereign countries are equal members in the international arena, no matter big or small, strong or weak, rich or poor, and they should assume their fair share of responsibility in global affairs.
A new international order is taking shape. It provides a choice for the international community to break the historical vicious circle of power politics and hegemony. The key to address today's global problems lies in our efforts to build a global order featuring fairness, justice, cooperation and peace.
After World War II, the international governance system with the UN at its core gave us more than seven decades of peace and prosperity. More than 60 years ago, China put forward the Five Principles of Peaceful Coexistence, which have been widely recognized and supported by the international community. Mutual respect for sovereignty and territorial integrity, mutual non-aggression, mutual non-interference in each other's internal affairs, equality and mutual benefit and peaceful coexistence have become the basic norms of international relations and the basic principles of international law.
Since the 18th National Con-gress of the Communist Party of China in 2012, China has been active in pushing forward international cooperation for building a community with a shared future for humanity. The proposal has been generally welcomed and included in a series of UN resolutions.
While preserving the international order and system with the UN Charter and principles at their core, we should continue to provide Chinese wisdom and solutions to the reform of the global governance system.
(Print Edition Title: For a better future)
The author is a researcher with the Tianjin Academy of Social Sciences
Copyedited by Sudeshna Sarkar
Comments to yanwei@bjreview.com