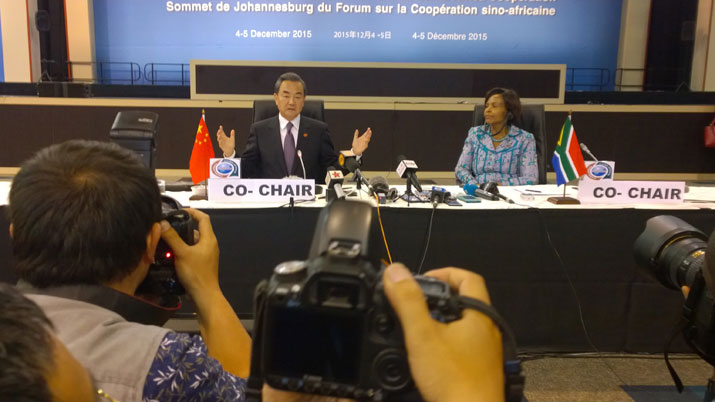 Chinese Foreign Minister Wang Yi (left) and South African Foreign Minister Maite Nkoana Mashabane meet the press on December 5 (WANG XIANG/BEIJING REVIEW)
Chinese Foreign Minister Wang Yi said on Saturday the implementation of the China-Africa Industrial Cooperation Strategy has started in three countries in East Africa and has been expanded to South Africa and Egypt in North Africa on a pilot basis.
Speaking at the conclusion of a landmark Summit of the Chinese and African leaders under the auspices of the Forum on China-Africa Cooperation, the Foreign Minister said Beijing was willing to make itself the ideal partner of Africa on achieving its desire to grow economically and politically.
"China has contributed its share to the growth of Africa. For Africa to join the community of the world's developed countries, it would need its own capacity for independent economic and industrial development," Wang said in response to Xinhua's questions on the selection of industrial growth as one of the key aspects of the new economic relationship being forged between China and Africa.
"Almost every country in Africa that has engaged with us insisted that it is important to work towards removing the system of independence on foreign assistance," Wang told reporters.
"We not only have the strong will but also the practical capacity to do this. We have sophisticated industries to help Africa to achieve its dream of industrialization. This is the reason why we have prioritized the development of industries in the 10-point measures."
Wang said a pilot project has already started in Kenya. These include helping to build new industrial parks that contain several firms operating in various economic sectors, including manufacturing for export.
In Ethiopia, China has built industrial parks which are currently producing footwear for both domestic and export markets.
"We hope South Africa can also play its role of becoming the engine of economic growth for China in Africa. We are very confident in this industrialization plan," Wang said.
South African Foreign Minister Maite Nkoana Mashabane said her country welcomed the announcement by China to work with the African states on industrialization to achieve the continent's broad vision of growth.
Mashabane said China has adopted a new strategy of promoting economic growth and industrialization by promoting its local industries to engage with African countries through buying missions.
"We recently had a buying mission from China and we had 918 million worth of agreements signed on the first day," the South African minister said.
During the course of the two-day Forum on China-Africa Cooperation (FOCAC), the African leaders praised Beijing for facilitating the entry in Africa of some 3,000 Chinese companies, which have in return invested 3 trillion dollars in various African countries.
Wang said efforts to promote African companies have included offers of free exhibition space and trade booths in China to promote the purchase of the made-in-Africa goods in China.
(Xinhua News Agency December 5, 2015)